BLUE OYSTER CULT In Portland, OR With Photos!


By Ruben Mosqueda, Contibutor
Wednesday, February 19, 2020 @ 11:43 AM


| | | |
| --- | --- | --- |
| | | At The Roseland, Theater, February 15th, 2020 |
All Photos By Mike Lewis Photography
It was fitting that on February 15th, when BLUE OYSTER CULT came to town it was a cool, wet winter night in Portland, Oregon. It had been close to a decade since I had last seen the band, at the time they performed at Chinook Winds Casino on the Oregon Coast, their bassist at the time was none other than journeyman RUDY SARZO. Fast forward to the present where we find the current BLUE OYSTER CULT bookended by band mainstainstays, vocalist ERIC BLOOM and guitarist/vocalist BUCK DHARMA. BLUE OYSTER CULT recently issued a pair of albums via their new label Frontiers, Hard Rock Live In Cleveland 2014 CD/DVD and Cult Classic, which is a collection of re-recorded classics, both issued in January of 2020, both are worth owning.
Currently BLUE OYSTER CULT is comprised of BLOOM, DHARMA and bassist DANNY MIRANDA, keyboardist/guitarist RICHIE CASTELLANO and drummer JULES RADINO, this will also be the line-up that will be featured on the upcoming studio album due later in the year via FRONTIERS. The new recording will be their first since 2001's Curse Of The Hidden Mirror. BLUE OYSTER CULT are a no frills rock 'n' roll band, they could be referred to as a 'faceless' band, in the sense that no one in the band had pin-up good looks, so they relied heavily on honing their songwriting abilities and their musicianship, which has made BOC that much better of a band.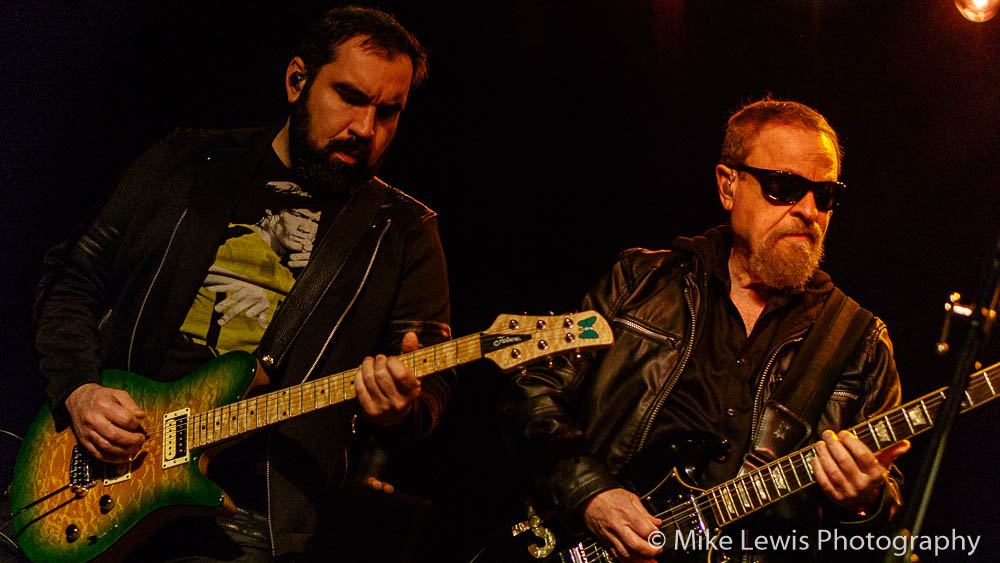 BLUE OYSTER CULT hit the stage at The Roseland Theater at 9:30 PM, and it was a stripped down affair, no production aside from the house lights, no merch table, it was just the band playing their catalog. The near capacity crowd didn't seem to care that there were no bells and whistles, they were there to see the band perform their favorite tunes. There were plenty of selections performed, 20 to be exact, the highlights being, "Golden Age Of Leather", "Burnin' For You", OD'd On Life Itself", "Shooting Shark", "Buck's Boogie", "Tattoo Vampire", "Godzilla", "[Don't Fear] The Reaper", "ME 262", "I Love The Night", and "Cities On Flame With Rock And Roll", all executed to perfection. BLOOM and DHARMA, or the rest of the band for that matter, didn't even seem to break a sweat during this lengthy set. It was just simply amazing. BLUE OYSTER CULT continue to deliver the goods and are [still] performing at an extraordinarily high level. BOC put their contemporaries using pre-recorded tracks, massive stage productions used disguise their deficiencies to shame, which in turn makes what BOC is doing that much more endearing.
Check out some more photos from the show!
All Photos By Mike Lewis Photography




Please log in to view RANTS

If you don't have a username, click here to create an account!