THE NIGHT FLIGHT ORCHESTRA Aeromantic


By Daniel Höhr, European Correspondent
Tuesday, February 25, 2020 @ 5:46 AM


| | | |
| --- | --- | --- |
| | | |
THE NIGHT FLIGHT ORCHESTRA
Aeromantic
Nuclear Blast, 2020




Some side projects have more longevity than others and THE NIGHT FLIGHT ORCHESTRA definitely belong to the former category. Since 2012, the Swedes have released five albums, including their latest release, Aeromatic. Its two predecessors, Amber Galactic and Sometimes the World Ain't Enough got nominations to the Swedish Grammy Award, so there is no doubt that THE NIGHT FLIGHT ORCHESTRA are now firmly established in the pandemonium that is the world of rock music – in the widest sense, that is.

And for the benefit of those who haven't heard of and from that band, here's the nitty-gritty: Björn Strid of SOILWORK fame on vocals, his SOILWORK bandmate David Andersson, who also plays in MEAN STREAK) on guitar, ARCH ENEMY bassist Sharlee D'Angelo on the four-string, Sebastian Forslund on guitar, percussion and other things, MEAN STREAK drummer Jonas Källsbäck, Anna-Mia Bonde and Anna Brygård on backing vocals and, as very special guests on Aeromatic, Rachel Hall on violin and John Lönnmyr on keys. The music they play is classic rock, AOR, you know, that sort of thing. When you listen to any NFO song, you know you have heard this somewhere else, something in that vein, for sure, but you don't know what it was. FOREIGNER? Graham Bonnet or Joe Lynn Turner era RAINBOW? TOTO? Even ABBA?. Whatever it is, THE NIGHT FLIGHT ORCHESTRA's music is brilliant, grandiose, and just tongue-in-cheek enough to make the extra dose of cheesiness not just bearable but actually most enjoyble. And in case you haven't got the point yet, the band is enormously good fun.

And if you like their previous album, you will most certainly love Aeromatic. Described as "an airborne soap opera about the inevitable heartbreak, the endless longing, the futile nostalgia and the occasional moments of euphoria you experience when you're always leaving where you should have been going, traveling to where you should have been", this album is bursting with melodies, sounds you haven't heard since the early 80s (unless you've been listening to the previous NFO albums that is), good time classic rock vibes, clever arrangements and a heavy edge that betrays the metal pedigree of the band members. So as you fasten your seat belt to the opener "Servants Of The Air", prepare yourself for a trip through sonic decadence, earworms you won't get rid of for a while ("If Tonight Is Our Only Chance" has been haunting me for days now), and tons of good fun along the way.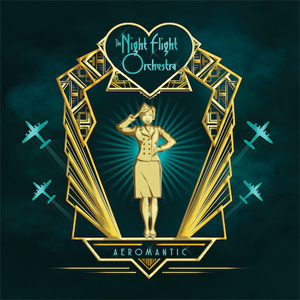 Each of the twelve tracks is a winner, skillfully crafted and generously sugar-coated with lavish sounds. Check out the uptempo track "The Boy's Last Summer" – this number sounds so familiar and evokes the feel of summers in my early teenage years in the eighties, summers that seemlingly lasted forever. The groovy "Curves" shows a side of ARCH ENEMY's Sharlee D'Angelo you would probably not associate with him – laying down a laid-back groove, perfectly in harmony with a SUPERTRAMP-style piano. "Transmissions" has some sort of spacey 70s disco feel about it while the following title track is bursting with AOR energy. Another one that will go down really well with late 70s/early 80s hard rock aficionados is "Taurus" – like all tracks on Aeromatic, rock style or otherwise, it is absolutely morish. And if it is possible to name a highlight, it is the groover "Sister Mercurial".
I have seen metalheads in ARCH ENEMY and DEICIDE t-shirts dancing at an NFO gig – and that is the very point of it. This is band is pure fun, so brilliantly over the top 1970s and 1980s with all the kitsch that goes with it but at the same time they get all that across with utmost credibility, musical craftiness and butt-kicking metal energy. Aeromatic is a superb album and in terms of ideas, melodies, and variety the best and most inspired NFO album to date.
5.0 Out Of 5.0




Please log in to view RANTS

If you don't have a username, click here to create an account!