BIFF BYFORD School of Hard Knocks


By Daniel Höhr, European Correspondent
Tuesday, February 25, 2020 @ 5:48 AM


| | | |
| --- | --- | --- |
| | | |
BIFF BYFORD
School of Hard Knocks
Silver Linings Music, 2020




Even if the idea that a 69-year-old frontman of a legendary British Heavy Metal band is to release his first solo album after 22 studio albums in almost four decades with his band may make the odd old-school metalhead raise an eyebrow, the release of Biff Byford's School of Hard Knocks makes perfect sense. On the eleven tracks on his solo album, rather than ostentatiously exploring musical realms beyond those of his main band just for the sake of it, the charismatic Yorkshireman gives us a more personal insight into his soul and mind than he would probably be able to do with SAXON.

And that doesn't mean that some tracks on School of Hard Knocks could not have been taken off any SAXON record. To the contrary: the opener "Welcome to the Show" is a fine example of classic, earthy British Hard Rock, reminiscent of Wheels of Steel era SAXON. The same goes for the the more mid-tempo title track, where Biff and his band – comprised of Fredrik Åkesson (OPETH) on guitars, Christian Lundqvist on drums and Gus Macricostas on bass as well as a variety of guest drummers including Phil Campbell, Alex Holzwart (RHAPSODY OF FIRE), and Nibbs Carter (SAXON) – pull all the stops of good-time, riffy, no-nonsense Hard Rock. "Inquisitor" takes you from the autobiographical lyrics of the title song to a 1-minute-and-twenty-nine-second poetic reflection on the Spanish Inquisition with spoken words and Spanish guitars. "The Pit And The Pendulum" has a distinct prog feel about it, which is even intensified on the following gloomy "Worlds Collide". "Scarborough Fair" is a traditional English ballad, possibly from the late middle ages and best known in the version recorded by Simon & Garfunkel. Biff Byford and OPETH's Fredrik Åkesson breathe quite a lot of new life in the shape of Heavy Metal feel into their version on School of Hard Knocks. Originally a traditional song from North Yorkshire, "Scarborough Fair" is a tribute to Biff's home in the north of England as well as one very special ballad-esque moment on his album.

"Pedal to the Metal" is a driving Heavy Metal uptempo rocker, very much in the vein of JUDAS PRIEST and later SAXON. Metalheads won't be disappointed with "Hearts of Steel" either. This track has all the ingredients of a classic Heavy Metal song with a modern sound and outstanding virtuoso lead guitar work. The WISHBONE ASH cover "Throw Down the Sword" brings back the medieval theme we know from many SAXON tracks and albums. According to Biff, this song was the first he had ever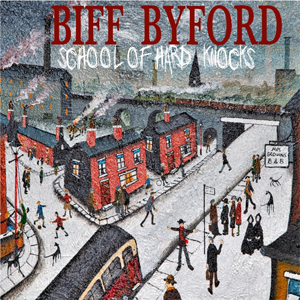 heard that had a historical theme, inspiring him to write history-driven songs himself. "Me And You" is a groovy, acoustic-based mid-tempo song – simple, catchy, personal and no-frills. The album closes with "Black and White", a steady bluesy Hard Rock track, which could otherwise appear on any post-Steve Vai WHITESNAKE album, featuring once more all of Biff Byford's qualities as a vocalist. And yes, Biffs adlibbing at the end of the song bears more than superficial resemblance of another Yorkshireman in rock music, namely David Coverdale.
School of Hard Knocks is a very personal album and as such it features a range of different moods and feels, from classic Hard Rock songs whose formulas never seem to get old when put together and performed by the right people, to a modern adaptation of a medieval ballad to prog-tainted Heavy Metal songs. There is great singing, stellar playing (with Biff occasionally playing the bass himself), and, above all, masterfully written and arranged songs on School of Hard Knocks. Produced by Biff himself, the album has a punchy, heavy and crystal clear sound – kudos to Jacky Lehmann, who recorded the album at Brighton Electric Studios in Brighton (UK), and Mats Valentin, who mixed it at Queen Street Studios in Stockholm (Sweden). School of Hard Knocks is not only a must-have for any SAXON fan but will certainly delight anybody who is into Hard Rock and classic heavy metal.
5.0 Out Of 5.0




Please log in to view RANTS

If you don't have a username, click here to create an account!