DON JAMIESON Denim And Laughter


By Andrew Depedro, Ottawa Corespondent
Sunday, March 1, 2020 @ 10:33 AM


| | | |
| --- | --- | --- |
| | | |
DON JAMIESON
Denim And Laughter
Metal Blade Records




Speaking strictly as a member of Toastmasters for almost a decade myself, but as one esteemed public orator to another, I can fully attest that the task of being a speech evaluator can be a challenge. Mostly if you want to keep the momentum of a great speech and you're complimenting the speaker with your own spin on how their speech and its delivery affected you, you want to keep your own evaluation entertaining enough that you don't take the spotlight from the original speaker because you're trying to encourage that same person to continue with public speaking by further reinforcing the importance of that same art. On the other hand, if the other esteemed public orator you've been tasked to evaluate happens to be legendary comedian/former That Metal Show host Don Jamieson, the evaluation itself will be challenging in trying to give advice to an already-established public speaker – who first got his big break opening shows for Andrew Dice Clay three decades earlier – without taking away that same limelight from his performance. His fourth comedy album Denim And Laughter is a perfect example of his earnest everyday take on life with an added dash of sarcasm for good measure while wearing his love of metal proudly on his sleeve.

Recorded live at a secret speakeasy club in LA on October 19 to a modest crowd of 40 people including two lucky folks in the front row identified as Gallagher and Duck Dynasty, Denim And Laughter celebrates Jamieson's love of bringing rock and comedy together (hence the obvious SAXON reference), complete with many of his own tales from the road touring with the likes of NASHVILLE PUSSY, BLACK LABEL SOCIETY (and the legend of "Buzztightrear"), all-female GNR tribute band PARADISE KITTY (whose vocalist Jenna was said to be "so much like Axl Rose that her period was usually two hours late" to both Jenna's surprise and amusement as she was in the audience) and how his set at a roast during Rock On The Range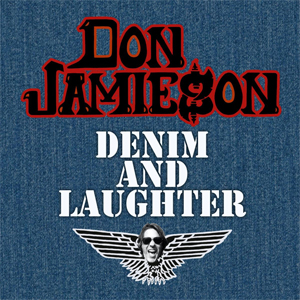 managed to upstand and rile up its emcee Sebastian Bach. For the metal fan who's also a beer connoisseur, his opening tracks "Drinking Buddy, Hipster Jizz & Gluten-Free Keith Richards" and "Miserable Sober, Booze Rehab & Liquid Cocaine" will also resonate hilariously well amongst the pure beer and craft beer purists and even amongst the strict teetotalers and those who abstain from alcohol altogether, like the speech about moderation you didn't think you'd ever need.
And while Don Jamieson's low-hanging targets of deserved mockery other than Gallagher and Duck Dynasty in the front row are plentiful – hipsters, protest migration to Canada and Mexico following Donald Trump's election as US President, R.E.M. and disgraced celebrities such as Harvey Weinstein – he saves his most reviled topic for the climax to great applause: Mass media consumption, which he awesomely skewers with a tale about an actual case of mistaken identity involving a Sporty Ford Fusion with a unique and hilarious twist.
With his simple credo of "We're all good people except for the jerkoffs", Don Jamieson's set throughout Denim And Laughter brings out the hilarity and humane in all of us which we can take credit for, for it is also us that helped him set that same spirit free.
5.0 Out Of 5.0
http://www.donjamieson.com
https://twitter.com/realdonjamieson
https://www.facebook.com/donjamiesonofficial




Please log in to view RANTS

If you don't have a username, click here to create an account!