BURNING WITCHES Dance With The Devil


By Francisco Zamudio, Metal X Candy 2.0
Monday, March 9, 2020 @ 10:59 AM


| | | |
| --- | --- | --- |
| | | |
BURNING WITCHES
Dance With The Devil
Nuclear Blast




Dating back 328 years ago in American history, the Salem Witch trials in the state of Massachusetts brought about the tragic and unjust prosecution and execution of females who were falsely perceived as evil, demonic and satanic. Over 440 years ago, the same atrocious acts by mere, feeble-minded men who couldn't fathom the power females had then, took place in Europe as well. Along with hanging, another one of many torturous means was burning them at the stake. What man would call a "cursed" history, now an all-female troupe has embraced this by name. Enter Switzerland-based coven BURNING WITCHES with their expression of modern Thrash and Power Metal with an amazing "old-school" feel. Their latest enchantment entitled DANCE WITH THE DEVIL (Nuclear Blast) will have many heads turning and headbanging.

While back in those days, ignorant minds were afraid to be "bewitched", I welcome this art that moves and grabs your soul when the brew is right. This album contains all the true aesthetics that Metalheads from around the world will love. Ingredients that blend power, thrash, speed, heavy riffs, double-bass, shredding solos, lyrics of the occult with haunting vocals and a "ballad" definitely worthy of the name. BURNING WITCHES' take on modern Metal with a classic sound following in the footsteps of Female Icons the likes of Doro's WARLOCK, Lita Ford, VIXEN as well as reminiscent of underground fem-fatale "Leather" Leone and CHASTAIN, and Los Angeles' own HELLION – and countless others to name.

With many influences from classic power metal greats of the New Wave of British Heavy Metal (NWOBHM) era, these girls carry forth the torch as a modern representation of heavy metal with full female fury. As guitarist Roman Kalkuhl explains, "We listen to modern music… It's just that we like the UK of the seventies and eighties even more". As evident by the riffs and solos throughout the album that are never boring or tired by her and Sonia Anubis, who makes her sophomore appearance with this release (also the second released through Nuclear Blast and third overall). Making her debut on vocals is Laura Guldemond whose style conjures some outstanding versatility. Completing the circle and enforcing an awesome rhythm that creates some great galloping thrash are bassist Jeanine Grob and drummer Lala Frischknecht who displays some great in-the-pocket playing.

There is no song here written just to take up space. Every song drives you and grabs you by the throat. One in particular to me was the ballad "BLACK MAGIC" that got me a little emotional due to what I was (am…?) going through at the moment. And that's my belief and why I love Metal. It's relatable and helps you through tough times. It lifts you up and gets you angry but in a positive way. Not only great songwriting but its production sounds magnificent, thanks to GURD vocalist and guitarist, V.O. Pulver along with the help of Schmier of German Thrash Titans DESTRUCTION. With cameos on the final track by former MANOWAR founder ROSS THE BOSS and SYMPHONY X guitarist, Michael Romeo, the end result on DANCING WITH THE DEVIL is 11 amazing tracks (12 if you include the haunting intro "THE INCANTATION"). Whereas many bands mistakenly settle for only 9 tracks, it's just another example how BURNING WITCHES break the norm by lashing out a true full-length to bang your heads to.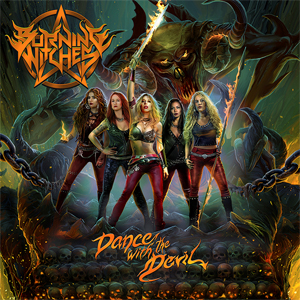 In a time when females in mainstream and pop-culture are a toxic representation, BURNING WITCHES and women in modern metal (a list that is quite extensive by the way) are far healthier and much more positive role models for little girls who are searching for their own identity and something to relate to in the world. As they explain, not only in name but the theme behind DANCING WITH THE DEVIL is a reflection of the bond the band has with each other. "The idea behind DANCE WITH THE DEVIL is inspired by the famous Walpurgis night, the saga of the gathering of the witches in the middle ages! We thought this magic showdown on the Brocken mountain symbolically stands for strength and the friendship of the band, that's why it's the perfect title for the new album!"
Now I am only a man and hardly one to speak about Female Empowerment, but I can damn sure appreciate it, talk about it and respect it - especially in the form of music. It can be argued whether or not "Female-Fronted Metal" are genres in Metal themselves. As a person who loves Female-Fronted bands (hell, I'm in one!) and bands with women in them in general, I think it's important to acknowledge the significance that women bring to Metal. After all, denim and leather brought us all together. And lately more often than not, I find it that they even bring it WAY heavier and better than some of their modern males counterparts, 10-fold and why this one makes my list of THE BEST OF 2020.
4.5 Out Of 5.0




Please log in to view RANTS

If you don't have a username, click here to create an account!