REVOLUTION SAINTS
Rise
Frontiers Music Srl




Supergroup REVOLUTION SAINTS released their third album Rise January 24 thru Frontiers Records, the follow up to their 2017 release Light in the Dark. Rise like their two previous releases was produced by Alessandro Del Vecchio, who in like their two previous releases is heavily credited in the song writing.

REVOLUTION SAINTS are Deen Castronovo (Lead Vocals, Drums) (THE DEAD DAISIES, Ex-JOURNEY, Ex-BAD ENGLISH), Doug Aldrich (Guitars) (THE DEAD DAISIES, BURNING RAIN, Ex-WHITESNAKE, Ex-DIO) and Jack Blades (Bass and Vocals) (NIGHT RANGER).

REVOLUTION SAINTS for all intents and purposes have been the Deen Castronovo lead vocal project as they've showcased his talents as a lead vocalist on their first two releases, 2015's Revolution Saints (their debut) and again on 2017's Light in the Dark. Rise is no exception as Castronovo hits the mark right off the bat with the first track "When the Heartache Has Gone". This track has a pure 80's vibe that could have fit it onto any of you name it 80's movie soundtracks.

REVOLUTION SAINTS through three albums have maintained an obvious JOURNEY resemblance, partly due to Castronovo's roots in the band, however they're building upon their own sound which is a mesh between JOURNEY, WHITESNAKE and NIGHT RANGER and the end result is some finely tuned melodic rock.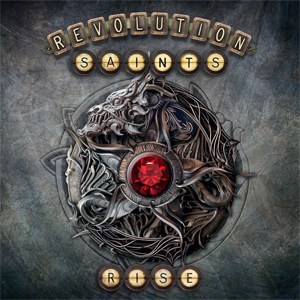 "Price We Pay" is a prime example of three band's influences coming together as one with Jack Blades joining in on vocals. The title track "Rise" and "Higher" have a little more edge and feature Doug Aldrich laying down some of his finest work. "Talk To Me" is a feel good track that not only features Castronovo and Blades but guest vocalist Luna Akire fits in perfectly.
"It's Not The End It's Just The Beginning" is by far the standout track that had this been 1985 would've no doubt been slamming the radio airways everywhere. It very well constructed and features the big chorus that 80's radio jumped on. The closing ballad "Eyes of a Child" features Blades on vocals and was co-written by his ex-DAMN YANKEES bandmate Tommy Shaw (STYX).
With three albums in REVOLUTION SAINTS are finding their sound. Where they fall short is the obvious, not enough lead vocals from Jack Blades. Blades brings unmatched energy and vocal delivery that defines good time melodic rock. Hopefully time will allow for REVOLUTION SAINTS to do some live shows as they're building a pretty nice catalog.
3.0 Out Of 5.0