VADER Solitude In Madness


By Peter Atkinson, Contributor
Monday, May 11, 2020 @ 11:15 AM


| | | |
| --- | --- | --- |
| | | |
VADER
Solitude In Madness
Nuclear Blast Records




Since it settled into an unprecedented stretch of lineup stability 10 years ago, after nearly two decades of near constant change where only guitarist/frontman Piotr "Peter" Wiwczarek hung in there for the duration, Polish powerhouses VADER have been one of death/thrash metal's most consistent and dependable bands.

Like America's THE BLACK DAHLIA MURDER, every two years or so VADER offers up a fresh batch of material that is usually good, and sometimes great, but always satisfies. Solitude In Madness, the band's 12th studio full-length, falls more into the in-between "very good" category. It's not the triumph of 2011's Welcome To The Morbid Reich or 2014's Tibi Et Ingi – the first two albums with the current lineup that includes guitarist Marek Paj¹k, bassist Tomasz Halicki and English drummer James Stewart – but it is certainly a fine addition to what has been a remarkably solid discography.

VADER has always offered a more stripped down and streamlined clamor than more elaborate countrymen BEHEMOTH, HATE or DECAPITATED, and that remains the case with Solitude In Madness. With 11 songs in 29-plus minutes, there is little space for progressive frills and orchestral fancy, and the band don't waste any time mucking about, opting for the blunt object approach throughout.

The album gets off to a blazing start with the full-on, back-to-back-to-back cluster bombing of the fittingly titled "Shock And Awe", "Into Oblivion" and the 1:18 micro-burst "Despair". The first two tracks are only a minute longer each, and all three are unrelenting, with Stewart's blasts and double-bass fusillades powering the buzzsaw riffing of Wiwczarek and Pajak.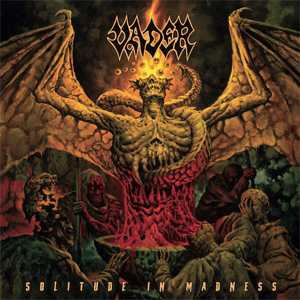 Even the comparatively hooky "Incineration Of The Gods" that follows is still briskly paced and brutally efficient, and is "And Satan Wept" a bit later. The back end of the album boasts another three-song burst of breakneck ferocity with the hardcore-tinged "Final Declaration", a bracing cover of "Dancing In The Slaughterhouse" from Polish cult favorites ACID DRINKERS and the 1:47 balls-out sacrilege – of which there is no shortage here - of "Stigma In Divinity", which would have been the perfect pick to bring things to a breathless close.
It's unfortunate that the band picked the more "epic" "Bones" - the longest song at all of nearly four minutes – to wrap things up, as it might have been a better fit as a breather at the midpoint. Indeed, it's only when VADER eases off the gas here that it stumbles a bit. The more mid-tempo, or at least less frantic, "Sanctification Denied" and "Emptiness", like "Bones", do offer plenty of crunching riffs and raw power. But while they do provide a bit of variety, without the infectious urgency and intensity of the other tunes, they end up somewhat lacking.
Still, they are minor bumps in the road. And when VADER stomps on the gas and it's off to the races again, it hardly matters.
4.0 Out Of 5.0




Please log in to view RANTS

If you don't have a username, click here to create an account!