TRIVIUM What The Dead Men Say


By Daniel Höhr, European Correspondent
Wednesday, May 13, 2020 @ 10:48 AM


| | | |
| --- | --- | --- |
| | | |
TRIVIUM
What The Dead Men Say
Roadrunner Records, 2020




Three years after the highly acclaimed album The Sin And The Sentence, singer and guitarist Matt Heafy and his bandmates from TRIVIUM have released their ninth studio effort, entitled What The Dead Men Say.

The somewhat dramatic and foreboding intro "IX" falls into two distinctly different parts: the hypnotic neo-classical acoustic prelude is followed by a riffy mid-tempo section, which directly leads to the title track of the album.

Setting pretty much the tone of the album, this is TRIVIUM at their very best: a masterful composition of all sorts of elements from different metal genres, both explosive and expressive. The sonic tapestry that the four-piece weave has an overall darker mood, which suits the album very well. Punchy riffs, blast beats, elements of thrash, black and death metal combine with melodic hooks and an alterative metal feel. The result is sophisticated modern metal that defies the pigeonholes of metal genres. It requires high proficiency and musical taste to organically combine these different building blocks and lead vocalist/guitarist Matt Heafy, guitarist/backing vocalist Corey Beaulieu, bassist/backing vocalist Paolo Gregoletto and drummer/percussionist Alex Bent do so with ease and perfection on this record. The third track, "Catastrophist", is a prime example of the band's masterful songwriting and performance.

While there is enough punch and high-octane speed in the song, its centerpiece is a huge chorus, rich in melody an expression. It is exactly that formula that TRIVIUM cultivate with brilliance on What The Dead Men Say. Without any warning, "Amongst The Shadows And The Stone" punches you right in the face and continues to give you a proper thrashing with force and ferocity. The aggression that is unleashed here is unparalleled on this album and hardly eased by the melodic elements, which on this track prefer to stay in the background anyway. "Bleed Into Me" is somewhat different in tone – using less guitar and more bass does not have to be a vice but can be a virtue if done well and in this case it is done extremely well. Melody and atmosphere are in the foreground while energy and force are turned down a bit. The twin guitar part that opens "The Defiant" gives the song a bit of a classic heavy metal feel, which, however, doesn't last long as the track soon morphs into a real beast that is only slightly tamed by the melodic parts. The laid-back beginning of "Sickness Unto You" is soon forgotten as the track almost immediately erupts into high velocity. The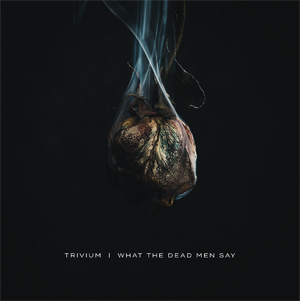 combination of death metal elements with vocal lines that are party reminiscent of METALLICA works very well on this neck breaker of a track. On "Scattering the Ashes", the alternative elements outweigh the metal ferocity and once again the bass is given more prominence in the verses, which lead to catchy, melodic choruses. Once again a nice sonic blend. "Bending The Arc To Fear" is despite the clever use of dissonant chords in the intro riff and its overall speed a bit too technical, lacking the musicality other songs on this album abound in. The closing track "The Ones We Leave Behind" certainly makes up for that – the song bursts with straightforward riffing, ferocious metal energy and gripping melodies.
TRIVIUM have set themselves high goals on What The Dead Men Say and have certainly achieved them. The album leaves nothing to be desired. It is a sonic feast and a testimony of the band's proficiency in songwriting and excellence in performance. Contrary to what the title of what might well be their best studio album to date says, TRIVIUM are very much alive and happening now.
4.5 Out Of 5.0




Please log in to view RANTS

If you don't have a username, click here to create an account!