ELLEFSON Drops Video For CHEAP TRICK Cover "Auf Wiedersehen"


By Larry Petro, News Monkey
Monday, October 12, 2020 @ 12:14 AM


| | | |
| --- | --- | --- |
| | | Featuring MINISTRY's Al Jourgensen And ANTHRAX's Charlie Benante |
Photo credit: Melody Myers
ELLEFSON, the eponymous solo band of Grammy-Winning MEGADETH bassist and co-founder David Ellefson, earlier this week announced signing to EARMusic (Europe) and Ward Records (Japan) for the release of their upcoming full-length covers release NO COVER, which will be released Worldwide 11/20 in conjunction with Ellefson's revived COMBAT RECORDS, who will release the album in North America via AMPED. The band also released the video for their cover of the CHEAP TRICK classic "Auf Wiedersehen", featuring guest appearances from MINISTRY's Al Jourgensen, ANTHRAX's Charlie Benante, and CROBOT's Brandon Yeagley, alongside bassist Ellefson, vocalist Thom Hazaert, and guitarist Andy Martongelli.
"Auf Wiedersehen" is available on all digital outlets today 10/9 via Combat Records/earMUSIC, and the video edited by Melody Myers, can be viewed on KNAC.COM HERE.
Also today, October 9th, proclaimed DAVID ELLEFSON DAY by the Mayor of David's hometown of Jackson, MN, the band has announced a handful of upcoming tour dates, including late October Texas dates with SALIVA, THE CROWNEDA KILLER'S CONFESSION, and a week of November CD release shows for NO COVER, with THE CROWNED. The shows will be limited capacity club dates, following all state and local safety protocols, social distancing, and capacity guidelines.
Says Ellefson, "We're all trying to make sense of everything right now. We got offered the shows in Texas with SALIVA several months ago, and as things opened back up, we thought if they could be done as safely as possible, for us and our fans, it might be possible to do them. So we decided to try. And with NO COVER coming out in November, we wanted to try and play a few intimate, limited capacity shows around the release, just to get out briefly and say hello to the fans.
We have safety plans and protocols in place for capacity, limited interaction meet and greets, etc, and we think we can still have fun, play great shows, and keep everyone safe. These aren't massive shows, they are very intimate club events, some with extremely low capacity, which we are hoping will make it possible for us all to stay as safe as possible and have some fun and semi-normalcy for a night. And as you can imagine, we are as excited to go out and play, as fans seem to be to see us."
With SALIVA, THE CROWNED, A KILLER'S CONFESSION
10/30 San Antonio, TX - Historic Sunset Station
10/31 Slidell, LA - Browns Village Plaza
11/1 Houston, TX - Barge 295
With THE CROWNED
11/18 - Pekin, IL - Twisted Spoke Saloon
11/19 - Indianapolis, IN - Emerson Theater
11/20 - Chicago, IL - WC Social Club (NO COVER Album Release)
11/21 - Green Bay, WI - Phat Headz II (NO COVER Album Release)
Also earlier this week, ELLEFSON anounced an updated release schedule for NO COVER, chalked up to unexpected medical situations for vocalist/co-producer Thom Hazaert.

Says Hazaert, "There's no easy way to say it, but in July, right in the middle of recording the album, I had massive heart failure, and went into cardiac arrest. My heart literally stopped for several minutes, and I was revived at the hospital. There was a long recovery, but we managed to finish the record, and secure amazing deals with our friends at EARMusic, and Ward, but obviously we had to revisit our timeline a bit. And literally, maybe a month and a half later we were in Los Angeles, at Al's house, shooting the video for "Auf Wiedersehen". I'm just extremely humbled and thankful to be here to not only be able to finish this incredible record, but be able to see it released Worldwide with incredible labels, which really almost wasn't the case."

He adds, "Originally we had envisioned NO COVER as a smaller, limited release "quarantine project" we were doing for fun with a bunch of our friends, really just to not have to release our studio album during the pandemic. But as it neared completion, and we really got to see the scope of what it was turning into, we realized it was worthy of so much more.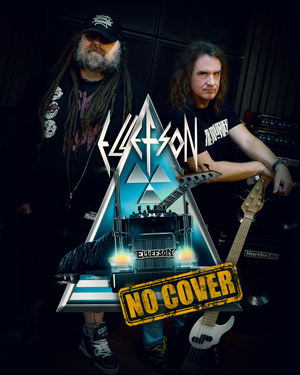 I have a long history and friendship with Max at EARMusic, and they are an incredible label, and home to some of our favorite artists, and friends - ALICE COOPER, DEF LEPPARD, and more, and we are ecstatic to be able to partner with them for not only this release, but future ELLEFSON releases as well. Ward had already released Sleeping Giants for us last year in Japan, and we had secured a deal with them for our upcoming 2021 studio album, so it was a natural fit when we went to them with the idea of partnering with us on No Cover."
Adds Ellefson, "It really was a crazy, whirlwind process, not only making such an involved album so fast, but also remotely, during a pandemic, with not only dozens of guests, but the entire band, spread around the Globe. And then, almost losing our singer in the middle of it. But at the end of the day, it turned out better than any of us had hoped, and really was one of the most fun records I've ever made. It's been great to pull so many great and positive things out of 2020, despite all the challenges."
Tracklist:
Disc One:
"Freewheel Burning (Judas Priest) ft. Jason McMaster, Gus G, Andy James, Dave McCLain
"Tear It Loose (Twisted Sister) ft. Eddie Ojeda, Dave McClain
"Love Me Like A Reptile (Motorhead) ft. Doro Pesch, Greg Handevidt, Chuck Behler
"Holiday in Cambodia (Dead Kennedys) ft. Charlie Benante, Bumblefoot
"Rebel Yell (Billy Idol) ft. Paolo Caridi
"Wasted (Def Leppard) ft. Frank Hannon, Jacob Bunton, Dave McClain
"Riff Raff (AC/DC) ft. Jason McMaster (Lead Vocals), Dave Lombardo, Bumblefoot
"Nailed To The Gun (Fight) ft. Andrew Freeman, Russ Parrish, Jimmy DeGrasso
"Not Fragile (Bachman-Turner Overdrive) ft. John Aquilino, Paolo Caridi, Bumblefoot
"Auf Wiedersehen (Cheap Trick) ft. Al Jourgensen, Brandon Yeagley, Charlie Benante
Disc Two:
"LOVE Machine (W.A.S.P.) ft. Dirk Verbeuren, Dave Alvin, Bumblefoot
"Love Hurts (Nazareth) ft. Brandon Yeagley, Chuck Behler, Tyson Leslie
"Eat The Rich (Krokus) ft. Jason McMaster, Dave Sharpe and Opus of Dead By Wednesday
"Sheer Heart Attack (Queen) ft. Bumblefoot, Doro Pesch, Charlie Benante
"Over The Mountain (Ozzy Osbourne) ft. Andrew Freeman (Lead Vocals), Bumblefoot, Jimmy DeGrasso
"Sweet FA (Sweet) ft. Todd Kerns (Lead Vocals), Bumblefoot, Shani Kimelman
"Beth (KISS) ft. Tyson Leslie, Bumblefoot
"Say What You Will (Fastway) ft. Mark Slaughter, Troy Lucketta




Please log in to view RANTS

If you don't have a username, click here to create an account!