CORNERS OF SANCTUARY Heroes Never Die


By Daniel Höhr, European Correspondent
Wednesday, November 4, 2020 @ 10:49 AM


| | | |
| --- | --- | --- |
| | | |
CORNERS OF SANCTUARY
Heroes Never Die
RFL Records, 2020




CORNERS OF SANCTUARY are a household name on the Trad Metal scene. Formed in 2011, the Philadelphia-based four-piece have six full-lengths studio albums under their collective belts and have shared stages with illustrious names such as UDO, STRYPER, SAXON, GRIM REAPER and ANVIL on their extensive tours. Heroes Never Die was produced by the band's guitarist and keyboarder Mick Michaels and mastered by Bill Metoyer, who has worked with SLAYER, FATES WARNING, W.A.S.P., ARMORED SAINT and SACRED REICH. Hardly surprising that soundwise the new CORNERS OF SANCTUARY album is a real killer.

The quartet from Pennsylvania kick off their seventh longplayer with appropriate speed and energy. The opener "We Never" sets the tone for the following eleven tracks on the album: heavily rooted in 1980s European metal in the style of JUDAS PRIEST, RIOT, ACCEPT and others, CORNERS OF SANCTUARY blend their influences to their own signature style of metal, which is straightforward, honest, and extremely great fun to listen to. That the band's got plenty of touring experience really figures on their records: instead of the sterility of studio recordings you come across ever so often, CORNERS OF SANCTUARY reproduce a high-octane and raw live feel on Heroes Never Die. The sheer groove and intensity of the two-and-a-half-minute rocker "Someone Else's War" and the ensuing "The Truth in Lies", which is only insignificantly longer that the former, are mind-blowing and will hit you right in the guts. There is nothing fancy about those tracks, just straight-in-your-balls heavy metal in a refreshingly modern sound. The four-piece continue their no-frills approach on "Combat Shock", which is sonically a bit more colourful thanks to the keyboards, but still lacks elaborate virtuoso guitar solos. Instead of excessive guitarsturbation, CORNERS OF SANCTUARY's music is more rhythm and riff orientated and pretty much to the point, which is amply demonstrated on each and every track on their new release. Matters do get a bit more sophisticated structurewise on the mid-tempo groover "We Won't Back Down (Do Or Die)", a track that you will probably have to play a few times before it grows on you. "Best of the Best" must be a killer of a song live. Especially the shout-along chorus is festival-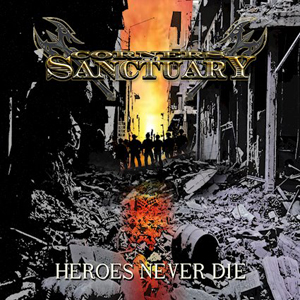 compatible and a CORNERS OF SANCTUARY live show with this track and some others of the new songs on the setlist is definitely something to look forward to once this virus has been defeated. Nowhere on this album does vocalist Stacey Lee remind me so much of a cross between Rob Halford and Udo Dirkschneider as on the relentless groover "We Are the Dead (Dead Man Walking)". "Remember The Dawn" pretty much picks up the intensity of the previous track, adds a bit more tempo and profound sonic depth thanks to the roaring beast of a rock organ, giving the track a classic rock sort of vibe as well. Here, finally, the lead guitar steps into the spotlight. Just like the other tracks, this song is boiled down to the essentials and this sheer wave of heavy metal force rolls over you in less than two and a half minues. A bit longer is the closer "Fight the Good Fight" – once again it is the raw force of the hypnotic riffs and the killer grooves that make this track as well as the entire album more than just compelling.
Originality is generally hard to find in Trad Metal but that's not the point. Still, Heroes Never Die would benefit from a little bit more variety and a few more colours. Impressed though I am, after listening to the album a few times, I'm still finding it a bit difficult to tell one track from the other, as the entire album is a hell of a riff fest and sometimes quite uniform. However, it is exactly the heavy riffing, the high-octane energy, and the live feel that makes Heroes Never Die a decent metal album that won't disappoint headbangers who love their JUDAS PRIEST, ACCEPT and the like. Definitely recommended.
4.0 Out Of 5.0




Please log in to view RANTS

If you don't have a username, click here to create an account!