ENSLAVED Utgard


By Francisco Zamudio, Metal X Candy 2.0
Thursday, November 12, 2020 @ 9:09 AM


| | | |
| --- | --- | --- |
| | | |
ENSLAVED
Utgard
Nuclear Blast




Norway has more than their share of great music when it comes to the heavier side of metal. For them it actually is a pop genre more acceptable than the western version of "pop" which is far more shit these days, to put it bluntly. For a country to consistently house great band after great band makes you ask "what's in the water?" Since the early 1990's, one band that took a different, psychedelic and atmospheric approach to their Metal is ENSLAVED. Where bands who late in their careers, changed their sound completely for a much more mellow sound - ENSLAVED have embraced this throughout their life. Fifteen albums later we arrive at UTGARD (NUCLEAR BLAST) which shows that they too still have room to experiment.

Going down a rabbit hole, you'll hear that these songs are written with such diversity. You certainly get those dark and blackened influences but only for short while. The opener "FIRES IN THE DARK" essentially sets a tone for an album that elevates, overwhelms and can maybe even lose a listener. With a URIAH HEEP and DEEP PURPLE vibe, the second track "JETTEGRYTA""SEQUENCE", being one of the longest songs on the album, and "HOMEBOUND" are two of several songs that give a commercial sound making this album (and band) more acceptable to a wider audience. The latter wouldn't surprise me if it ended up on the alternative station in my local area. Speaking of alternative, "URJOTUN" definitely gives off a synth-pop/new-wave vibe that could get some play in a goth club. "FLIGHT OF THOUGHT AND MEMORY" is an intense ride and my favorite track off the album that captures everything that this album had to give with its blackened side, gone proggy.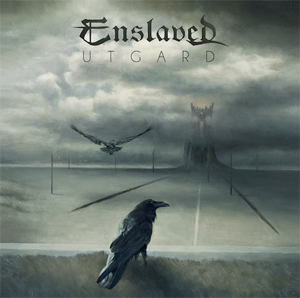 These veterans of early Viking Metal show a more melodic side it seems, as supported by more (clean) singing. This shows the experimentation of their songwriting that seemed to favor a much more mellow side. What many would call "evolved", this style of music tends to lend an inviting hand to those music fans who don't commit to heavier and more extreme metal, and prefer a band's later material (suiting the taste of fans who prefer later-era OPETH and MASTODON). UTGARD will be embraced by those who boast about this sort of experimentation/evolution in bands (don't worry… not favoring this album doesn't make you "close-minded" as they would like to believe). Digression aside, this is not new territory for ENSLAVED, they have always pushed the boundaries of their multi-faceted style over the past few decades and they certainly embrace being accepted by a wider audience beyond the extreme metal scene.
UTGARD is an album that is open to interpretation, both lyrically and musically. As bassist/vocalist Grutle Kjellson would point out. "UTGARD could be countless things… something that is hard to master completely, perhaps impossible…. It is a place where madness, creativity, humor and chaos dwell." While there are hints of their Blackened sound all throughout the album, this far less metal approach is commercial and much more prog-rock, so don't expect much of a fast-heavy Blackened Metal album. These veterans do not need anyone's approval. They have established their sound through the 3 decades as a band and this somewhat new direction only expands their persona. Should this direction carry them further due to commercial success, time will tell.
3.5 Out Of 5.0




Please log in to view RANTS

If you don't have a username, click here to create an account!