Steve Riley's L.A. GUNS Renegades


By Ruben Mosqueda, Contibutor
Monday, November 16, 2020 @ 9:41 AM


| | | |
| --- | --- | --- |
| | | |
Steve Riley's L.A. GUNS
Renegades
Golden Robot Records 2020




Ruben Mosqueda There was an L.A. GUNS shake-up in 2016 when vocalist PHIL LEWIS reunited with the band's namesake TRACII GUNS for some shows that evolved into working on new material. That left drummer STEVE RILEY, who was part of the classic line-up, on the outs with Lewis whom he had carried on under the L.A. GUNS name. I spoke with STEVE RILEY in May of 2020 and he said the following, "I'm the only member from the 'classic line-up' that hasn't ever left the band. I'm the guy that was handling all of the business side of the band and I'd put things together, put together tours and made records happen. I'm the only guy that hasn't ever left the band. I've always been the guy that has tried to talk the 'classic line-up' members from leaving, because I think it's important to keep the 'classic line-up' whenever possible". Okay, STEVE RILEY then moved forward with his own incarnation of L.A. GUNS which features him on drums, bassist KELLY NICKELS from the 'classic line-up', guitarist SCOTT GRIFFIN who has played bass in L.A. GUNS in the past and they've recruited frontman KURT FROHLICH. They signed to Golden Robot Records and introduced the band this spring when they released "Crawl".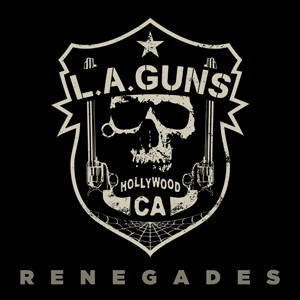 This L.A. GUNS has more of a 'modern' or 'contemporary' rock vibe, while yes there are some influences of the L.A. GUNS sound. This L.A. GUNS wouldn't seem out of place if played alongside some of the present day acts like SHINEDOWN, SEETHER, ALTER BRIDGE and the like. With the wealth of L.A. GUNS back catalog this L.A. GUNS could feasibly tour with Riley's & Nickels' contemporaries or bands that are more current. This L.A. GUNS' reach is more copious, than the L.A. GUNS that you've grown up with. Renegades was produced by Riley who got a raw, live sounding performance from the band. L.A. GUNS has a stripped down, driving gothic, hard rocking attitude with a dash of Sunset Strip grit. "Crawl", "Don't Wanna Know", "Renegades", "Why Ask Why" and "Well Oiled Machine" are great examples and highlights on the album. Surprisingly, where L.A. GUNS really shined was on the ballads "Would" and what is probably the best song on the album, "You Can't Walk Away", which would work perfectly in the set slotted in right before the classic "The Ballad Of Jayne". While you might have wanted not to like this L.A. GUNS album, they have kept things simple from the production, to the traditional formula of sticking to the best 10 songs, which reduces the chances of filler. "Lost Boys" is the only tune on Renegades that falls short, mostly due to the pedestrian lyrical content, otherwise great riff, great melody.
4.0 Out Of 5.0




Please log in to view RANTS

If you don't have a username, click here to create an account!