DREAM THEATER Distant Memories - Live In London


By Peter Atkinson, Contributor
Wednesday, December 2, 2020 @ 10:54 AM


| | | |
| --- | --- | --- |
| | | |
DREAM THEATER
Distant Memories - Live In London
Inside Out Music




Distant Memories - Live In London is something like the ninth live album from prog-metal icons DREAM THEATER. While not quite on an IRON MAIDEN or RUSH pace of doing one after every studio album, you can pretty much count on DREAM THEATER to not go more than two studio turns without offering a live release.

And two albums after Breaking the Fourth Wall, which featured a show recorded at the Boston Opera House where the band was accompanied by an orchestra and choir from the Berklee College of Music, comes the Distant Memories CD/DVD/Blue-Ray. It too marks a special event, or at least a special tour, one that focused on the band's latest studio album Distance Over Time and celebrated the 20-year anniversary of its first concept album, 1999's Metropolis Part 2 – Scenes From A Memory.

Distant Memories fully fleshes out what was done in condensed form on Breaking the Fourth Wall, where four of the tracks from Metropolis Pt. 2 served as the show's grand finale. Here, Metropolis Pt. 2 takes center stage and is performed in its entirety front to back, about a third of the way into the 150-minute set. DREAM THEATER had done that previously when the album was initially released, and capturing it on the ill-fated Live Scenes From New York, which was issued on Sept. 11, 2001, only to be recalled to change out the original cover art that depicted the Manhattan skyline - and the World Trade Center towers in particular – in flames. Whoops!

Distant Memories offers something of a mashup of the Metropolis and Distance cover concepts interspersed over an innocuous panorama of the River Thames, with the Tower Bridge in the background. So what could possibly go wrong there? Hopefully Nov. 27, 2020, will simply be another Black Friday in name only, with the turkey and gravy-addled masses bucking Covid-19 social distance protocols to go marauding through the local Mega Lo Mart in search of cheap Christmas swag - and not some sort of London-area apocalypse.

Regardless, Distant Memories offers a ray of prog-metal sunshine in an otherwise dreary year of pandemic suckitude. It's a two-and-a-half-hour escape into impeccably performed wankery and pomposity – and I mean neither as an insult. DREAM THEATER has always set the bar high for that sort of thing, yet keeps managing to up the ante.

Ironically, Distance Over Time was the band's most streamlined and efficient album since, probably, 1997's mainstream-minded Falling Into Infinity – though far heavier and aggressive by comparison - and marked a dramatic contrast to its predecessor, 2016's mind-boggling, 34-song, 130-minute concept album The Astonishing. Six Distance tracks are featured here at the front and back of the set, which opens with the rousing, muscular "Untethered Angel" and closes with more sprawling "At Wits End" – with "Paralyzed" tacked on as a bonus.

So to proggy things up a bit, the 16-plus minute "A Nightmare To Remember" from Black Clouds – Silver Linings and nine-minute "In the Presence of Enemies - Part 1" from Systematic Chaos are included in the lead up to the anniversary airing of Metropolis Pt. 2. And until The Astonishing came along, it really didn't get much more prog-tastic than that. Split into two "acts" – and therein nine scenes covering a total of 12 songs – it captured DREAM THEATER at its most ambitious and it made up for the stylistic flailings of the aforementioned Falling Into Infinity with fucking vengeance.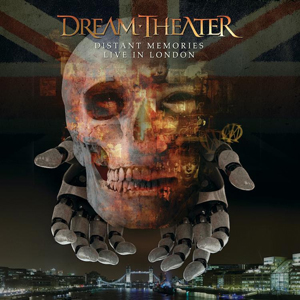 Here, it kicks off after Distance's "Pale Blue Dot", with some ragtime piano and an animated video backdrop that introduces the story's characters before the hypnotist's countdown, acoustic guitars and James LaBrie's lilting vocals on "Scene One: Regression" bleed into "Scene Two: I. Overture 1928" and the wank-abration begins, telling a tale of murder and reincarnation over the band's dazzling instrumentation. 80-some minutes later, there you are, "Finally Free", as the closing tracks notes.
On video, oddly enough, all this can be too much to take in one sitting, since the theatricality of the show is modest at best - really just the video screen, and watching a video of a video gets old quick - and doesn't offer the fire, lasers or Eddie The Monsters and dive-bombing Spitfire aircraft distractions of the aforementioned RUSH or IRON MAIDEN. But as music only, it's a captivating work and is best taken in its entirety given its evocative narrative and roller-coaster soundtrack. Cutting things off in the middle only makes it seem like you're missing something – which is the mark of any stellar concept album.
But since god knows when we might actually be able to enjoy an actual concert in an environment such as this, the sold-out coziness of London's Apollo Theatre, ponying up for the DVD or Blue Ray package of Distant Memories - Live In London may be a wise investment. The couch is certainly a poor substitute, but it's better than nothing.
4.0 Out Of 5.0




Please log in to view RANTS

If you don't have a username, click here to create an account!