ANAAL NATHRAKH Endarkenment


By Nathan Dufour, Great White North
Friday, December 11, 2020 @ 1:07 PM


| | | |
| --- | --- | --- |
| | | |
ANAAL NATHRAKH
Endarkenment
2020, Metal Blade Records




I saw ANAAL NATHRAKH live in 2015, at the Maryland Deathfest. It was afternoon, it was oppressively hot and humid. The show was stopped, however briefly, to give a very public comeuppance to someone in the crowd actively being a dick and starting fights and generally being unsavoury. Amazing what a view one can have from that stage. Amidst the aural violence that ANAAL NATHRAKH conjures they don't stand for that kind of crap and there is a genuine heart and, yes, love, behind it all (as there is in any art). But now, we stare collectively at a different stage, a year seemingly without end and very few points of any true or lasting joy, a true Endarkenment if you will. Through all darkness, it is said, there will be light. ANAAL NATHRAKH are, somewhat paradoxically, that light, having brought to us perhaps their finest effort to date. An effort that lays bare a whole lot of human emotion and beauty in its chaos.

This album has everything that I want, as a listener, from ANAAL NATHRAKH. And then some. Beginning very strongly with the title track, "Endarkenment" shows true growth for a band that has always been about forward momentum while smashing genres together with the gravity and urgency of a black hole. Included here is an earworm with pronged barbs in the outstanding interplay of a lead and stupefyingly catchy chorus, clean singing and all. Now, ANAAL NATHRAKH have always toyed with various ends of the extreme metal spectrum, to varying success, but not before has an album started so hopeful. I mean just listen to that chorus. Of course then second track "Thus, Always to Tyrants" is just bonkers in the most perfect way. This one-two hit is really indicative of how Endarkenment plays out - a study in brutality but also shocking contrast.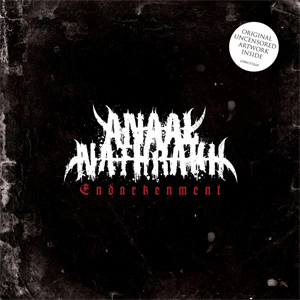 I can't understate just how listenable this album is. It may be the climate currently, but I am not tired of it and do tend to find, as with anything, that I need a little more variety than the usual ANAAL NATHRAKH album (and I have a lot of them). Plainly put, Endarkenment is rather joyful. It is also very, very heavy. The riff in "Libidinous…" is just unstoppable as is the lyrical content of the whole album. Vocals are deserving of special mention here as well as they are almost intelligible which is not at all to the detriment of the aural assault that takes place on track after track after track. Oh, and there is a lyric video as well for "The Age of Starlight Ends". Do you know when ANAAL NATHRAKH publishes lyrics? The answer is never. So there is that.
A clear standout among many standouts is the gorgeously titled "Create Art, Though the World May Perish". The song encapsulates everything great about ANAAL NATHRAKH and distills the myriad high points of Endarkenment into one song. It should have been the single but really every song is a hit.
Endarkenment shows ANAAL NATHRAKH at their strongest point yet, purveyors and gate keepers of some of the most exciting extreme metal of this or any other year, whatever year it is now… Listen to music loud enough you don't hear the collapse.
4.5 Out Of 5.0




Please log in to view RANTS

If you don't have a username, click here to create an account!