CADAVER Edder & Bile


By Peter Atkinson, Contributor
Wednesday, December 16, 2020 @ 7:45 AM


| | | |
| --- | --- | --- |
| | | |
CADAVER
Edder & Bile
Nuclear Blast Records




Veteran guitarist Anders Odden has dusted off CADAVER yet again, 15 years after it split for a second time and nearly 30 years after dissolving for the first. This time, though, he's not taking any chances with other band members, handling all of the instrumentation, vocals and writing himself – save for an assist from ace drummer Dirk Verbeuren, ex of SOILWORK and now of MEGADETH and myriad other side projects like this. And it's a combination that works just fine on CADAVER's first full-length since 2004's Necrosis and fifth overall.

Odden has carved a pretty decent career for himself as a session/touring guitarist, performing with the then-resurrected CELTIC FROST in 2006-07, MINISTRY and PIGFACE for short stretches, and holding down the bass position with SATYRICON since 2009. He's had a couple of bands of his own along the way as well, but CADAVER has obviously held a place very close to his heart, hence its fits and starts. And he's never had an issue working with a revolving cast of characters in the band's incarnations, including a run as CADAVER INC. from 2002-04 when he teamed up with two-thirds of AURA NOIR.

The re-reanimated CADAVER offered up the three-song EP D.G.A.F. last spring as a taste of things to come, and delivers 10 fresh cuts of extreme metal gnarliness on Edder & Bile. The album gets off to a fittingly bilious start, with Odden retching and heaving over the opening of "Morgue Ritual", perhaps as an homage to the chemotherapy treatments he endured during the last year while battling colon cancer – thankfully, he is now-cancer-free. Things don't get a whole lot "prettier" after that, once Odden collects himself.

Edder & Bile is a furious, rough and tumble, blackened death 'n' roll dog's breakfast – for lack of a better comparison – and I mean that as a compliment. It throws together bits of black, thrash and vintage death metal – both the buzz-sawing Swedish and more visceral American varieties – and delivers them with the stripped down fervor of old school punk rock. With its rough-hewn, scornful air and relentlessness, Bile reminds me a bit of SATYRICON's Rebel Extravaganza from 1999, on which Odden contributed guitar work.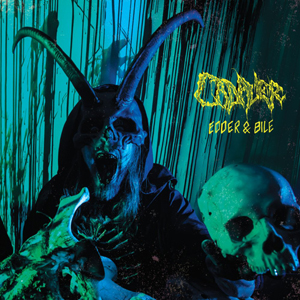 Verbeuren leads the charge here with his usual agility and rivet-gun precision, laying down an alternating d-beat/blast-beat/double bass fusillade for Odden's fleet, grinding riffs and body-blow hooks. The 10 tracks are dispatched in a militantly efficient 32 minutes, leaving little time for frivolity or fancy to contrast the music's full-frontal attack or Odden's phlegmy rasp – aided on "Circle Of Morbidity" by POSSESSED's Jeff Becerra and on "Feed The Pigs" by MASSACRE's Kam Lee.
Yet while Bile is a rather remorseless effort, and gleefully revels its ugliness, its certainly not an unlikable or tuneless affair. Indeed, for the most part, just the opposite is true. Like the aforementioned SATYRICON or AURA NOIR, Odden/CADAVER keeps things relatively simple and delivers a degree of catchiness – or at least hookiness – as opposed to merely stringing together parts or simply offering sheer velocity.
"Reborn" and the title track are a veritable cascade of meaty riffs while "The Pestilence" delivers its chorus with a rousing, earwormy hook. Even the more frantic "Deathmachine" or "Years Of Nothing" – with its dive-bomb guitar solo - manage to grab you by the throat and hold on for the ride. Oddly, the more deliberate "Let Me Burn" that closes the album and is comparatively the easiest song on the ears – at least until its dead sprint near the end – is also the blandest number here. So go figure.
Regardless, Edder & Bile is an inspired and irascible album that seems to prove that "you can take the boy out of CADAVER but you can't take the CADAVER out of the boy" - or some such nonsense. Even with so much time and so many projects since CADAVER last stalked the landscape, not to mention the bout with cancer, Odden has brought it back with a vengeance that cannot – and should not – be ignored.
4.0 Out Of 5.0




Please log in to view RANTS

If you don't have a username, click here to create an account!