ALLEGAEON Launches Acoustic Video For "In Flanders Fields"


By Larry Petro, News Monkey
Tuesday, January 12, 2021 @ 6:35 AM


| | | |
| --- | --- | --- |
| | | B-Side To Concerto in Dm Digital Single |
The past December, ALLEGAEON released a new digital single, Concerto in Dm" - featuring the title track and B-side "In Flanders Fields". Now, the band has launched an acoustic video for "In Flanders Fields" (shot by Matthew Zinke), which can be viewed on KNAC.COM HERE.

Greg Burgess (guitars) comments: "In 1915, Canadian poet and military doctor Major John McCrae lost one of his best friends to a German artillery shell, during the second battle of Ypres. Inspired by grief, McCrae began the first draft of "In Flanders Fields". Three years afterwards, the poem had such an impact, people started honoring soldiers by wearing poppies on their lapels.

Being from the US, I was unaware of this poem and tradition, until we were on tour in Canada with NEOBLIVISCARIS in 2018. After being stranded by an ice storm in Ottawa, I was introduced to this poem and it struck a chord with me - inevitably this piece of the same name followed. As for the video - do we really need another classical video set in a beautiful place, having the performer with eyes closed perform? Probably not. Do we need a video where we have the juxtaposition of a classical guitarist in a beautiful place, while repping tech death? Survey says...why not!"

Stream Concerto in Dm now at: http://metalblade.com/allegaeon

Additionally, a play-through and documentary for Concerto in Dm can also be viewed at: https://youtu.be/_EtcIrkG8FA

Concerto in Dm track-listing
"Concerto in Dm"
"In Flanders Fields"
ALLEGAEON's latest album, Apoptosis, was released in 2019 to critical acclaim. Tracked at Flatline Audio in Denver with long-serving producer Dave Otero (CATTLE DECAPITATION, CEPHALIC CARNAGE), Apoptosis is ALLEGAEON's fifth full-length, and the first to feature bassist . "Musically, Brandon brings a huge new dimension," vocalist Riley McShane enthuses. "He has this wide breadth of music knowledge and stylistic proficiency that he draws from with excellent taste, and this makes a lot of the songs on Apoptosis come to life." The record also features a guest appearance by classical guitarist Christina Sandsengen, who duets with guitarist Greg Burgess on "Colors of the Currents". "On this record, I was more open to new ideas that we might not have used in past," states guitarist Michael Stancel. "Rather than deleting something because 'it's not Allegaeon-y enough', I would take a step back and see if that idea fit the song and decide if it was worth keeping. With that mentality came some of my favorite songs, because I was less worried about if it fit into our old sound." This statement is borne out across the whole album, which while very much embodying the core ALLEGAEON sound that has drawn fans in over the course of their impressive career, it pushes into new territory, and does so with unerring confidence. "Thematically, this record is all about contrast, and the music reflects that perfectly," says McShane. "The vocals are heavier than ever, but there are also more clean sections. The drums are faster than ever but also more dynamic, and the guitar playing is lower and slower than on most previous albums, but also provides long, melodic and beautiful sections throughout."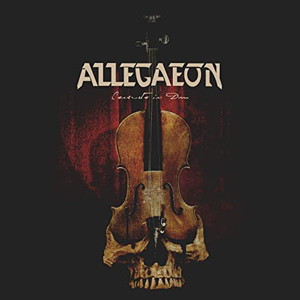 To preview and purchase Apoptosis, please visit: http://metalblade.com/allegaeon
Avocado Booking presents:
"Rising Merch Faces Of Death Tour 2021" w/ RIVERS OF NIHIL, ALLEGAEON, ARCHSPIRE, BLACK CROWN INITIATE, TO THE GRAVE
11.12, 2021 - Bochum, Germany @ Matrix
11.13, 2021 - Munich, Germany @ Backstage
11.14, 2021 - Milan, Italy @ Slaughter Club
11.15, 2021 - Aarau, Switzerland @ KiFF
11.16, 2021 - Karlsruhe, Germany @ Die Stadtmitte
11.17, 2021 - Vienna, Austria @ Viper Room
11.18, 2021 - Budapest, Hungary @ Dürer Kert
11.19, 2021 - Dresden, Germany @ Puschkin
11.20, 2021 - Prague, Czech Republic @ Nova Chmelnice
11.21, 2021 - Poznan, Poland @ U Bazyla
11.22, 2021 - Hannover, Germany @ Béi Chéz Heinz
11.23, 2021 - Berlin, Germany @ Hole44
11.24, 2021 - Copenhagen, Denmark @ Stengade
11.25, 2021 - Hamburg, Germany @ Logo
11.26, 2021 - Aarschot, Belgium @ De Klinker Club
11.27, 2021 - London, UK @ O2 Academy Islington
11.28, 2021 - Birmingham, UK @ Mama Roux's
11.29, 2021 - Glasgow, UK @ Cathouse
11.30, 2021 - Bristol, UK @ Thekla
12.1, 2021 - Manchester, UK @ Rebellion
12.2, 2021 - Southampton, UK @ The Loft
12.3, 2021 - Paris, France @ Gibus
12.4, 2021 - Nijmegen, Netherlands @ Doornroosje




Please log in to view RANTS

If you don't have a username, click here to create an account!