BLOOD STAINED DUSK Return With New Single "Worship and Disintegrate"


By Larry Petro, News Monkey
Thursday, January 21, 2021 @ 1:52 PM


| | | |
| --- | --- | --- |
| | | First New Music Since 2008's Black Faith Inquisition |
This is the year for Black Metal! BLOOD STAINED DUSK has ushered in the new year with a new single and lyric video for "Worship and Disintegrate", their first new music since the band reunited a year ago. The Alabama based black metal group are not newcomers to the scene and have a rich history that has ultimately allowed them to rebound after tragedy, member changes and the opportunity for limitless musical growth and experimentation. The debut of the video has poised the band to pick up where they left off in 2009 as they decided retirement was no longer an option and they needed a creative outlet.

The BLOOD STAINED DUSK sound, which is like no other in U.S. Black Metal (USBM), captures unique, majestic, and somber tones accompanied by ritualistic brimstone and fire lyrics. The raw and menacing atmosphere of the band's sound creates an epic and warlike ambiance. The music's influence was originally forged by the traditional Norwegian and European Black Metal sound while powerfully emerging as a unique entity within the USBM culture. Created in 1997 by founding member and drummer Profana, the band revealed its debut in 1998 with the Blood Stain Dusk demo cassette. Lineup changes brought the band a newfound force in singer/songwriter Dageth. This led to the release of the now classic EP, Thy Legions Reign Over Christendom in the following year.

In 2001 Baphomet/Necropolis Records released the band's crushing debut album, Dirge of Death's Silence, which maintains a large, international cult following. The album is often regarded as one of the most influential albums in USBM history. A full US tour, alongside death metal legends MONSTROSITY, followed in late 2002. In addition, appearances at historic metal venues and an appearance at Milwaukee Metal Fest firmly entrenched the band as a force to be reckoned with. In 2003 BLOOD STAINED DUSK formed Black Flame Records and released their sophomore effort, Continuance of Evil. The label partnered with amazing international artists and released an impressive catalog of work. Unfortunately, on the night of January 24, 2005, Dageth was tragically taken from the band at age 24; he was the victim of a fatal traffic accident.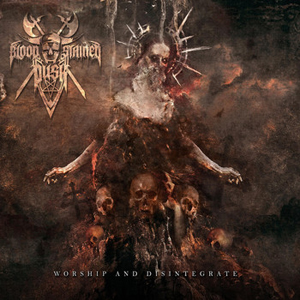 In 2008, the remaining core of the band consisting of Profana, Oroan and Thorgrin, were able to continue Dageth's masterwork by releasing their third and most sinister recording. Black Faith Inquisition was released via Moribund Records and was dedicated to Dageth's memory. The album featured lead vocals from Pest, who is best known for his work with GORGOROTH and OBTAINED ENSLAVEMENT. The album release was immediately followed up with a US tour as direct support for Finnish Black Metal legends, HORNA. The tour was mounted in remembrance of Dageth, and upon its completion in 2009, the band elected to retire.
Now, in 2021, sixteen years after Dageth's tragic death, the three remaining members, along with new bassist Perkunas, have decided to resurrect the beast to bring the band's vile message to a new generation of fans. A new album is being written and more songs will be released over an extended period leading up to the full release. The band is also in the process of scheduling shows for the summer and fall. Until then, enjoy the lyric video for "Worship and Disintegrate" as well as listening to the band's full catalogue on Spotify, YouTube, Bandcamp and other digital mediums.
The band consists of:
Profana: Drums
Thorgrin: Vocals, Guitar & Keyboards
Oroan: Guitar & Vocals
Perkunas: Bass & Vocals




Please log in to view RANTS

If you don't have a username, click here to create an account!