Bruce Dickinson
Tyranny of Souls


By Jeff Kerby, Contributor
Saturday, July 2, 2005 @ 9:41 AM


| | | |
| --- | --- | --- |
| | | (Sanctuary) |
People love to bitch…. yeah, ok, bastard--I know I do, too.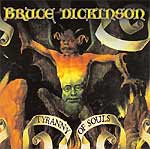 It is basically because of this universal truth that the primary challenge for Mr. Maiden on Tyranny of Souls was to create a work that was somehow reminiscent of his signature band without seeming particularly lifeless to the contingent of metalheads who felt that Maiden's last two efforts, Brave New World and Dance of Death were ultimately formulaic and disappointing. It's a funny thing, but part of Bruce not being boring seems to be directly proportional to how seriously he takes himself on any given effort. I'm not saying Dickinson needs to wear a red rubber ball nose on his face and tell one liners about rabbits and potato salad, but my head starts to hurt when I begin hearing that the new record is inspired by William Blake and that:

"The album is adorned with a 15th century depiction of hell by Hans Hemling and continues this theme to explore dark apocalyptic themes delving into science, theology and of course his love of flight, with thought provoking, intelligent and menacing lyrics that are sure to leave the listener's mind unsettled."

That kind of shit makes MY head hurt. Before I knew it, I began having Blackie Lawless delusions of grandeur that were somehow combined with Bruce's rather unfortunate Dio inspired lyrics like:

"There is frost, in every sunbeam.
Water flows, from the Earth to the sky."

I know some of you dig that shit, and I'm sure you're the same maternal mammary slammers who could be found camped out at theaters all over the country two weeks ago at midnight dressed like genetically deprived versions of Yoda. That's nice and all, but for my money, the best Maiden/Dickinson tunes were always the ones that just kicked ass musically and rocked like the soundtrack to cage fight--take the opening lines of "The Trooper" for instance:

"You'll take my life, but I'll take yours too."

Sounds cool, right? This may have even been your wedding song, and the beauty is that for a second the listener is able to forget that both of you fuckers are about to be dead. Dead equals no breathing, and no breathing equals lifeless, and lifeless equals the last records by Stephen Pearcy or Velvet Revolver. (C'mon, admit it--VR sucks. Urggh. Please come back to your band, Axl. I'm sorry for every negative word I ever said about you--just please get back with Duff and Slash so they can stop wearing those embarrassing midriff exposing shirts and prancing with around with that wannabe Bowie--Weiland. In reality, Velvet Revolver is proof positive that money and a lot of exposure can break even the most mediocre of records.)

Now, regardless of whatever preconceived notions that may exist about this offering, Bruce has to gets numerous spins here at least in part because his two previous solo efforts Chemical Wedding and Accident of Birth were more like Maiden than Maiden was during the Blaze Bayley years of the '90s. Basically, what any listener who picks this up will find is that this effort is doubtlessly superior to the last two Maiden discs even if it may not end up being quite as good as the aforementioned Dickinson solo efforts, but even at that, Tyranny of Souls still makes for a respectable conclusion to the trilogy. The new record begins with "Mars Within (Intro)" which basically just serves as an auditory lead-in to the second track and contrasts nicely with "Abduction" which is irrefutably quality-laden enough to instantly quell any initial skepticism that may exist in the listener. Producer/collaborator Roy Z's influence can be instantly be heard, felt and welcomed as a long lost friend. When "Soul Intruders" brings an up tempo charge to the festivities, the entire effort that starts to take on the appearance of one of those works that a metal fan could put in the disc player and listen to indefinitely while pondering all of Dickinson's lavish visual pictures--to the point where it almost doesn't matter if he's full of shit or not. Believe me, when you hear lines like the following which was taken from the potential rock classic, "Kill Devil Hill" (ostensibly about the Wright Brothers first flight), it would be wise for the listener to concentrate on the quality of the vocals and the energy in the music rather than declarations such as:

"Blood brothers of Angels now hear us,
We Earthbound, your offspring, don't fear us."

Really, it is mostly because the first four selections are so damn powerful, that it is easy for the listener to focus his attention away from Bruce's over the top lyrics and sentiments, but when the pace slows down as it does in "Navigate the Seas of the Sun," that becomes more difficult to do. The redemption though comes in the form of Dickinson's vocals, which show range that might not work as well within the constructs of Maiden. Even that isn't enough to alter that fact that logging in at 5:53, this tune is still about a minute and a half too long, and it painfully shows. This problem is compounded on Tyranny of Souls when tracks six and seven are played revealing that "River of No Return" and "Power of the Sun" don't add much to this collection and at times can sound like filler.

The first of the final three tunes of this selection, "Devil on a Hog" comes in with a chorus that is guaranteed to play and replay in the head of the listener long after the stereo has been turned off. Unfortunately, "Believil" doesn't quite hit the mark though in its intention to sound ominous, and instead ends up appearing a bit flat and is definitely one of the weaker tunes here--probably the worst. The record does rebound and end on a high note though with the title track "A Tyranny of Souls" which starts off with an eerie type of intro before slamming into a rocker than many metal bands of today would envy and tip their caps to in acknowledgement.

There is absolutely no way to give this record four stars given that between three to four of these songs simply aren't the type of material that is going to make old school Dickinson fans forget his previous efforts. On the other hand, this record is definitely worth buying on the basis of the other tracks that rock in a way that Maiden hasn't in ten years. Some will say that the reason this album isn't quite what it could have been is due at least in part to the absence of Adrian Smith. Whether it was this factor or the way Tyranny of Soulscame together with Roy Z creating the guitar parts in L.A. while Dickinson was writing his lyrics while on tour with Maiden is up for debate, but what is indisputably true is that at times the production here is probably a bit too smooth, and the lyrics are a bit too pretentiously ambiguous to allow this work to be completely embraced by the masses. The upside though is that a more than decent effort by Bruce Dickinson is still better that 80% of what's out there--bitching aside, Tyranny of Souls promises more quality work to come from one of metal's great frontmen.

* * *




Please log in to view RANTS

If you don't have a username, click here to create an account!