NERVOSA Perpetual Chaos


By Francisco Zamudio, Metal X Candy 2.0
Wednesday, January 27, 2021 @ 1:21 PM


| | | |
| --- | --- | --- |
| | | |
NERVOSA
Perpetual Chaos
Napalm Records




To the furthest extent of the word, many would argue that "Female-Fronted" should not be a label used. Personally I don't believe it diminishes a band in any way but actually recognizes them as a form of respect. Not in in anyway how the term "boy-bands" (puke!) is used, but here we have a full-female band that should be recognized as having made great strides and records. For nearly a decade sole original member, guitarist Prika Amaral has led the band NERVOSA and has released some great material. Now on the verge of her 4th album and an entirely new line-up, NERVOSA is set to blow the eardrums off both new and old fans.

On a much more polished scale, PERPETUAL CHAOS tops previous versions of NERVOSA's past albums which is not easy considering they were definite bangers. This new line-up now consisting of drummer Eleni Nota who can throw down some great intense in-the-pocket speed, double-bass and fills, bassist Mia Wallace (ABBATH) supplies the thunder and great rhythm support and vocalist Diva Satanica shows some great diversity in her vocal approach that really solidifies NERVOSA's sound here. Amaral has not lost any stride in her song-writing producing some shredding tunes to bang your head to. The Blackened Thrash sound will absolutely drive the pits insane with their constant ferocity like the track "Time To fight" that is simply a juggernaut. I couldn't pick and choose which tracks stick out as they are all great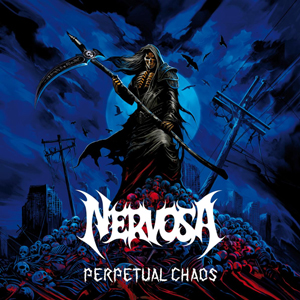 songs that really demonstrate their skills. There's the opening tracks "Venomous" and their first single and video "Guided By Evil" and "Genocidal Command" that really shows off Satanica's vocal prowess. One can't help but hear some of the similarities in Diva's vocal style that are mix of Angela Glassow meets Tom Araya. Even the riffs have a real SLAYER-esque feel to them as well (yes, I could have named THOUSANDS of Speed/Thrash bands).
Another very important thing worth noting and something Prika and NERVOSA have always done is they RELEASE FULL ALBUMS!! PERPETUAL CHAOS is 13 songs and just under 45 minutes of insane rippers from beginning to end. Thank you for breaking the mold and have the guts to give us MORE than 9 songs, intros and all, that has become a (personally speaking) chicken shit norm these days for bands. The powerful combination of great production quality and awesome song-writing really allowed this new fearsome foursome to sound ferocious. New fans and long-time fans will highly appreciate their latest accomplishment on PERPETUAL CHAOS.
5.0 Out Of 5.0




Please log in to view RANTS

If you don't have a username, click here to create an account!





OMNIUM GATHERUM Origin

WORMWITCH Wolf Hex

TOBY HITCHCOCK Changes

BLACK LABEL SOCIETY In Houston Photo Gallery

HALESTORM, PLUSH In Salt Lake City With Photos!

JINJER, SUICIDE SILENCE & ALL HAIL THE YETI In Cleveland, OH With Photos!

BULLET FOR MY VALENTINE Bullet For My Valentine

BLACK LABEL SOCIETY Doom Crew, Inc.

KHEMMIS Deceiver

SWALLOW THE SUN Moonflowers

AEON God Ends Here

SUFFOCATION Live In North America

OBSCURA A Valediction

THE THREE TREMORS Guardians of The Void

SEBASTIAN BACH, KALEIDO In Orlando, FL With Photos!

VICTORY Gods of Tomorrow

THE GRANDMASTER Skywards

RIVERS OF NIHIL The Work

LORDS OF BLACK Alchemy Of Souls Part II

FRANK BELLO Fathers, Brothers And Sons: Surviving Anguish Abandonment And Anthrax

BUCKCHERRY, HARD LABOUR In Ottawa, Canada

THE DEAD DAISIES In Portland, OR With Photos!

LORNA SHORE ...And I Return to Nothingness EP

NORTHTALE Eternal Flame

RUNNING WILD Blood On Blood

PLUSH Plush