Third Volume Of …And Justice For Art: Stories About Hard Rock & Heavy Metal Album Covers Gets Released


By Larry Petro, News Monkey
Friday, February 19, 2021 @ 8:33 AM


| | | |
| --- | --- | --- |
| | | By Ramon Oscuro Martos |
The third and final volume of the acclaimed book trilogy, …And Justice For Art: Stories About Hard Rock & Heavy Metal Album Covers has been released via as a limited edition of only 700 copies by indie publisher, Dark Canvas.

This book is a collection of graphics and never-before-revealed stories about the making of some of the most iconic album covers in the history of heavy music. It features 260 glossy pages, 431 images and 102 exclusive interviews with bands like Amorphis, Judas Priest, Sepultura, Carcass, Katatonia, Morbid Angel, Megadeth, Enslaved, Cradle Of Filth, Nocturnus, Ihsahn, Sabaton, and acclaimed visual artist like Costin Chioreanu, Eliran Kantor, Travis Smith, Ken Kelly, Dave McKean, Hugh Syme and Rene Mivile, etc. In addition, it includes an insightful foreword by veteran Swedish musician, Anders Nyrstrom, guitarist of acclaimed Metak bands, KATATONIA and BLOODBATH.

This beautifully designed volume reveals all the secrets behind the covers for venerated albums like Judas Priest's Painkiller, W.A.S.P's The Headless Children, METALLICA's Kill 'Em All, MEGADETH's Peace Sells… But Who's Buying?, SEPULTURA's Beneath The Remains, RUSH's Moving Pictures, MACHINE HEAD's Burn My Eyes, NOCTURNUS' The Key, STRATOVARIUS' Visions, CARCASS' Necroticism…, AC/DC's Highway To Hell, KATATONIA's Discouraged Ones, OPETH's Blackwater Park, DEATH's Human, MORBID ANGEL's Covenant, KISS' Destroyer, SABATON's The Great War, DREAM THEATER's Metropolis 2, GHOST's Prequelle, among many others.

…And Justice For Art – Volume 3 is the final chapter of a book trilogy that celebrates the amazing legacy of Heavy Metal art. It's the culmination of a project that started 10 years ago when I began working on the first book in 2012," says author, Ramon 'Oscuro' Martos. "For me, it has been a deeply personal, yet epic journey." The veteran Cuban-American writer/musician also admits that although …And Justice For Art – Volume 3 is "a direct continuation of the previous two volumes, it's also a true standalone book. I made sure to create three volumes that were truly independent from each other. This means that you don't need to have or read Vol. 1 or Vol. 2 to understand or enjoy Vol. 3 or vice versa. Each book (especially Volume 3) is a unique visual and reading experience."

Most of the stories featured in …And Justice For Art – Volume 3 were personally compiled by Ramon Oscuro, through personal interviews with the artists and bands. In some cases, he even visited the locations where some of the album covers where created. He also made sure to include in the book high quality images of the original artworks, sketches, and other related graphics. "Working on this volume was an amazing experience," the author says. "It was really challenging, but the finished product looks amazing. I'm totally satisfied with it."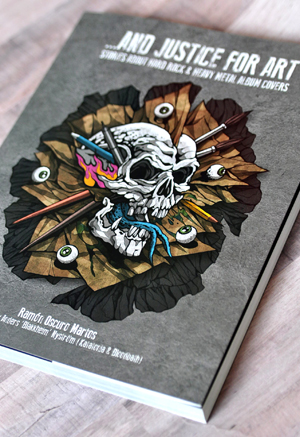 Through the years, important Metal musicians have expressed their support to the …And Justice For Art series. SOULFLY's Max Cavalera has labeled it as a "pretty cool" book series. Ex-MORBID ANGEL's David Vincent, said that it's "a historical document about the importance of Metal album covers."METALLICA's Robert Trujillo points out that these are publications "the whole family can enjoy." AMORPHIS' Esa Holopainen said the books are "masterpieces". CATTLE DECAPITATION's Travis Ryan admits that "this is exactly what the music world needs to remind us all just how important album covers have been to all of us." And the list goes on.
In addition, specialized publications around the world have praised the books. USA's Decibel Magazine called it the series "a lush, edifying, fascinating, surprising tour de force history of Metal album covers." UK's Zero Tolerance Magazine wrote that the books were "meticulously researched, beautifully designed and with a wealth of fascinating and insightful interviews." Belgium's Rock Tribune Magazine said the volumes were "very impressive."
The new …And Justice For Art: Stories About Hard Rock & Heavy Metal Album Covers is exclusively available at: http://andjusticeforart.bigcartel.com/ Each copy comes autographed by the author and includes an exclusive book mark and a free gift. It ships worldwide.
And Justice For Art online:
Official Website: www.andjusticeforart.com
Facebook Community: https://www.facebook.com/andjusticeforart
Official Instagram: https://www.instagram.com/officialandjusticeforart/
Twitter: https://twitter.com/AJFA10

Please log in to view RANTS