JOEL HOEKSTRA'S 13
Running Games
Frontiers Music Srl - 2021
http://www.joelhoekstra.com




Seemingly proving the adage that "time flies when you are having fun", the first album under the JOEL HOEKSTRA'S 13 banner, Dying To Live, is an album that five plus years after its original release, has yet to leave my work bag. I carry it with me everywhere because it is just that freaking good!

So you can imagine how excited I was at the prospect of a second album from guitarist Joel Hoekstra's solo band project. For this Running Games album, the WHITESNAKE guitarist (among his numerous projects) returns pretty much every musician who performed on Dying To Live for this second musical sojourn.

Much like the first release, Running Games is full of memorable hook laden songs that are full on ballsy rockers at the same time. This time out, it is Russell Allen (SYMPHONY X) who sings lead on each track. He split those duties with Jeff Scott Soto on the first album but this time around Soto is featured only on backing vocals. With bassist Tony Franklin (ex-BLUE MURDER), drummer Vinny Appice (ex-DIO, ex-BLACK SABBATH) and keyboardist Derek Sherinian (BLACK COUNTRY COMMUNION, ex-DREAM THEATER) fleshing out the music with Joel Hoekstra's six string buffet, you'd be hard pressed to find much in the way to complain about.

A lot of solo projects feature the named artist but someone else usually plays a large part in the creation of the songs. But on Running Games, Hoekstra wrote all the material and produced the album as well.

Like I said previously, I was very excited to hear this second release from the JOEL HOEKSTRA'S 13 project. Ever since I saw him front and center just before he left NIGHT RANGER, I've become a big fan of Hoekstra's work.

The album wastes no time in doling out the never lacking in melody but highly charged rockers that Hoekstra seems to excel at turning out. The opening song "Finish Line" bursts out of the speakers from the first note with a badass opening riff. And while the music is always top notch, I'd be remiss if I failed to mention that there's plenty of lyrical lines that I love. That starts with this song and a line from the chorus that goes "I'm still running, running for the finish line that I can never find". This is just the first in the album's eleven song track listing but it certainly sets the table for what is to come.

I'm not always sure that I read the specific intent of someone's lyrics properly but on "I'm Gonna Lose It", as the band rocks out musically, I loved the way Allen's vocals dished out the set of lyrics that seem to call out someone's significant other for always making any situation in life more unnecessarily difficult.

"Hard To Say Goodbye" might seem on the basis of the song title to be headed down the path of power balladry, but that idea is quickly dispelled as the music is explosively propulsive and features a chorus that strongly resonated with me on a personal level. This is definitely an album highlight song.

The song "How Do You" starts out slow but then switches back and forth to a faster tempo throughout the song. That back and forth tempo switch also shows up on "Cried Enough For You". The mixture of pure melody and ballsy rocking is probably best illustrated on the song "Fantasy". However, if I'm being honest, I have to say that I didn't think the song "Lonely Days" hit home with me as much as the rest of the songs. It's got a fast moving style to it but while others will probably rave about the song, I just didn't seem to connect with it as much as I would've hoped.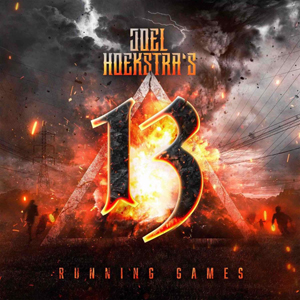 Saying the guitar work on Running Games is superb seems a bit superfluous since the album is built around a guitar player. But obviously the album is fueled by the incredible playing that Joel Hoekstra provides. On the outstanding song "Take What's Mine", the band as a whole (particularly the extra bit of edginess to Russell Allen's vocal take) is fantastic but the song's guitar solo is one that I found to be phenomenal. The track is one of my favorites on the disc.
That furious blast of amped up rocking continues to thread its way through songs like "Heart Attack" and "Reach The Sky". On the former, there's a really catchy rhythmic delivery to the song's chorus and "Reach The Sky" made me think it would've been a huge hit single back in the 80's. It has a big accessible yet hard charging sound to it that would've sent fans into fist pumping exhilaration back in the day.
After all that high powered rock and roll, it first seemed a bit odd to see Running Games end with the album's title cut, a slow moving song combined with a reflective rumination set of lyrics. But as I listened to the song a few times, it really grew on me a lot. As it did that, I also felt that the song became the perfect way to close out the disc. It gives the listener time to pause and reflect not just on the song itself but on the other tracks that came before it.
It may have taken more than five years, but this new JOEL HOEKSTRA'S 13 album is going to find a place in my workbag alongside its predecessor. Anyone with a love of highly charged, energetic and melodic driving rock and roll will want to check out the devastatingly great Running Games!
4.7 Out Of 5.0