HELSTAR Clad In Black


By Kelley Simms, Contributor
Thursday, April 1, 2021 @ 8:27 AM


| | | |
| --- | --- | --- |
| | | |
HELSTAR
Clad In Black
Massacre Records




Houston's HELSTAR is a US power metal institution with a cult-like status. Formed in 1981, HELSTAR never gained massive appeal within the metal scene but has developed a devoted fan base over its 40-year existence. Arguably, the band's most popular track, "Baptized in Blood" from its 1989 album Nosferatu, displayed HELSTAR's power/speed metal brilliance and became a live staple of the band's set. Of course, the biggest talking point of HELSTAR is the iconic vocalist and metal journeyman James Rivera (VICIOUS RUMORS, DESTINY'S END, KILLING MACHINE, SEVEN WITCHES). Nicknamed the "Mexican Dio," Rivera has earned a decent reputation with his soaring pipes and commanding stage presence. Joining Rivera is founder/guitarist Larry Barragan, guitarist Andrew Atwood, bassist Garrick Smith and drummer Michael Lewis.

"Black Wings Of Solitude" 7" was unleashed in October 2020 and included the BLACK SABBATH cover song "After All (The Dead)" as the B side. On Clad In Black, the first CD of the two CD compilation package includes both songs as well as two more new songs and two cover tunes; ACCEPT's "Restless And Wild" and JUDAS PRIEST's "Sinner". The second CD includes the band's previous studio album, 2016's awesome concept album Vampiro, which is now made more accessible in this 2CD presentation.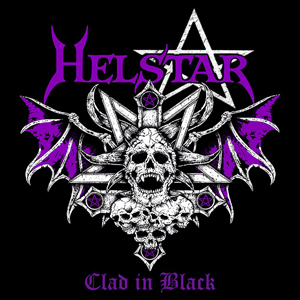 Opener "Dark Incarnation (Mother Of The Night)" kicks things off in true Helstar fashion; ominous intro, dangerous buildup, mid-paced tempos with chugging riffs and Rivera's evil operatic vocals. Other new tracks "Black Wings Of Solitude" and "Across The Raging Seas" follow suit with classic HELSTAR-isms, while cover tunes "Restless And Wild", "After All (The Dead)" and "Sinner" are both outstanding in their own right. If you already were able to purchase Vampiro, then you know what an awesome release it is. From the explosive and thrashy opener "Awaken Unto Darkness" to the sinister sounding "Blood Lust" to the celestial neoclassical instrumental "Malediction", Clad In Black is dynamically strong and offers sonic variety from track to track that keeps the listener thoroughly engaged. In addition, the modern and polished production is top notch, while the songwriting, song structures and musicianship are equally impressive.
Forty years into its career, HELSTAR are still blazing a fiery trail. Boasting one of the best vocalists in all of metal in Rivera, as well as one of the best but underrated riff masters in Barragan, HELSTAR is still nailing it. Clad In Black is a fantastic purchase and a no-brainer for your collection. The inclusion of Vampiro alone is worth the price of admission, while the brand new tracks and the killer cover tunes are all icing on the cake.
4.5 Out Of 5.0




Please log in to view RANTS

If you don't have a username, click here to create an account!