GOJIRA Fortitude


By Krystiee Lee, Editor
Friday, April 30, 2021 @ 5:56 AM


| | | |
| --- | --- | --- |
| | | |
GOJIRA
Fortitude
Roadrunner Records




After a whopping five years since their latest masterpiece, French gods GOJIRA are back again with their 7th studio album to date, Fortitude. I'm just going to be real with everyone, GOJIRA is literally the best damn thing since sliced bread. I can't say one bad thing about these guys… they have been consistent with themselves as a band since the get-go and have selflessly been providing us oh-so greatly with their spiritual awakening, yet throat punching works of art. I mean seriously, it's works of ART. I swear each album they release gets better and better and I guarantee you they will someday be huge. I mean next METALLICA of the world-huge. The whole shebang, Joe; the shockingly thrilling lead vocalist and guitarist, Christian; the exquisite rhythm guitar master, Jean-Michel with the sludgy soul crushing bass, and of course the insane non-human genius (and also my all time EVER favorite drummer) Mario. You cannot name a better group of badasses like GOJIRA. Fight me on it. Y'all have no idea how much excitement filled my bones once I was told that little ol' ME would get to be the blessed soul to review this album. I also told myself I wasn't going to talk too much about my obsession with GOJIRA so lets just get down to this review, eh?

First tracks up and also three generously released singles "Born For One Thing", "Amazonia", and "Another World" really set the mood for what's to come with the rest of this album and gives a pretty accurate representation of what GOJIRA has and will continuously stand for. With lyrics like "All is blur in the maze we put an end to all", and "We mock and slaughter all the purest kinds, blinded by the noise and maze, this flash in our eyes" GOJIRA' is creatively sending the message to voice their concerns with how selfish we humans have become with the planet and how we are slowly killing away what should matter the most to us in the world. Almost in a way you feel disappointed at humankind once you fully listen to these meaningful lyrics. It's catchy, emotion filled, and raw.

Chants and soothing echoes come out immediately with "Hold On" which then leads us back into a head-nodding jam with a more "different" side of GOJIRA when it comes to the album as a whole. "New Found" comes through, yet again, with more catchy and bouncy riffs but that ending legitimately blew me away. Wasn't expecting that, which I should have, but I was definitely pleased nonetheless, especially with Mario continuously throwing it down on the drums. Have I mentioned how incredibly talented this drummer is? Growing up with four of my family members, including my father, being well experienced drummers, and havinga drum set in the living room as a kid I've always appreciated and paid a little more extra attention to drummers and their rhythms in each and every song that comes into my ears. And honestly, ever since hearing Mario with GOJIRA I haven't yet found a better drummer in my opinion, He's simply THAT incredible to me. That is all.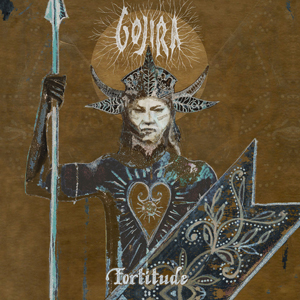 To take a little halfway point breather we have "Fortitude", a fun little 2-minuite Indian-style yet "woodsy" feel "intro" that leads us back into the fire with "The Chant", another one of my favorites from the album. It's Catchy. As. Hell. It kind of leaves you with MASTODON vibes and makes you want to sit back and smoke a joint. "Sphinx", HOLY HELL! My top favorite on this album hands down. This track is just so damn good to me. For some reason, Joe's angry vocals really stand out in this one, which is probably why I love it so much. I love his "angrier" tracks. Plus, you got the wicked bass and the flaming riffs that just brings it all together so well.
"Into the Storm", another generous single we were all blessed with, goes deep with lyrics like "Gather your strength, raise your eyes, Fear not the demons you're up against". Another secretly powerful message disguised in insanely good drum surroundings. Summing up the album are "The Trails" and "Grind", both a little different from each other as "The Trails" is more of the cleaner, lighter side with Joe's vocals that we don't see very often compared to "Grind", which is simply riffs on top of riffs on top of more riffs with more of an attacking feeling GOJIRA-style with the bottomless bass and epic roars.
All in all, Fortitude is an excellent album and I am 100% certain it will be in my top 5 albums of the year. Although, this album seems a little more "relaxed" compared to GOJIRA's previous doings. I feel as if it hit me in a way that I could somewhat relate to/understand with, especially with how the past year and a half has been for us all. It's somewhat fitting in a way and I can almost find peace within it.
GOJIRA does it again with providing a one-of-a-kind album with Fortitudeand I can only imagine how amazing it's going to sound live.
5.0 Out Of 5.0




Please log in to view RANTS

If you don't have a username, click here to create an account!