LYCANTHRO Mark Of The Wolf


By Andrew Depedro, Ottawa Corespondent
Monday, May 24, 2021 @ 12:56 AM


| | | |
| --- | --- | --- |
| | | |
LYCANTHRO
Mark Of The Wolf
Alone Records




Like their proverbial carniverous spirit animal known for running in feral packs, Ottawa's own power metal wild dogs LYCANTHRO have made their mark on the since their formation in 2016. Having shared the stage over the years with the likes of HAMMERFALL, DIAMOND HEAD, ROSS THE BOSS and RAZOR to name a few of their elder contemporaries, the quartet's own following has now borne a noble and noticeable following of its own with its debut full-length album titled Mark Of The Wolf. And as a debut full-length album in the power metal genre goes, it evokes many of its influences from its teachers, from IRON MAIDEN's twin galloping bass/lead guitar riffs to SAXON's thundering rhythm section and chanting choruses all the way to BLIND GUARDIAN's powerful and theatrical-sounding vocals and extended compositions. As a debut hard rock/heavy metal album overall, it not only showcases a variety of talent throughout its 43 minutes of captured studio time, but it also features an even number of eight powerful songs crafted with fury and determination.

Granted, it would be something of a huge stretch to immediately place Mark Of The Wolf alongside the likes of Kill 'Em All or VAN HALEN's self-titled debut in that particular context even after a couple of listens, but the band – featuring James Delbridge (vocals/guitars), David Shute (guitars), Stew Everitt (bass), Nathan Shuman (drums), and Forrest Dussault (guitars) – with the average age of 20 exhibit a similarly firm drive to take advantage of further broadening their songwriting/playing skills to the hilt on this album which hasn't a filler track on it anywhere. So, with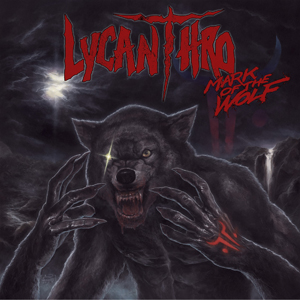 that said, would opening the album with the 7-minute number "Crucible" be considered maybe a bit too ambitious let alone following it up with similar songs of near-equal length such as "Fallen Angel's Prayer" (featuring a professional chamber choir), "Enchantress" and the title track? Maybe – if this were any other debut album with similarly high expectations. Yet, LYCANTHRO, despite their affinity of the epic extended song prevalent in power metal and its begotten forefather known as progressive rock, can also scribe shorter tunes while adding some fantasy into their music, as "Ride The Dragon" and "Into Oblivion" will attest. And throughout the album, Delbridge's vocals have surpassed notable perfection particularly on "Crucible" and "Evangelion", his already powerful pipes from The Four Horsemen Of The Apocalypse ascending to the next level.
Recorded at Wolf Lake Studios in Lac-des-Loups, Quebec, evidently to keep the continuity of the album's theme ongoing, and mastered by SEVEN SPIRES guitarist Jack Kosto, Mark Of The Wolf marks not only many criteriae for the consummate debut album but also marks LYCANTHRO's own territory within the new breed.
5.0 Out Of 5.0
Facebook.com/Lycanthrokills
Instagram.com/lycanthro_metal




Please log in to view RANTS

If you don't have a username, click here to create an account!