'Metal Massacre XV


By Francisco Zamudio, Metal X Candy 2.0
Wednesday, May 26, 2021 @ 8:50 AM


| | | |
| --- | --- | --- |
| | | |
'Metal Massacre XV
Metal Blade Records




Turn in your Metal badge now if you have no idea what Metal Massacre is and has done for Metal as a whole. Compilations and mix-tapes such as this helped carve the way for many and I mean MANY bands. Many who have gone mainstream and many who are still considered underground, which in no way is derogatory nor takes away from each of their success. Don't worry, I'll certainly list things you should know about Metal Massacre. Now 4 decades later Brian Slagel and Metal Blade Records release Metal Massacre XV with 10 tracks from 10 bands that they feel you should know about. And when have they ever been wrong? A team effort, it involved Metal Blade President Tracy Vera, A&R Ryan Williams, Head of Publicity Nikki Law and rounded out by Albert Mudrian, Chief Editor of Decibel Magazine who has been known to share his education in all things Metal not just with his periodical but also with his book Choosing Death, an insightful book that delves into the world of Death Metal and Grindcore.

Now down to the compilation itself. It contains some brilliant examples of underground. California (US) is represented by Death Metal bands RIPPED TO SHREDS and RUDE, tracks 6 and 7, respectively. We get Ohio's Death n' Rollers MIDNIGHT. Post punk/dungeon synth POISON RUINS from Pennsylvania. Death Metal/Crust outfit FUMING MOUTH from Massachusetts. Death Doom from Michigan with TEMPLE OF VOID. Some traditional Heavy Metal from Illinois' MIDNIGHT DICE. MOTHER OF GRAVES bringing their Melodic Death/Doom from Indiana. Rounding out this list are a couple of non-American bands. The exceptions are tracks 4 and 9 by MANY SUFFER Featuring ex-MY DYING BRIDE Guitarist Calvin Robertshaw who comes from the UK, and epic power doom/traditional metal group SMOULDER from Canada.

So unfortunately (or fortunately, depending what side of the fence you're on) there aren't many representations of Metal bands from other parts of the world, but that's ok. You can see that it's still a multifaceted list of bands with ranging styles but stays true to form of the many Metal Massacres before them. A little something for everyone with the essential idea that it will show you some bands that may have been around for a good minute but new to you. As Decibel Magazine's Albert Mudrian states," …I dutifully attempted to bring the best sub-genres metal has produced over the past 40 years into a cohesive portrait of what today's underground metal scene faithfully represents." An attempt greatly achieved. Whether you enjoy the crunchy Swedish Death Metal sound from RIPPED TO SHREDS and FUMING MOUTH, to the Death Roll style of MIDNIGHT who've been around since 2003, to the traditional old school sound that MIDNIGHT DICE bring – Metal Massacre XV has something for everyone who craves variety in Metal.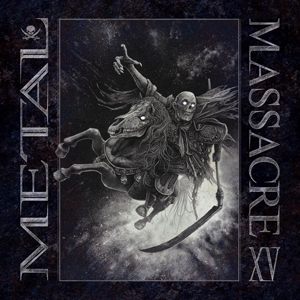 To give you a bit of backstory, Metal Massacre helped pave the way for bands to get noticed on a grand scale. The up and coming Metal Blade Records label was looking to put its stamp on the scene while Metal itself was growing. This 15th installment comes 5 years later since Volume XIV, 10 years prior was Vol. XIII, and another 10 years prior to that with Vol. XII. A compilation that was put out nearly every year since the early 80's, it made Metal Blade Records a household name in the Metal scene. Credit where credit is due, it is a great contributing factor when it came to the renowned success achieved by OVERKILL, METALLICA, SLAYER, ARMORED SAINT, POSSESSED – just to name a few. I reached out to a friend to get his thoughts on the Metal Massacre legacy. Engineer/Producer and former A&R of Metal Blade, Bill Metoyer is a name worth mentioning as his involvement in this history, who's worked on the Volumes 2 through 9 - without whom, a lot of the great music and bands we love could simply not be where they are today. "it's awesome to see Metal Blade Records continue a tradition that first started in 1982". Awesome indeed as compilations like this help spread the word of bands who deserve to be heard. Great job to the team involved in putting this one together and congrats to the bands that made it on this historic 15th release.
4.0 Out Of 5.0




Please log in to view RANTS

If you don't have a username, click here to create an account!