DECAPITATED
The First Damned
Nuclear Blast Records




Wasn't sure just what would become of Polish death metallers DECAPITATED after the entire band was arrested in California September 2017 and then held on rape and kidnapping charges in Washington State for several months. Though those charges were eventually dropped and the band members freed and cleared to return to Poland, it marked just the latest in a series of unfortunate events that have dogged DECAPITATED over its 25-year career.

A 2007 tour bus accident in Belarus killed drummer Witold "Vitek" Kiełtyka, brother of guitarist Wacław "Vogg" Kiełtyka, and left vocalist Adrian "Covan" Kowanek wheelchair bound with a traumatic brain injury. After a two-year break, Vogg resurrected DECAPITATED with three new members. Since then, the band endured another touring van accident in 2014 – this time near New Orleans where luckily no one was seriously injured – and was onboard a LOT Polish Airlines jet that belly-landed in Warsaw in 2011 when its landing gear failed to extend – again without serious injury. And through it all, a series of drummers and bassists have come and gone with Vogg and frontman Rafał "Rasta" Piotrowski being the lone constants.

Following its latest spot of bother – not to make light of the situation - the band had resumed performing live, before COVID shut things down for everyone. And while it has yet to return to the states, Kiełtyka did tour here as second guitarist with MACHINE HEAD for its 25th anniversary tour in 2019-2020 – and apparently has remained a member of that band as well. In the meantime, DECAPITATED is now reportedly working on its eighth studio album and appears intent on getting its name back out there ahead of that with The First Damned, a collection of the band's earliest recordings.

The re-release is a compilation of the two demos - 1997's Cemeteral Gardens and 1998's The Eye of Horus – DECAPITATED made prior to signing with Earache Records, which helped launch them into the international death metal scene with 2000's Winds Of Creation album that features many of the songs from the demos. The First Damned was initially released, with a couple live tracks tacked on and different packaging, in 2000 on Poland's Metal Mind Productions. This version omits the live tracks.

Either way, what you've got on The First Damned is the band in its rawest, purest, most primal form. The material has not been remixed, remastered or rerecorded, it is the warts and all tracks that were originally available on cassette. Yet even here, it is easy to hear what a musically gifted band DECAPITATED was despite the fact that Vitek was 12 years old when some of the tracks were recorded, bassist Marcin "Martin" Rygiel was 14, and Vogg and vocalist Wojciech "Sauron" Wąsowicz were all of 15.

Like DEATH ANGEL a decade earlier, these guys were metal prodigies – especially the Kiełtyka brothers. While most similarly minded musicians their age were still honing their chops on SUFFOCATION or DEATH covers, DECAPITATED was creating and performing material that was already nearly as technically advanced and sophisticated. The tangled riffs, swaggering grooves and turbulent tempos were woven into surprisingly tight compositions – especially on The Eye Of Horus - and delivered not only with vigor but a depth and feel that, again, belied the band's youth.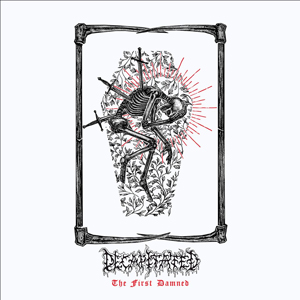 Even the more crude-sounding Cemeteral Gardens shows a band that already had gotten its shit together, matching its ambition with well-executed chops. And yet the growth and maturity DECAPITATED showed from one demo to the next – in the space of just a year - is amazing. With his limber hands and feet, and keen sense of swing, Vitek was well on his way to becoming the Dave Lombardo of death metal here – which may be why the band chose to cover SLAYER's "Mandatory Suicide" on Horus. And Vogg's guitar work – especially on his dive-bomb soloing – is sensational.
If there was a weak link it was Sauron's one-note, guttural growl. His pukey delivery might work just fine in a more brutal death metal setting, but it doesn't match especially well with the more virtuostic fare here – and really sounds horrendous on the "Mandatory Suicide" cover given the song's ample melody.
He did show some improvement on the band's first two albums, but Covan's feral shout proved a better fit on the two albums he was a part of - and Piotrowski has carried that torch nicely over DECAPITATED's more groove-oriented last three releases. Still, you gotta start somewhere. And you certainly can't discount either the effort Sauron put in back in the day or the impact he had in helping launch the band.
Even - literally and figuratively - in its infancy, DECAPITATED was onto something. The First Damned may sound rather rough and tumble, but the musicianship and spark was there from the get-go. Fortunately, despite the band's travails, that still remains and will hopefully lead to something new in the not-so-distant future.
3.5 Out Of 5.0