CHALICE OF SIN Chalice Of Sin


By Alex Yarborough, Orlando Contributor
Thursday, June 10, 2021 @ 9:21 AM


| | | |
| --- | --- | --- |
| | | |
CHALICE OF SIN
Chalice Of Sin
2021 Frontiers Music




CHALICE OF SIN is a new group, comprised of veterans Martin Jespen Andersen (guitar), Alessandro Del Vecchio, (bass and keyboards), Mirkko De Maio (drums) and vocal legend Wade Black (CRIMSON GLORY, SEVEN WITCHES, WAR OF THRONES).

There have been a ton of these projects coming from Frontiers lately, and CHALICE OF SIN is one of the strongest ones I have heard. The standout performance is the powerhouse vocals provided by Wade Black, giving these Euro-flavored metal tunes an American seasoning at times. His unique three octave-plus range dominates these tracks and gives them tons of character. I've followed Wade's career, and he never fails to deliver a passionate and sincere performance, whether he is fronting a hometown band or an internationally recognized group. The rest of band are by no means slouches! Alessandro Del Vecchio has been a stalwart of achievement for Frontiers, having worked with bands such as SUNSTORM, VOODOO CIRCLE and JORN LANDE, among many others. Danish guitarist Martin Jespen Andersen has a diverse background, playing with epic doom metallers ANCHORITE, blues rockers BLINDSIDE, and melodic metal band MERIDIAN. Drummer Mirkko De Maio has played with MIND KEY and is the current drummer for prog rockers THE FLOWER KINGS. CHALICE OF SIN is quite an accomplished ensemble!

The opening track is the band's catchy, driving, power metal theme song. While Martin delivers a blazing riff and Alessandro layers the keys just right, Wade beckons you to drink from the "Chalice of Sin" (Video on KNAC.COM HERE). Extended guitar/keyboard solos are a nice touch. "Great Escape" keeps the ball rolling and contains one of the best choruses on the album. "Whisky" is a good drinking song, especially for those who like it "straight up". "Miracle" is a mid-tempo track, yet one of the heavier songs on the album, with a nice solo from Martin. The speedy "Sacred Shine" has many tempo changes and Mirkko's double bass drums are welcome to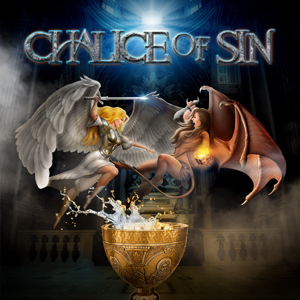 these ears. I dig Martin's riffs in this track as well. Wade's vocals are piercingly high on this one. "Ashes of The Black Rose" is a solid melodic metal track, accentuated by Alessandro's keys, while ballad "Through The Eyes of A Child" offers an introspective moment that is quite touching. Listen to "I Stand" for a tour de force performance from this band. Wade screams above the pulsing rhythm, and check out the inhuman note he hits in the chorus! The band drops the hammer on speed metal track "The Show", a song about the metal lifestyle that became a favorite track. "The Fight" is an interesting song with a speedy tempo that builds up as it reaches the chorus. The album closes with the epic "Nightmare". There are 11 total tracks, clocking in around 48 minutes.
Chalice Of Sin is another notch in the belt of all involved. This is a mature sounding, engaging debut album that will appeal to fans of YNGWIE MALMSTEEN, STRATOVARIUS, IRON MASK and LOUDNESS. There is enough symphonic sound on this album to appeal to power metal fans, yet not too much to deter traditional metal fans. Hopefully there will be more from this lineup soon! Chalice Of Sin will be released on June 18th by Frontiers Records.
4.5 Out Of 5.0




Please log in to view RANTS

If you don't have a username, click here to create an account!