BUCKCHERRY Hellbound


By Andrew Depedro, Ottawa Corespondent
Tuesday, July 6, 2021 @ 8:57 AM


| | | |
| --- | --- | --- |
| | | |
BUCKCHERRY
Hellbound
Earache/Round Hill Music




Like everyone else in the music industry throughout the past 16 months, the wild tattooed rock 'n roll outlaws in BUCKCHERRY had been made to eat much proverbial crow as the black batty disease known as COVID-19 spread its wings across the planet and brought everything to a sudden stop. Indeed, the Orange County, California-based hard rock quintet had seen well over 100 of their eagerly anticipated projected shows in North America for 2020 cancelled because of the coronavirus and understandably, the cabin fever had long set in for the well-established crew currently comprised of Josh Todd (vocals), Stevie D (rhythm guitar), Kelly LeMieux (bass), Francis Ruiz (drums) and Billy Rowe (lead guitar) who just simply wanted to continue making their indelible imprint from 2019's Warpaint more visible regardless of their latest lineup change (of which there has been many, with Ruiz and Rowe being the most recent additions to the ever-changing BUCKCHERRY squad). With their ninth studio album Hellbound produced by Marti Frederiksen, who'd previously produced the band's fourth album, Black Butterfly, and helped co-write one of the band's biggest hits "Sorry", BUCKCHERRY have scribed and set free perhaps one of their most lyrically and musically rabid albums in their catalogue.

First off, it must be said that if there has been another band not from Seattle that has been as unabashedly well-steeped in the purest of pure mainstream hard rock during the mid-to-late 90's who weren't METALLICA, PANTERA, STONE TEMPLE PILOTS, MONSTER MAGNET or especially GUNS 'N ROSES as BUCKCHERRY have been since their self-titled debut – produced by former SEX PISTOLS riffman Steve "Jonesy's Jukebox" Jones – dropped 22 years ago, then clearly one of us hasn't been paying much attention lately. Nevertheless, the energized vocals of Josh Todd and the latter-day Sunset Strip vibes, tones and swagger of many an inked-up rock soldier who've passed through BUCKCHERRY's ranks over the years have kept up the band's momentum stemming from the post-grunge era through nu-metal and beyond. They can sound as abrasive and fast as THE CLASH in one moment, sleazy and intimidating as early GNR and MOTLEY CRUE the next moment, and somewhere in between, they can pull off a decent rustic-sounding power ballad in the same vein as JOURNEY or NIGHT RANGER in parts. And they've kept up that same formula on Hellbound.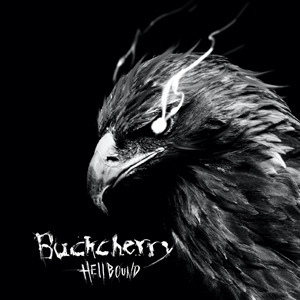 Opening with the catchy "Buick McKane"-sounding punk-rock vibe of "5-4-3-2-1", the album showcases BUCKCHERRY's energetic pulsating atmosphere as Josh Todd threatens to cut the protagonist loose for questioning his attitude. Particularly, lead-off singles "So Hott" and the title track further continue the festive vibe of the album. Further onwards, the bluesy-sounding "Gun" shimmies its way through some fancy harmonica playing while getting its lyrical "Romeo Delight" freak on, with Todd vocally charming the listener all over the song. "No More Lies" has a reggae-sounding groove happening on its intro and a catchy swaggering bass hook accompanying its bouncy riffs throughout. By the end of the album, while a slower track such as "The Way" pay a decent lyrical homage to the band and Frederiksen's best-known megahit opus "Sorry", the album's tried-and-true magic comes to light on "Junk" and "Wasting No More Time", not just reminiscing about the past but seeking answers and modules from that time so as to navigate the future from both the perspective of a personal and worldly panorama. Without turning up the amp volume in parts on those songs, it's the lyrics that bring the darkest and deepest overtones to Hellbound's overall atmosphere while its battle cry to go forward manages to resonate louder.
Tarred and feathered from numerous lineup rotations seeing changes in the flock and further compounded by the chokehold of a global pandemic, the past year and a half would've – and have certainly – pushed the careers of most other bands down south, BUCKCHERRY have otherwise weathered and feathered that same storm and put their down time to good use with Hellbound.
And not wanting to look like they've been more lazy than crazy bitches, the band have not only already rescheduled their tour dates from last year but are also now playing them as we speak!
See you at the Ottawa show in October!
4.5 Out Of 5.0
http://buckcherry.com/
https://www.facebook.com/buckcherry/
https://twitter.com/buckcherry




Please log in to view RANTS

If you don't have a username, click here to create an account!