A beloved member of the KNAC.COM family, former DJ Jarrod Arlen Gilham (aka SPYDER) has left us. He sadly passed away on July 22 at the age of 50.

He was loved and admired by the KNAC.COM family. His sense of humour and his love of metal was legendary. We will miss SPYDER. Our thoughts are with his family and many friends.

Some of the reactions from his colleagues at KNAC.COM:

"As many of you know, Spyder has passed. Wow. I've spent the last several hours reflecting on how, 24 years ago, we put KNAC.COM together. It was with guys like Spyder. Radio outcasts who had real talent and passion. Plus, he was a friend of Mark Mendoza... wait, what!? Who the *fuck* is this guy??

He was an eager worker who was not only in the middle of everything, but he was dependable af. As a programmer, he was one of my first "kids." He was great on the air, his problem was, he couldn't draw between the lines. He was hilariously impulsive. Radio's loss, our gain.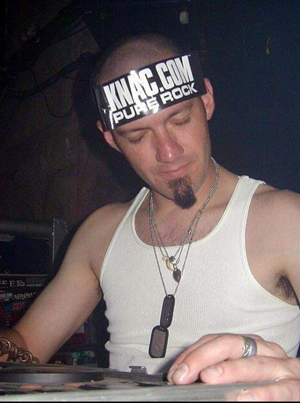 It gave me pause in whether to post this, my favorite Spyder moment. But fuck it. This is who Spyder was, who we were, and we all loved each other for it.
During one 10 minute DJ crossover, I'll be damned if we didn't drink an entire bottle of Jagermeister. I have no idea how it happened, but there we were. If Spyder was in the room, you had fun.
Rest easy, Spyder Monkey.
lp"
Long Paul, Program Director & KNAC.COM Co-Founder)
"Ohhh man. I'm speechless and my eyes immediately teared up We just spoke on the phone not too long ago about our faith. Spydee, I love you friend and I'm sorry you lost the battle that I didn't even know you were fighting (I didn't realize it was a problem)...but I'm hopeful to see you again, because I know you believed and are with Jesus right now. I'm sad that you are no longer here, but I'm happy you are healed now. I'll keep your mother and father in my prayers as I know how much you loved them both and they loved you. Rest Easy Spydee, you will be missed forevermore. Give my grandmother a hug in heaven please. 💔 You were always the life of EVERY party. The goofball, the funny one, the jokester. Ohhhh Spydeee..."
Vicki Schweiss (aka "The Rack")
"I just saw the news that a dear friend and former colleague of mine just passed away today. I can't even believe it. Thinking of all the great times we had at KNAC.COM. I just talked to him a couple of months ago....still processing. Jarrod Gilham-Spyder - you will always be THE MAN as far as I am concerned. Rest easy, my friend. This world will never be the same now that you're not in it. "
Diana Deville
"One of the funniest and coolest people I've ever known. R.I.P brother Jarrod Gilham-Spyder. There is no replacing u!"
Ray Baum
"OK...tough post...but our good friend Jarrod Gilham-Spyder aka SPYDER, has passed away. An autopsy is going to be performed to find out the true cause. I am crushed with this news. We all loved him and he will be dearly missed. Spyder's brother Dan wanted me to get the word out since he doesn't know the same people I/we do. With Ray Baum, Metal DJ Will, me and Spyder at the KNAC.COM studios in Hollywood."
AJ Motts
"It keeps happening. "Spyder" my friend, fellow KNAC.COM DJ, and fellow lover of laughter and sarcasm, you will be missed. My thoughts are with you and your family."
Jordan West (aka JUNKMAN)
"Spyder was very welcoming to me when I began my Pure Rock start @ KNAC almost 20 years ago. He would offer me tips and pointers in the early stages when our shift schedules overlapped. Over time when he resided in Los Angeles we would hang out constantly at shows, rockin' out, laughing it up and getting crazy. His manic energy was infectious and I always appreciated that about him and his passion for music.
I will miss my friend Jarrod...Some ALICE IN CHAINS & QUEENSRYCHE on eternal repeat.
God Speed Spyder"
William Howell (aka DJ Will)