THE ABSENCE Coffinized


By Peter Atkinson, Contributor
Friday, July 23, 2021 @ 1:51 PM


| | | |
| --- | --- | --- |
| | | |
THE ABSENCE
Coffinized
M-Theory Audio




Tampa's THE ABSENCE has been around for nearly 20 years – including a three-album stint with Metal Blade – yet have somehow managed to, for the most part, fly under the radar. The band's sound owes more to the melodic Swedish end of the death metal spectrum than the more brutish varieties spawned in its home state via DEATH, OBITUARY, MORBID ANGEL or DEICIDE, which should make it a bit easier on the ears of the masses. But, alas, it has remained something of an obscurity – or at least underappreciated.

The fact that most of the current lineup – guitarist Taylor Nordberg, bassist Mike Leon and drummer Jeramie Kling - is a veritable all-star team that is involved with a host of other bands, some with much higher profiles, including SOULFLY/CAVALERA CONSPIRACY, MASSACRE/INHUMAN CONDITION, EX DEO and VENOM INC., certainly hasn't helped, as it has spread the manpower pretty thin. Indeed, it's largely because of all that other activity that I kind of just assumed THE ABSENCE had split up sometime after 2018's A Gift For The Obsessed – the band's first album in eight years – as the other projects continued to mount.

So I was more than a little surprised when the promo for the band's latest album arrived – and given its title my first thought was that it was some sort of posthumous "best of" collection. Au contraire. Despite its title, Coffinized proves that the quintet is still very much a viable proposition, even if its members are being pulled in any number of different directions.

Intensity is the name of the game here, as THE ABSENCE seem to be working off a lot of pent up aggression – perhaps for the reasons stated above. The album bristles with the band's AT THE GATES meets TESTAMENT blend of Swedeath grit and vigor and thrash chug and shred. After the melodious harmony guitar intro, the title track hits the gas with its brisk, surging riffs, Kling's d-beat gallop and frontman Jamie Stewart's wolverine snarl.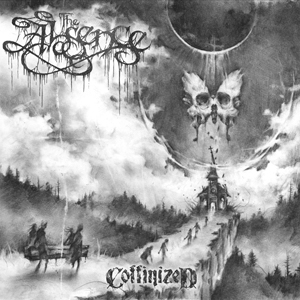 It's full-throttle much of the way from there with slight variations on that theme, as wicked hooks are mixed in for maximum moshability – notably on the title track, the careening "Discordia" and the uber-chunky closer "Faith In Unknown" – dramatic twin-guitar sweeps pop up throughout for texture and the odd curveball like "Cathedral Dawn"'s dirgey breakdown gets thrown to keep you on your toes. Less manic are "Radiant Devastation" and "Black Providence", which make up in LAMB OF GOD-like groove and heft what they might be missing, comparatively, in velocity.
"Treacherous" and "The Consuming Nocturne" deliver a back-to-back taste of more old school, technical thrash that showcase Nordberg's considerable chops. The lead work and duel-guitar harmonies are fantastic throughout – buoyed at times by departed guitarist Joey Concepcion, who guested on four songs – so kudos again to Nordberg for shouldering most of the burden and giving the album a splash of BLACK DAHLIA MURDER panache.
For such a seemingly distracted band, there's an undeniable focus and purposefulness to Coffinized. The songs are crisp, catchy and bursting with energy and their delivery is tight, vicious and determined. The bunch of pros that they are - hence the demand for their services – these guys have picked up right where they left off with Obsessed and just let it rip. It's an album that deserves whatever attention it can muster – which will hopefully be more than before.
3.5 Out Of 5.0




Please log in to view RANTS

If you don't have a username, click here to create an account!