HEAVEN & EARTH V


By Andrew Depedro, Ottawa Corespondent
Tuesday, August 3, 2021 @ 8:21 AM


| | | |
| --- | --- | --- |
| | | |
HEAVEN & EARTH
V
Frontiers Music S.r.l.




Since their inception onto the hard rock scene with their self-titled debut album some 21 years ago, melodious world conquerors HEAVEN & EARTH haven't just been musically transcendent with their well-crafted dulcet brand of harmonious classic rock throughout their five-album catalogue, but they've also attracted the interest of several big names to their ever-changing lineup over the years. Credit all goes to founder/guitarist Stuart Smith, whose nearly five-decade career in music since his mentoring by Ritchie Blackmore who encouraged him to pursue his rock 'n roll fantasy starting with forming his first band STILLWATER at age 17, has since amassed a band of his own creation that's attracted the likes of Richie Sambora, Joe Lynn Turner, Glenn Hughes, Carmine Appice, Howard Leese, and Kelly Hansen along with many others over time. And this was just on the lineup of the debut album. In between HEAVEN & EARTH albums – often for years on end – Smith was also touring and playing frequently with the likes of SWEET and EMERSON LAKE & PALMER; the experience did further bolster his profile in the music scene over time but it would also explain why H&E only had four studio albums thus far into its existence.

Close to 2 years into the global pandemic and it would be safe to say that Smith has had enough down time to assemble a follow-up to the band's 2017 album Hard To Kill – and he's done just that. Featuring Italian singer Gianluca Petralia (vocals), Lynn Sorensen (bass), Hungary-based George Barabas (Hammond organ and keyboard), and Smith's fellow British expat bro Simon Wright (drums, percussion) rounding out the lineup, Smith's latest version of HEAVEN & EARTH is transcending international border lockdowns and have their fifth studio album titled, well, V (five in Roman numerals, naturally), though perhaps Hard To Kill would've made for a more appropriate album title in this case if they hadn't already used it 4 years earlier. Still, no matter the timing of the best album title, it's an album that further showcases the inspired sounds of RAINBOW, WHITESNAKE, BAD COMPANY and even URIAH HEEP throughout its listen.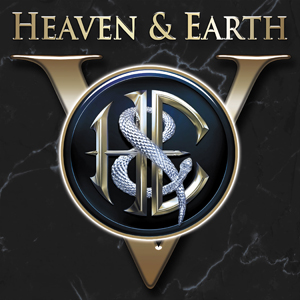 Opening with the riveting single "Drive", the album is already in high-energy mode thanks to the stellar chemistry of Smith's soulful bluesy playing and Gianluca's soaring vocals. Even with the bulk of the current lineup having only been with the band since the album's recording, their performance throughout the album has the sonic aura of a lineup that's been together for decades. Gianluca's vocals are adaptable on every song, whether it's some occasionally soft crooning on songs such as "Beautiful" and "Never Dream Of Dying" or giving some gritty ALICE COOPER-sounding vocals on swingin' numbers such as "Ship Of Fools" and "Running From The Shadows". Barabas' mad Hammond organ skills forge within H&E's blues-sounding vibe, proving how quickly he's adapted to their overall sound despite his most recent inclusion into the lineup, as his 70's Jon Lord stylings on "Flim Flam Man", "Ship Of Fools" and especially "One In A Million Men" will attest to. Finally, the chemistry of H&E's rhythm section comprised by Lynn Sorensen and Simon Wright return for a second time here, with Sorensen's bass playing and production skills and Wright's impeccable drumming talents are particularly solid on tracks such as on the bump-and-grind swagger of "Little Black Dress". Climaxing with the slow groove of the 6-minute-long bluesy number "At The End Of The Day", the album adds a testimonial to the band's tenacity in how it all came together from five individual established musicians scattered throughout different parts of the world to make this album happen.
Talk about literally moving heaven and earth here.
5.0 Out Of 5.0
https://www.facebook.com/officialheavenandearth
https://www.instagram.com/officialheavenandearth/
https://www.heavenandearthband.com




Please log in to view RANTS

If you don't have a username, click here to create an account!