ARMORED SAINT Symbol of Salvation Live


By Ruben Mosqueda, Contributor
Wednesday, September 8, 2021 @ 1:40 PM


| | | |
| --- | --- | --- |
| | | |
ARMORED SAINT
Symbol of Salvation Live
Metal Blade 2021




I don't think anyone would argue that the Symbol of Salvation album is one of ARMORED SAINT's shining moments of their career. The band released their critically acclaimed debut album March of The Saint and followed it up with Delirious Nomad. Their 'make or break' album Raising Fear didn't do well or break the band and resulted in the band exiting from a major label. That wasn't the only adversity that the band would face. ARMORED SAINT were dealt a tragic loss of their guitarist and founding member DAVE PRICHARD. They elected to move forward with a handful of songs that Prichard contributed for the new album. ARMORED SAINT found themselves once again receiving critical acclaim for the DAVE JERDEN [JANE'S ADDICTION, ALICE IN CHAINS, SOCIAL DISTORTION] produced Symbol of Salvation. "Reign of Fire" and "Last Train Home" were on regular rotation on MTV'S Headbanger's Ball, which helped grow the band's fanbase. ARMORED SAINT went on a hiatus after the touring cycle of the album. Frontman JOHN BUSH went on to sing for ANTHRAX for a few years and bassist JOEY VERA went to play with FATES WARNING, as well as a number of other bands.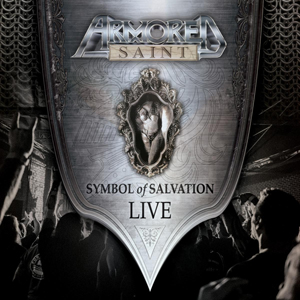 ARMORED SAINT regrouped a number of times for new albums, compilations and live performances. JOHN BUSH eventually exited ANTHRAX and returned to ARMORED SAINT full-time. Prior to gearing up for the recording of their latest album, 2020's Punching The Sky, they went on the road to perform Symbol of Salvation top to bottom. As you can imagine, the fans were geeked at the chance to see the band tear through the classic album. ARMORED SAINT did not disappoint. The sequence of the album was not moved around, they performed it in the exact order of the studio album and about as spot on as one can get close to 30 years later.
This concert performance goes back to 2018, when ARMORED SAINT performed in New York City's Gramercy Theatre. The footage was filmed in black and white and looks fantastic. It's a straight concert performance and isn't one of those DVDs that is a live show cut-up with band or fan interviews intertwined between every other song. This throws you right into the front row of the concert and makes you feel like you're in the middle of the action. ARMORED SAINT executed the performance of the album brilliantly and JOHN BUSH's banter between songs is genuine and celebratory. He walks you through anything relevant related to the song or just says something playful and humorous to his bandmates and the audience. If you're a fan of ARMORED SAINT this is essential, if you're a casual fan, chances are you're familiar with at least this ARMORED SAINT album and it's worth having in the collection. The highlights are, "Last Train Home", "The Truth Always Hurts", "Reign of Fire", and "Symbol of Salvation". As far as live albums and concerts video go, Symbol of Salvation Live is about as essential as you can get.
5.0 Out Of 5.0

Please log in to view RANTS



PANTERA At Welcome To Rockville With Photos!

THE BLACK DAHLIA MURDER, TERROR, FROZEN SOUL, FUMING MOUTH, PHOBOPHILIC In Anaheim, CA With Photos!

ENFORCER Nostalgia

BUZZFEST Featuring GODSMACK, I PREVAIL, HIGHLY SUSPECT, THE STRUTS And Others In Houston, TX With Photos!

SLEEP TOKEN Take Me Back to Eden

UGLY KID JOE, FOZZY, PISTOLS AT DAWN In Houston, TX With Photos!

TESLA, FASTEST LAND ANIMAL, KURT DIEMER In Orlando, FL With Photos!

CATTLE DECAPITATION Terrasite

TYGERS OF PAN TANG Bloodlines

MYSTIC PROPHECY Hellriot

WHITECHAPEL, ARCHSPIRE, SIGNS OF THE SWARM, ENTHEOS In Santa Ana With Photos!

ALCATRAZZ Take No Prisoners

BURNING WITCHES The Dark Tower

ELVENKING Reader Of The Runes - Rapture

CHAOS AND CHARNAGE Tour Featuring SUICIDE SILENCE, DYING FETUS, BORN OF OSIRIS, ABORTED, CROWN MAGNETAR, SANGUISUGABOGG And SLAY SQUAD In Anaheim With Photos!

ENFORCED War Remains

SAVAGE EXISTENCE Savage Existence

BLACK ROZE Penny For Your Sins

WINGER Seven

JASON BIELER AND THE BARON VON BIELSKI ORCHESTRA Postcards From The Asylum

TITAN'S WRATH Will Of The Beast

VADER, KRISIUN, DECREPIT BIRTH In Los Angeles With Photos!

KIX In New Bedford, MA With Photos!

THE BANISHMENT Machine And Bone

ROSS THE BOSS Legacy of Blood, Fire & Steel