All Photos By Krishta Photography
It had been nearly 2-years since I was at a show. The anxiety of the unknown; Was I doing the right thing by going to a concert with Covid raging? Should I wear one mask or two? Will I remember how to work my camera? All of these things I took for granted at my last show a couple of years ago, not knowing or ever imagining that would be my last for as long as it's been.
To say this show was emotional is an understatement. There was a brief moment in the photo pit with a fellow photographer I had worked alongside with for quite a few shows prior to Covid, where we both just stopped and made eye-contact, acknowledging and appreciating the moment with a nod. The world stood still for that moment as I took it all in with gratitude.
I honestly can't think of a better lineup to get reunited with live music than with this show. In early March 2020, THE BLACK CROWES brothers and co-founders Chris and Rich Robinson reconciled to celebrate their landmark 1990 debut album, Shake Your Money Maker and were excitedly planning a fall tour. Of course, no one could predict the pandemic would take over our world and shut everything down. THE BLACK CROWES' 30th anniversary tour was just one of many that had to be postponed or canceled. Even now, with the variant raging and tours stopping and starting, I felt a huge relief once the show day was here, and it hadn't been canceled.
Upon entering the gates to the amphitheater in Ridgefield, WA, the eerily sparse line to get in held a realization that we're still not back to what we once were with shows. The comfort and ease of enjoying a show comes with a shadow of needed caution.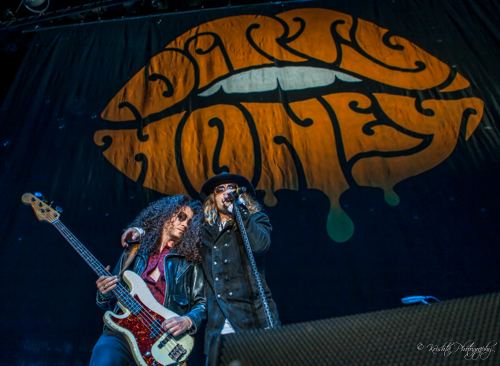 I had been hearing quite a buzz (yes, this word is intentional) about the openers, DIRTY HONEY. I despise giving comparisons to bands as I like to give them their own identity, but the obvious influences with DIRTY HONEY would be a crossover of ZEPPELIN, AEROSMITH and even a little TESLA in vocal style, but with a definite 70's rock swagger. This was a perfect opener for THE BLACK CROWES.
The band debuted their self-titled EP in 2019. They are the only unsigned band to hit #1 on Billboard's Mainstream Rock Chart with their song, "When I'm Gone". They've opened for THE WHO, GUNS N' ROSES and SLASH ft. MYLES KENNEDY AND THE CONSPIRATORS. They were named Canadian Rock Radio's #1 International Breakout Artist of 2019 and nominated as Best New Rock/Alternative Artist for 2020 iHeartRadio Music Awards. Rolling Stone wrote about the band as an "Artist you need to know." Their first headlining club tour sold out nightly with them averaging $8000 in merch sales (you can't download a T-Shirt), impressively all with their grass-roots efforts and being an unsigned band.
The band opened the show with "Gypsy" from their self-titled album. When I got into the photo pit to shoot the first three songs the amphitheater was sparsely seated. By the time I finished, the dynamic vocals of singer Marc LaBelle had obviously brought the audience wandering around the Amphitheater to their seats.
I've always been a fan of bands doing covers, and this band paid respectful homage to AEROSMITH with "Last Child" halfway through their set. This further captured the audience's attention as you could actually witness this band winning over new fans. Guitarist John Notto, bassist Justin Smolian and drummer Corey Coverstone all share the spotlight through their sets with highlighting solos from all. I honestly think this will be the last time I see these guys as an opener as they are destined to be major headliners.
Check them out here: www.dirtyhoney.com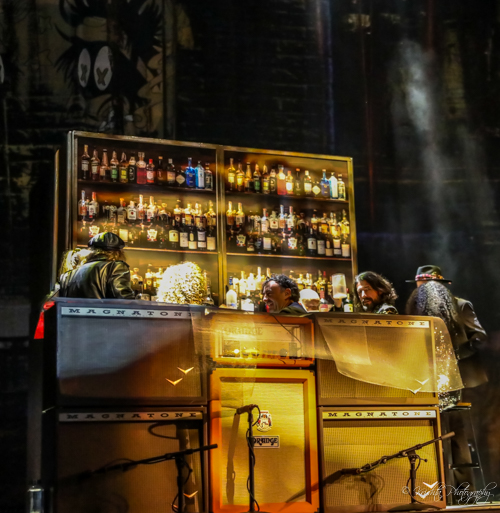 So many bands get their starts in bars, so it was pretty cool seeing THE BLACK CROWES stage production set up as one. An actual bar with a spotlight on a vintage Wurlitzer jukebox sat on stage right. The theatrical mystery had the audience abuzz with curiosity. Suddenly a tux-clad bartender (the baby blue tux was spectacular) walks from backstage to behind the bar, followed by the band who sat and were served drinks. As they were having cocktails, one of the girls saunters over to the jukebox and plays the blues classic, "Shake Your Money Maker" by Elmore James.
The lights flickered and out walked Chris Robinson in a silver brocade jacket and white pants with a white wide brimmed hat and parasol that was adorned with the CROWES' trademark birds. He looked as though he was stepping out from a vacation in Panama. The entire band has such a polished 70's vibe. It drips with rock stardom. Halston and Diane von Furstenburg would have been proud to have any one of them strutting onto a catwalk during that era.
Rich Robinson emerged and with a few chords went right into the opener, "Twice As Hard", which brought the audience to their feet. Chris spinned with his parasol into singing the opening lyrics which brought an electric energy to everyone attending. For that moment in time, there was no pandemic or tragedies in the world. The band played the entire Shake Your Money Maker LP in its entirety from start to finish. The second half of the band's set included cuts from the band's 1992 album, The Southern Harmony And Musical Companion.
Together with the Robinson Brothers, the lineup for this band includes bassist Sven Pipien, guitarist Isaiah Mitchell, drummer Brian Griffin, keyboardist Joel Robinow and backing vocalists MacKenzie Adams and Leslie Grant. The band ended the night with the encore of the STONES' "Torn And Frayed" dedicated to Charlie Watts.
While not a lot of verbal interaction, the entire show was well rehearsed and joyful to witness. It was packed with bluesy groove laden fan-favorites as well as some deep cuts that balanced out the night. The current lineup and band are tight and it is so good to see the brothers playing together again.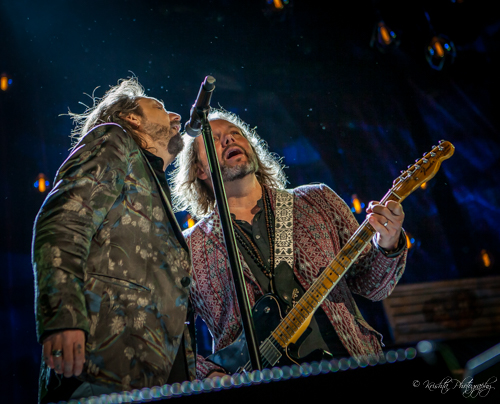 THE BLACK CROWES Set:
"Twice as Hard"
"Jealous Again"
"Sister Luck"
"Could I've Been So Blind"
"Seeing Things"
"Hard to Handle" (Otis Redding Cover)
"Thick N' Thin"
"She Talks to Angels"
"Struttin' Blues"
"Stare It Cold"
"No Speak No Slave"
"Goodbye Daughters of the Revolution"
"Soul Singing"
"Wiser Time"
"Thorn in my Pride" (Chris Robingson on harmonica)
"Sting Me"
"Remedy"
Encore:
"Torn and Frayed" (TH ROLLING STONES cover) (First time played since 2013. Dedicated to Charlie Watts)
DIRTY HONEY Set:
"Gypsy"
"Break You"
"Take My Hand"
"Last Child" (Aerosmith cover)
"Tied Up"
"Heartbreaker"
"Down the Road"
"The Wire"
"California Dreamin'"
"Another Last Time"
"When I'm Gone"
"Rolling 7s"
Check out some more photos from the show!
All Photos By Krishta Photography