Method To The Madness: On The Set With Static-X & Godhead


By Method, Godhead
Friday, February 8, 2002 @ 10:32 AM


| | | |
| --- | --- | --- |
| | | Godheads's Method Gives KNAC.C |
The day started, when Wayne Static called us at home the morning of the shoot to ask us if we wanted to do a cameo in Static's new video "Cold." Warner Bros. was asking for a video to promote the soundtrack for their upcoming motion picture release The Queen of the Damned, which has an amazing soundtrack (featuring, amongst others, Jonathan Davis, David Draiman, Jay Gordon, Manson, Wayne and Godhead). The Theme of the movie was that of an Anne Rice vampire novel, and such was the idea for the video - we were all going to be vampires! What that meant, was basically sitting in makeup for hours and hours to be transformed into creepy versions of ourselves ala Buffy the Vampire Slayer.. By nightfall I was hanging out with the vampires Tony (Campos), Tripp (Eisen) and Ken-Jay trying to eat and drink from catering without messing up our humungous canine-prosthetics. When the shooting started it was already dark and surprisingly cold for L.A.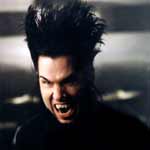 Nathan Cox was directing the band and I along with a huge gang of vampiric misfits outside the slightly altered movie set of the Best Little Whorehouse in Texas. Our objective was to come charging down the hillside in bloodlust and attack the mansion which was Wayne's last sanctuary after all his friends and band members had been turned into vampires. The special effects where awesome, one by one some of us where hoisted up by steel ropes to literally fly through the air and attack Wayne's hideout from the roof. Tripp's rope actually broke during one attempt to jump from the roof (the jump was shot backwards), he turned out to be OK, if a little shaken up, and didn't really want to trust in any more steel ropes and body-harnesses for the rest of the day. The shooting went well into the night, but someone managed to smuggle a bottle of whiskey onto the set, needless to say the wild gang of vampires got a little wilder as the night went on. It's going to be an awesome video, and I'll never look at the Static boys the same again, once they get out of those creepy fucking contacts, teeth and makeup. Thanks for everything!

Photo Credit : Chad Michael Ward/DAS






Please log in to view RANTS

If you don't have a username, click here to create an account!