AVATAR, MAGIC SWORD In Houston, TX With Photos!


By Krystiee Lee, Editor
Wednesday, October 6, 2021 @ 10:50 AM


| | | |
| --- | --- | --- |
| | | "Going Hunting" Tour Hits The House Of Blues On 9/28/21 |
All Photos By Krystie Archer/Krystiee Lee Photography
AVATAR…. Where do I even start with this brilliantly unique band?
As expected, AVATAR have once again grabbed Houston by the throat and completely destroyed the House Of Blues Tuesday night on September 28th, 2021. I will start this out by saying if you have not seen AVATAR live before, you need to do so, ASAP. I swear on my life it is one of the best performance's you'll ever see. Don't even think about it, just get your ass to a show. You'll thank me later I promise…but i'll get to that later in this review.
First, we are going to talk about opening band MAGIC SWORD an "American Trio" originated in Boise, Ohio, most known for their dark and moody sets while hiding behind super dark cloaks with an odd LED mask to strain away from their true identities. Kind of like the early days of GHOST where absolutely no one knew who the dudes were. Not only that, but MAGIC SWORD is simply 100% electronic, No vocals whatsoever. I, for one, was strangely entertained.
MAGIC SWORD consists of 'The Keeper', 'The Seer', and 'The Weaver' and man, do these three know how to put on a show. With tracks that have been featured in video games and movie trailers, Houston got to experience a mysterious electro-pop act with vibrant stage lights, strobes, and even light up swords. The whole performance was eye-catching, you couldn't help but just stop and stare until it was over which really set the tone for the following band and headliner, AVATAR.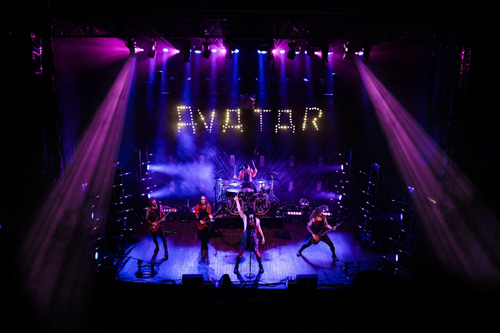 Patiently awaited, AVATAR was next. Incredible and talented human beings, the energy and passion these guys have is outrageous. Consisting of Swedish masterminds Johannes Eckerström (vocals), Jonas "Kungen" Jarlsby (guitars), John Alfredsson (drums), Tim Öhrström (guitars/backup vocals), and Henrik Sandelin (bass/backup vocals), this team of badasses truly know how to put on a jaw-dropping show.
Walking on stage and lining up for a stand still performance opening with one of their newest songs "Colossus" from their latest album Hunter Gatherer. The crowd immediately freaked out and hollered with excitement (including myself… not even going to lie) while the whole band stood close together in formation and barely flinched throughout the four-minute song. It was really an awesome way to blast off the set. "Let It Burn" and "Silence In The Age Of Apes", (another two personal favorites), flooded everyone's ears next and now brought out the headbanging and windmills, which literally lasted almost the whole night, I'm not sure how these guys don't have throbbing headaches after their sets. I've never seen so much hair flying in my life and at the same time, have never wanted to put my camera down and join them in the windmill train as well. It was epic to say the least!
AVATAR continued their set with classics like "Bloody Angel", "The Eagle Has Landed", "Paint Me Red", "For the Swarm" and after every song ended and a new one began, the crowd got more and more hyped up. AVATARs' fan base is honestly inspiring, with theatrical outfits and face paint, these fans were ready to get wild and weird and they sure as hell did. I didn't see one person NOT feeling the music and headbanging or at least doing a little head nodding. Lead singer Johannes Eckerstrom spoke repeatedly and directly to the crowd in his usual slow and unhurried tone and drew the fans even more into the whole experience with ease. Almost mesmerizing in a way.
The band performed admirably with more songs involving the newest release, "Going Hunting", more older jams like "Pigfucker", and even threw in a bit more of a Texas style, and a whole different aesthetic with "The King Welcomes You To Avatar Country".
With a lengthy set of 18 songs, the band finished the night with three superb encores, "Wormhole", "Hail The Apocalypse" and the oh-so fun and chanting "Smells Like a Freakshow". AVATAR really outdid themselves, with the screechingly powerful vocals, mastered guitar riffs and flows, and the talented drum beats. That's not even mentioning the overall visual experience, light show, and animated atmosphere. Seeing AVATAR live is an interestingly refreshing performance mixed with rage and predictable windmills but also gives you a circus-like presentation that literally leaves you stunned at the end of the show.
I'm not sure what else I can say besides the fact that AVATAR has become one of those bands that sound 1000000x more badass and intense when you hear them live and quite frankly, this review can't even do it justice with trying to explain that.
Just go see them live! You'll see what I mean!
Setlist:
"Colossus"
"Let It Burn"
"Silence in the Age of Apes"
"Bloody Angel"
"Child"
"The Eagle Has Landed"
"Paint Me Red"
"A Secret Door"
"For the Swarm"
"Torn Apart"
"Gun"
"Going Hunting"
"Pigfucker"
"A Statue of the King"
"The King Welcomes You to Avatar Country"
Encore:
"Wormhole"
"Smells Like a Freakshow"
"Hail the Apocalypse"
Check out some more photos from the show!
All Photos By Krystie Archer/Krystiee Lee Photography




Please log in to view RANTS

If you don't have a username, click here to create an account!