UPDATED: Supersuckers Carry On


By Frank Meyer, Contributing Editor
Monday, February 11, 2002 @ 3:29 PM


| | | |
| --- | --- | --- |
| | | Supersuckers Guitarist Ron Hea |
Fans of the greatest rock n' roll band in the world, the Supersuckers, will notice a new face on stage this spring. The band has brought in former Panic/current Hog Molly guitarist Martin "Metal Marty" Chandler to fill in for longtime axe-slinger Ron "Rontrose" Heathman, who is temporarily taking a leave of absence from the band to attend to some personal matters. The good news is that Ron and his wife Dawn had a beautiful baby girl four days ago. The bad news is that she was born with a rare heart defect. We'll let lead Supersucker Eddie Spaghetti tell you the rest in his own words: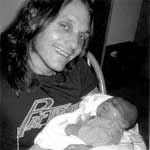 "Ruby Grace Heathman was born with an extremely rare heart defect called Truncus Arteriosis and will need several open heart surgeries throughout her life. Ron, Dawn and Ruby have gone through an awful lot these last few days and have a lot of trying days to come, bbut they are incredibly strong people and will get through all of them. They just want everyone to know about their daughter and to get as many people as possible to be thinking good thoughts for her. This will have an effect on the up-coming Supersuckers shows as well. Ron will be staying by his family's side for as long as it takes to know that ruby is as healthy and stable as she can be for her operation. Filling in for Ron will be his good friend, Martin "Metal Marty" Chandler. I can't think of someone more perfect for the job. Marty currently plays guitar for hog molly and he and Ron have spent many an evening together 'talkin' rock and trading licks.'"

In related news, Eddie and his wife had a baby boy last year and drummer Dancing Eagle and his wife had a son two months ago. It's a genuine Supersuckers baby boom!!!

Fan can send an email messages of support to Ron via www.supersuckers.com. KNAC.COM would like to send our best wishes to Ron, Dawn and Ruby.

Here are the Supersuckers tour dates in March:

3/17/02 Austin, TX Antone's
3/18/02 Austin, TX Antone's
3/19/02 Houston, TX Continental Club
3/20/02 Dallas, TX Trees





Please log in to view RANTS

If you don't have a username, click here to create an account!