UPDATED: Supersuckers Carry On


By Frank Meyer, Contributing Editor
Monday, February 11, 2002 @ 3:29 PM


| | | |
| --- | --- | --- |
| | | Supersuckers Guitarist Ron Hea |
Fans of the greatest rock n' roll band in the world, the Supersuckers, will notice a new face on stage this spring. The band has brought in former Panic/current Hog Molly guitarist Martin "Metal Marty" Chandler to fill in for longtime axe-slinger Ron "Rontrose" Heathman, who is temporarily taking a leave of absence from the band to attend to some personal matters. The good news is that Ron and his wife Dawn had a beautiful baby girl four days ago. The bad news is that she was born with a rare heart defect. We'll let lead Supersucker Eddie Spaghetti tell you the rest in his own words: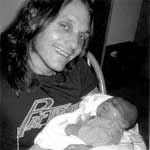 "Ruby Grace Heathman was born with an extremely rare heart defect called Truncus Arteriosis and will need several open heart surgeries throughout her life. Ron, Dawn and Ruby have gone through an awful lot these last few days and have a lot of trying days to come, bbut they are incredibly strong people and will get through all of them. They just want everyone to know about their daughter and to get as many people as possible to be thinking good thoughts for her. This will have an effect on the up-coming Supersuckers shows as well. Ron will be staying by his family's side for as long as it takes to know that ruby is as healthy and stable as she can be for her operation. Filling in for Ron will be his good friend, Martin "Metal Marty" Chandler. I can't think of someone more perfect for the job. Marty currently plays guitar for hog molly and he and Ron have spent many an evening together 'talkin' rock and trading licks.'"

In related news, Eddie and his wife had a baby boy last year and drummer Dancing Eagle and his wife had a son two months ago. It's a genuine Supersuckers baby boom!!!

Fan can send an email messages of support to Ron via www.supersuckers.com. KNAC.COM would like to send our best wishes to Ron, Dawn and Ruby.

Here are the Supersuckers tour dates in March:

3/17/02 Austin, TX Antone's
3/18/02 Austin, TX Antone's
3/19/02 Houston, TX Continental Club
3/20/02 Dallas, TX Trees





Please log in to view RANTS

If you don't have a username, click here to create an account!






Represent! Get Your KNAC.COM Bumper Sticker

Happenings This Week on KNAC.COM

ANOTHER LOST YEAR Debut "Call It Like It Is" Video

MARK SLAUGHTER Streams Solo Album Title Track

JOE PERRY To Perform Special "JOE PERRY AND FRIENDS" Record Release Show In LA

MONTE PITTMAN Launches "Be Very Afraid" Video

SAVAGE MESSIAH Eat Your Heart Out With New Video

MONSTER MAGNET Unveil New Mindfucker Album

THE CONTORTIONIST Announce The 'Clairvoyant 2018 North American Tour'

OBITUARY Share "Brave" Music Video

Learn Mix Magic With BOB MARLETTE's Tutorial

SHIRAZ LANE Set To Release Carnival Days Album

MILLENIUM Release New Album Awakening

FATES WARNING Launch Tour Trailer For January Dates

MAGNUM Stream New Single "Without Love"

ANTHRAX Set To Release Kings Among Scotland Live DVD In April

JOE PERRY Streams New "Aye, Aye, Aye" Single

AL JOURGENSEN Announces New MINISTRY Album, AmeriKKKant

NORTHERN INVASION Announces 2018 Band Lineup

SAVAGE MACHINE Reveal Abandon Earth Album Details

MACHINE HEAD Drop "Catharsis" Video

METALSTEEL Go Beyond The Stars On New Album

MYLES KENNEDY Releases New Album Title Track Video

VOODOO CIRCLE Set For New Raised On Rock Album

NAPALM DEATH Announce Coded Smears And More Uncommon Slurs Compilation Release

KOBRA AND THE LOTUS Stream New Track "Hell On Earth"

RANDOM EYES Reveal Grieve No More Album Details

SPIDER ROCKETS Return To Make You "Sick"

SMALL TOWN TITANS Give "You're A Mean One Mr. Grinch" A Dark, Blues-Soaked Update

PRIMITIVE RACE Share Track "Dancing On The Sun" In Honor Of Late Front Man, CHUCK MOSLEY

SoCal's NOVAREIGN To Release New Album, Legends

A KILLER'S CONFESSION Set To Embark On "A Very Killer Christmas Tour"

TETRARCH Unleashes Energetic New Video For "Freak"

DRIVE To Release IDEFI Album, A Tribute To Founder/Guitarist RICK CHAVEZ And Singer DAVID EARL TAYLOR

STARSET Announces North American Headline Tour

TOOTHGRINDER Premiere "The Shadow" Video

LORD To Release Live At ProgPower USA Album

UNLOCKING THE TRUTH Release "My Chains" Video

CANE HILL Are Too Far Gone With New Album Release

ICED EARTH Debut Video For Single, "Black Flag"

FOZZY Continue 'Judas Rising Tour' Into 2018

MARTY FRIEDMAN Reveals Personal Video For "Miracle"

ANGRA Set To Release New Album Ømni

THE ATOMIC BITCHWAX Debuts New Song "Hippie Speedball"

JOHN 5 AND THE CREATURES To Release It's Alive! Live Album In January

CAROLINA REBELLION Reveals 2018 Band Lineup

IRON REAGAN Announce 2018 East Coast Headline Tour Dates

GWAR Comic Orgasmageddon Gets Collected Edition

MESHUGGAH Announce 2018 North American Tour Dates

CHASTAIN Reissue Classic The 7th of Never Album As The 7th Of Never 30 Years Heavy

FU MANCHU To Release New Album, Clone Of The Universe

FORT ROCK Announces 2018 Band Lineup

MIKE LEPOND'S SILENT ASSASSINS Set For New Album, Pawn And Prophecy

LAS RAGEOUS Music Festival Announces 2018 Lineup

VISIONS OF ATLANTIS Reveal New Album Details