GEMINI SYNDROME 3rd Degree - The Raising


By Halo, Heavenly Contributor
Monday, October 18, 2021 @ 1:42 PM


| | | |
| --- | --- | --- |
| | | |
GEMINI SYNDROME
3rd Degree - The Raising
Century Media




The much-anticipated 3rd album and closing chapter of GEMINI SYNDROME's debut trilogy of albums, 3rd Degree -The Raising is almost here. October 15th cannot come fast enough for GS's fans. The first of the trilogy was 2013's Lux and the second being 2016's Memento Mori (which hit #1 on Billboard Heatseakers album chart). Unlike the first two albums that focused on or dealt with the harrowing and agonizing subject of life and death, 3rd Degre- The Raising moves beyond the realm of after death into rebirth. The featured four singles released, "Die With Me", "IDK", "Abandoned" and "Reintegration" hints to the different degrees through the process of rebirth.

This album is an elemental force, gut punching heavy. The band spent most of 2018-2019 writing the 3rd chapter. In 2020 the album was mixed, mastered and complete. The pandemic put a halt on the release. This album has 13 tracks. The heaviest track on the album in my opinion is "Abandoned", written by vocalist Aaron Nordstrom about his own trauma from rejection by his birth mom and his adoption. The drums are played at a blistering speed. Brian Steele Medina is badass throughout this song and entire project. This album was a rebirth of sorts for Nordstrom. "In the process of this record I made some major life choices. Mainly to stop killing myself slowly with alcohol. Two years without a drink, and a couple near death experiences later, I think have ample experience to talk about a subject as elusive as death."

One of the lightest songs on the album, more of a ballad is "Best of Me". "Meegs"Rascon (formerly of COAL CHAMBER) plays acoustic guitar beautifully in this track. The lyrics are hauntingly sad and beautiful all in one. "Buy the ticket, take the ride", "Seems you always get the best of me, but I don't mind." This song is a definite break from the rest of the album. My absolute favorite song on this album that I cannot listen enough to is "Die With Me". The lyrics in this one are some of the best written on paper that I have ever experienced: "I'd like the God in you, to meet the God in me", "You plus me equals 23" (FYI 2 and 3 signifies a man and women merging energies), "I've seen your energy overcome the dark", "Hallelujah. Are you able to be my sinner and Saviour?" I really cannot count the times this has played in my car. Each band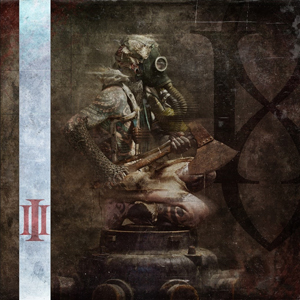 member is phenomenal in this. The guitar and bass sound perfect. Meegs and Paveri nailed this one. "Where We Started" sounds like an anthem song, I think this one live will kick ass. I can see and hear this opening up a stadium show. The revving sound and the melody along with the beat puts a vision of the audience bopping their heads in unison. The drums come in and it gets heavy. "IDK" is my other favorite on this album. Very poignant lyrics, "The further down I go this rabbit hole, the world I know simply disappears", "Ash to ash, dust to dust and then there's you and me." Brian is extraordinary on drums during "IDK". Fight me on this, I am kidding, kind of not!
I thoroughly enjoyed this album. This alt metal band of amazing musicians executed this long-awaited album. I believe the fans will embrace it and pack the venues when they play their latest music live. The guys have waited patiently to deliver. The band's growth from 2016 to 2021 is evident.
"Our hope is that through sharing our experiences, lessons learned, and battles overcome, that we can help others to examine their own consciousness. Their role in the world in its almost infinite capacity, and to help remind each other that we are all in this together. We are family, and when united in commonality, we can achieve things worthy of attention of the Gods. If you want to change the world, quietly go work on yourself."- Aaron Norstrom
5.0 Out Of 5.0




Please log in to view RANTS

If you don't have a username, click here to create an account!