KHEMMIS
Deceiver
Nuclear Blast Records




Over the course of three albums and an EP released in relatively quick succession since 2015, Denver's KHEMMIS has been able to find itself a sweet spot between full-on doom and traditional metal by channeling the essence of BLACK SABBATH, TROUBLE, CANDLEMASS, etc., but delivering it with the verve of DIO or THIN LIZZY. Indeed, the title of the band's 2020 EP Doomed Heavy Metal – which includes a cover of "Rainbow In The Dark" - pretty much summed up where its sound had arrived.

Like CATHEDRAL during its Ethereal Mirror/Caravan Beyond Redemption prime in the mid/late '90s, KHEMMIS has taken epic scale and elephantine grooves and made them less dirge-like and ponderous - and certainly more palatable - with grand melodies, catchy flourishes and plenty of muscle. KHEMMIS even ups the ante a bit with occasional death/black metally outbursts punctuated by guitarist Ben Hutcherson's harsh growl.

The band's fourth album, Deceiver is both its first full-length with Nuclear Blast (which issued the Doomed EP that was a mix of previously unreleased studio and live tracks) and without bassist Daniel Beiers, who left in 2020. Yet while Deceiver may boast a bit more polish than previous releases, these major life changes, as it were, have had little, if any, impact on KHEMMIS' approach or presentation.

Deceiver is another big, bold album that certainly rates as epic – with its six songs averaging nearly eight minutes apiece – and delivers plenty of metallic panache and fits of extremity contrasted by trudging tempos and a sometimes depressive tone. "My body is a frame that's weighed down by its sins, An anchor cold and leaden," guitarist/main vocalist Phil Pendergast confesses in "Living Pyre".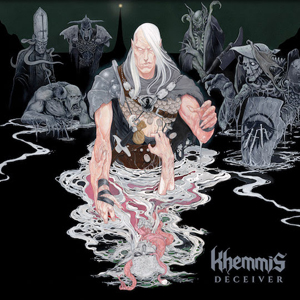 But sentiments like these are more often then not played against stirring guitar and clean vocal harmonies that soar to majestic heights at times, notably on the magnificent "Shroud Of Lethe" and "Obsidian Crown". Here, things recall ALICE IN CHAINS, whose "Down In A Hole" KHEMMIS covered for the Dirt Redux album last year.
The band's penchant for expansive, meandering arrangements – a doom staple - means songs can occasionally drift without more of a verse/chorus/verse type structure. And while that isn't necessarily a bad thing, the standout track here is the stunning closer "The Astral Road" that builds off more standard, almost speed metally construction wrapped around clangorous jams and glorious choruses over a monumental nine minutes.
Rousing choruses are a KHEMMIS ace in the hole, thanks to the aforementioned harmonies, and provide a solid, catchy center to even the most amorphous of tunes. Huge, resounding riffs are in abundance as well, as you might imagine.
Drummer Zach Coleman ably navigates the band on its sonic voyage, ensuring the slowest moments on "House Of Cadmus" never slog with a subtle, almost jazzy swing and kicking things into near d-beat overdrive with the flick of a switch for the death metal sprint on "Avernal Gate". Even when the band does wander, it at least does so in lock-step.
Deceiver is another satisfying slab of the "doomed heavy metal" KHEMMIS has all but honed to perfection. Boasting some minor refinements to an already winning formula, album has plenty offer fans of heavy music, no matter which side of the doom/metal fence they might line up on.
4.0 Out Of 5.0