BLACK LABEL SOCIETY Doom Crew, Inc.


By Andrew Depedro, Ottawa Corespondent
Sunday, November 28, 2021 @ 10:15 AM


| | | |
| --- | --- | --- |
| | | |
BLACK LABEL SOCIETY
Doom Crew, Inc.
eOne Music




Since his appearance upon the hard rock/metal scene as the successor to Jake E. Lee in OZZY OSBOURNE's lead guitar slot some 30+ years ago based on a cassette he'd mailed in as a teen, Zakk Wylde has not only established himself as being Ozzy's most loyal axeman but he's also become an accomplished larger-than-life frontman in his own right with BLACK LABEL SOCIETY, its own inception able to boast about a quarter century of 11 studio albums and its own legion of Berserkers whose support, stretching back to 1998, rivals that of the KISS Army.

And the band credits their beginnings with The Riff.

It's the same riff that has turned a series of catchy hooks into well-made classics like "Whole Lotta Love", "Into the Void" and "Smoke On The Water" as own personal guiding lights for the legendary guitarist when he'd first started playing and that riff as well as its overall blueprint of simplicity that has made both BLS' own simplicity and consistency known the world over. As such, what also makes the band an enigma wrapped in a riddle further wrapped in their trademark kuttes is their talent from scribing equal amounts of both loud screaming guitar-driven anthems and dulcet-sounding acoustic and piano-guiding heartfelt ballads. With the dependable stalwarts' latest studio release titled Doom Crew Inc., they've given a nod to both their loyal Berserker squad and their "first to bleed, last to leave" road crew. Moreso, the band have continued to further solidify their firm axe attack thanks to the sharp arpeggio skills of Dario Lorina (LIZZY BORDEN), whose role in the band's sound has become both larger and more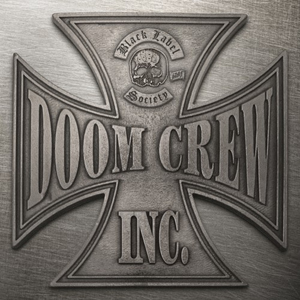 well-defined on his second BLS studio album appearance. Certainly, his styled rhythm playing is noted on such tracks as "Set You Free", the sonic breakdown opus of "Destroy/Conquer" and "End Of Days" and his burgeoning blues riffs gel with Zakk's throughout other songs such as "Gospel Of Lies", "Farewell Ballad" and "Shelter Me" while he indulges in some curvaceous acid rock-styled nuances in "You Make Me Want To Live". On the more lush-sounding ballads such as "Forever And A Day", Zakk's crooning vocals melt the soul as effectively as both his and Dario's octo-digit style solos. Furthermore, the rumble of longtime bassist John "J.D." DeServio and powerhouse drummer Jeff Fabb both continue to meld the groove of BLS' sound and fury throughout this album particularly on tracks such as "Ruins" and the aforementioned "Destroy/Conquer" as they echo all over the walls of Zakk's home studio known as the Black Vatican, home to the tracking of every BLS album since 2010.
Doom Crew, Inc. once more continues the beautiful simplicity of BLS bangers while owing everything to the lessons Wylde first heard on We Sold Our Soul For Rock N' Roll. "Less is more with everything," he says, "Except the guitar solos." And few amongst his own crew can argue the validity of his statement upon a couple of listens of this to-the-point offering here.
5.0 Out Of 5.0
http://blacklabelsociety.net/
https://www.facebook.com/blsnet
https://blsdoomcrewinc.com/




Please log in to view RANTS

If you don't have a username, click here to create an account!