TOBY HITCHCOCK
Changes
Frontiers Music Srl - 2021




When I first learned that the third solo album from PRIDE OF LIONS singer TOBY HITCHCOCK was coming out, I was taken by surprise. I hadn't heard any news that he was even recording new music until the album announcement itself.

I've enjoyed Hitchock's work with PRIDE OF LIONS and for the most part I've liked his two solo albums. While Hitchcock is not a songwriter, he always does seem to make the songs his own in some way, shape or form. Personally, I wish he had that extra feeling of ownership by having a hand in the songwriting but that's just me.

The majority of the songwriting for this album is handled in varying combinations by the Frontiers in-house producer/songwriter Alessandro Del Vecchio (who also produced the album and played bass and keyboards) with Kristian Fyhr and Pete Alpenborg.

The album got off to kind of a generic start. For me, while the opening song "Forward" is decent enough with it's uptempo and highly melodic soundtrack, it kind of gets summed up with the beyond trite-sounding lyrical line "The truth will always be love." Meanwhile, the second track "Before I Met You (Xano Esena)" is a mid-paced track that is the only song Del Vecchio, Fhyr and Alpenborg didn't write for Changes. But while the overall track is fine, it didn't really generate that much "heat" with me.

But the Changes album picks up right after those two tracks. The album's title track is a fast-paced number with a great ear-grabbing chorus. TOBY HITCHCOCK's delivery on the song is fantastic.

As you might expect, the album is chock full of ballads mixed in with the rockers. I was mightily surprised to find myself enjoying those slower numbers quite a bit though. "Tonight Again" has that quintessential power ballad sound, but the music has a little more "UMPH" to it and the way Hitchcock channels a powerful vocal delivery makes the song a keeper. "Don't Say Goodbye" starts off a little slow musically, but switches tempos back and forth and features another standout vocal take. I liked the build up of "Run Away Again (From Love)" too. It starts out slow but then grows big and bold during the song's chorus. The album's closing number "Losing You" is the one ballad track that didn't quite grab me as you might've hoped.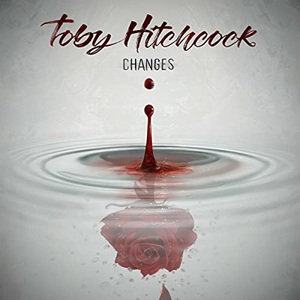 But TOBY HITCHCOCK really brings the fire when the material is of a fast moving and amped up rocking nature. Songs like "Garden Of Eden" are immediate earworms as they race along packed with a number of hooks and a chorus that immediately draws the listener in.
When TOBY HITCHCOCK really cuts loose vocally, you get songs like "Two Hearts On The Run" and "On The Edge Of Falling". The first track is a straight up slice of melodic rock and roll while "On The Edge Of Falling" showcases not only Hitchcock's great vocals but a fantastic lead guitar guest appearance by WHITESNAKE's Joel Hoekstra.
The song "Say No More" is probably my choice for stand out track on Changes. It's got more of a midtempo feel in the main lyrical verses but gets a burst of adrenaline fueled rock for the song's chorus. And the guitar solo from Martin Jepsen Anderson (who plays guitar on everything but that song Joel Hoekstra handled) was one that I found to be incredible!
I may have been surprised to learn of the release of this new TOBY HITCHCOCK album, but the best part of this surprise release was that Changes turned out to be one hell of an album that melodic rock fans are going to play over and over again.
4.4 Out Of 5.0