WORMWITCH Wolf Hex


By Nathan Dufour, Great White North
Thursday, December 2, 2021 @ 11:48 AM


| | | |
| --- | --- | --- |
| | | |
WORMWITCH
Wolf Hex
2021, Prosthetic Records




Canada's WORMWITCH definitely fall into a niche in the metalsphere. Somehow being equal parts proto black metal, death and roll, and traditional metal, they definitely play on 10 with sharp riffs and a lot of treble. Owing as much to early METALLICA as CELTIC FROST, WORMWITCH wear their influences proudly - their sound one of denim, leather, stale beer and putrid riffery certain to delight fans of all things crusty but not punky, blackened but not shrieking.

Hailing from Vancouver, and coming out of seemingly nowhere, Wolf Hex is the third proper installment in the WORMWITCH cannon, an album showing growth in the same way that moss works: eventually, its dankness just overwhelms. There is definitely an air of damp fall air, sulphurous dew presenting itself on grass, a deft and overall sense of grit on display, as opening atmospheric "Lunar Maniac" begins the proceedings. It is not hyperbole for me to indicate here that "Canadian Denim Mountain Attack" is one of the best song titles I have heard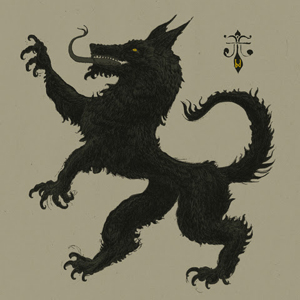 this year, but it is also destined to be a live staple. The riff is almost angular but not so much so as to detract from the overall vibe of, oddly, a jam band of sorts. The music is loose and obtuse.
"Hammer of The Underworld" is absolutely indebted to the arenas of metal that benefit from a healthy "ough!" to start the night off. Trem picked guitars flirt with outright black metal but never get there, and the drums are huge, resonating beat after resonant beat. The cymbal work is tasteful, and then a flurry of OSDM by way of NWOBHM careening into nascent thrash kicks the listeners' head in. The cauldron of WORMWITCH is large and bubbling. And swirling.
And so it goes, Wolf Hex totally comfortable being itself. A little throwback, sure, but that is almost de rigueur (remember when everything sounded like 1972?). I have no complaints with what WORMWITCH have done here - except for the admirable but ultimately failed exercise of covering "Hit The Lights". So, I guess, stop the album before that happens.
3.0 Out Of 5.0




Please log in to view RANTS

If you don't have a username, click here to create an account!