All Photos By Krystie Archer/KrystieeLee Photography
Last year, right before Covid made its grand appearance, I was able to catch one last concert before the world turned to a stopping point. At the time it was obvious no one had any idea what was about to happen and everyone was living their normal everyday lives and attending their favorites concerts. OPETH came to House Of Blues and put on another amazing performance. It was incredible and everyone had left the show starstruck as usual. Not even two weeks later we were in lockdown across the country. I told myself once OPETH came back to Houston, it would truly be an honor to be able to catch them again. Even though it's not exactly 'Post-Covid' it still shows how much has changed within a year and a half.
Sunday, November 28th at the exquisite Smart Financial Center in Sugarland, Texas, OPETH returned to my side of town with another one of my top favorite bands MASTODON. This was my first time seeing 'MASTODON live so I was even more stoked and eager to see the show.
First opening band, originating from Basel, Switzerland, ZEAL & ARDOR came in and stunned the crowd with their majestic yet unique metal vibes. This was honestly my fist time hearing of them... I guess I've been living under a rock all this time. Their sound was just out of this world. Each member was unique in their own way which really played a role into each song and overall performance. Their set was pretty short but stunning nonetheless.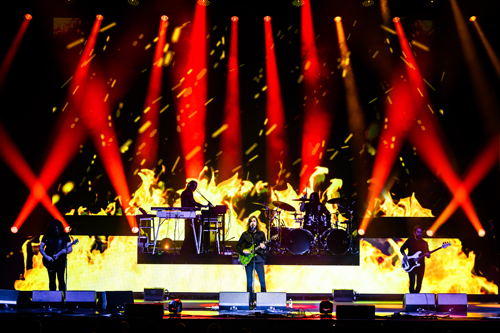 OPETH came on as always with their epic visuals and you could instantly tell it was going to be a badass show and to just enjoy the ride. "Hello House-ton" Mikael mumbled into the mic leading off the night with a great laugh..."Yes, I know it's not pronounced that way but shouldn't it be?" He then told us a little story of a street called "Houston" that's pronounced like "house-ton" in New York. Mikael then showed off their newest member and drummer Sami Karppinen. He explained the situation and the crowd of course gave him his welcoming chats and screams with a round of applause. It was almost like Houston was taking him under their wing and you could clearly see the smile and excitement on Sami's face throughout it all. It was just a sweet little moment I was glad to witness.
I've said it once and I'll say it again, OPETH puts soooooo much time and effort into their sets, each song is an experience in itself that will literally leave you speechless and ready for more. There isn't one artist out there that has stunned me in this way with their live sets as OPETH has. From the soft vocals to growling roars, the intense guitar riffs, the melodic keys and drums, Houston again witnessed a truly gorgeous performance from one of the best Progressive Metal groups out there these days.
Last set of the incredible night and my own patiently awaited performance was the one and only 'MASTODON. The Georgia based Progressive metal rock gods consisting of four badass individuals entered the stage and instantly started off with '"Pain With An Anchor" from their latest released album Hushed & Grim which drove the crowed NUTS! Everyone got up from their seats for this. Not one person was sitting down anymore. Honestly, I'm not sure if the venue was really fit out for a set like MASTODON's and I was hoping they would at least have a pit but unfortunately it was all seating only. Regardless of that though, the progressive stoner yet sludgy metal gods continued to conquer the venue with their diverse sound from then on as the band went from track to track. Not much was said from MASTODON really and they barely gave much stage interaction…but to me, that's just MASTODON. They are there to rock the fuck out not to sit and chit-chat. So they did just that, and we fans truly loved every minute of it.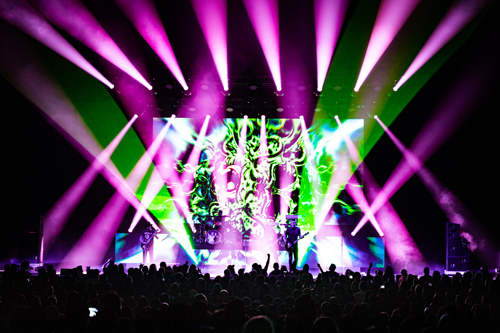 Throughout their set they had the most badass laser show to take the cake of the whole night. This was also my first time seeing a band's set include lasers so it was definitely an awesome experience to be able to witness, especially with it being MASTODON. Vocals switching from member to member, each song played was a jam sesh for everyone. When I tell you the crowd was fully engaged I mean it. The humans of Houston were visibly stoked to be there. If you know MASTODON, you know their catalog is full of mixed and mighty complex songs, some lasting longer than 5 minutes, some heavier than others, and some more on the "chill" side which is what most fans love about them, so being able to see such a wide variety of songs that night was pretty special for me which leaves me to say I think MASTODON is one of the best bands out there and only going to get bigger and bigger. Mark my words.
Brent, Brann, and Troy each have their own unique and distinguished voices, so them switching out song to song is brilliant and I don't think any other band can top that. Let's be real. MASTODON is simply the best thing since sliced bread and are only proving themselves more and more each album they release with how they can literally concur and achieve anything musically. They, along with OPETH and ZEAL & ARDOR put on one hell of a show that night and I'm thankful to have witnessed and captured some of it.
OPETH Setlist:
"Hjärtat vet vad handen gör"
"Demon of the Fall"
"Cusp of Eternity"
"The Devil's Orchard"
"The Drapery Falls"
"Windowpane"
"Sorceress"
"Deliverance"
MASTODON Setlist:
"Pain With An Anchor"
"Crystal Skull"
"Megalodon"
"The Crux"
"Teardrinker"
"Bladecatcher"
"Black Tongue"
"Skeleton of Splendor"
"The Czar"
"Pushing The Tides"
"More Than I Could Chew"
"Mother Puncher"
"Gobblers of Dregs"
"Blood And Thunder"
Check out some more photos from the show!
All Photos By Krystie Archer/KrystieeLee Photography