HELD HOSTAGE Epic


By Jason 'JRock' Houston, Contributor
Friday, December 10, 2021 @ 8:26 AM


| | | |
| --- | --- | --- |
| | | |
HELD HOSTAGE
Epic
2020 Metal Mania Records




Now let me start off by saying how is it that the New York based Hard Rock band HELD HOSTAGE is a band that has been around since 1984 and I'm just discovering them now. With that being said I will go on record as saying that HELD HOSTAGE is really one of the best, kept secrets in the world of Hard Rock and metal but with the release of their 2020 CD Epic that is finally, now starting to change! The band was formed by Guitarist/Lead Singer Tom Collier and while he is the band's main songwriter on the band's latest release they feature Tim Ripper Owens on vocals and Tim now is an official member of the band and he really is that special it factor that will really make more and more people take notice of HELD HOSTAGE.

HELD HOSTAGE takes me back to the days when I was a teenager and that Hollywood was still the Hard Rock/Metal capitol of the world! Oh sure, HELD HOSTAGE is very much a band from New York but HELD HOSTAGE's Epic is just that, an epic release filled with well written songs that one listen to and you're convinced that this was a band from Hollywood delivering the Hollywood Rock sound of the 80's! Just in case I haven't painted you a well enough picture yet the sound of HELD HOSTAGE could be dubbed MOTLEY PRIEST because to my ears the sound of HELD HOSTAGE if Classic 80's MOTLEY CRUE era sprinkled with a dash of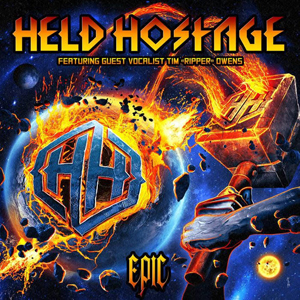 Classic JUDAS PRIEST! Now one might think that the JUDAS PRIEST comparison is simply because Tim 'Ripper' Owens sings on the album. In regards to Tim Owens being on the album, the funny thing is his voice here sounds more Halford-like on this album then he did on the JUDAS PRIEST albums that he sang on and I think that's really saying something!
If you're looking for a band that can really deliver the goods and you simply want a band that will Rock your world with an album full of well written tunes then HELD HOSTAGE's Epic is an album you'll no doubt want to pay your hard, money on because the songs are instant Hard Rock gems and Classics filled with great melody, great 80's style Hard rock guitar riffing and powerhouse drumming take my word when I tell you that HELD HOSTAGE and their 2020 release is just the Hard Rock/Heavy Metal delight that awaits you. HELD HOSTAGE's Epic is pure ear candy guaranteed to satisfy you.
Now if you'd like to hear small taste of what HELD HOSTAGE has to offer then check this out! "Turn The Light On (feat. Tim Ripper Owens)"
5.0 Out Of 5.0




Please log in to view RANTS

If you don't have a username, click here to create an account!






SOLAR FLARE Solar Flare

ARCH ENEMY, BEHEMOTH, NAPALM DEATH, UNTO OTHERS In Portland, OR With Photos!

HALESTORM Back From The Dead

STABBING WESTWARD Chasing Ghosts

BLACK LABEL SOCIETY, NITA STRAUSS, JARED JAMES NICHOLS In San Diego, CA With Photos!

JEFF SCOTT SOTO Complicated

MEMPHIS MAY FIRE Remade In Misery

EVERGREY A Heartless Portrait (The Orphean Testament)

ANVIL Impact Is Imminent

DAN REED NETWORK Letís Hear It For The King

WATAIN The Agony & Ecstasy of Watain

SCREAMKING Thee Indomitable Spirit

FOZZY, JOHN 5, GFM, KRASHKARMA, THE NOCTURNAL AFFAIR In Houston, TX With Photos!

BLACK STONE CHERRY, THE GEORGIA THUNDERBOLTS In Nashville, TN With Photos!

AND JUSTICE FOR ART ... Live! Stories About Hard Rock & Heavy Metal Live Album Covers Book

FOZZY Boombox

ALICE COOPER, BUCKCHERRY In Portland, OR With Photos!

JOHN 5, THE HAXANS In Garden Grove, CA With Photos!

SKULL FIST Paid In Full

RADIANT Written By Life

BLACK SWAN Generation Mind

SEVEN KINGDOMS, STRIKER In Tampa With Photos!

MONUMENTS In Stasis

DESTRUCTION Diabolical

MICHAEL ROMEO War of the Worlds: Part II

SATAN Earth Infernal

TONY MARTIN Thorns