Primal Fear: "Seven Seals"


By Charlie Steffens aka Gnarly Charlie, Writer/Photographer
Wednesday, November 9, 2005 @ 10:45 AM


| | | |
| --- | --- | --- |
| | | Nuclear Blast |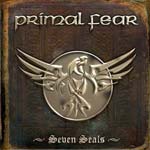 Jeezy Chreezy, this record is well worth your last thirteen bucks and it is sure to give you a great return on the investment. It will not go up on the shelf. It will spin in your player and give you continuous aural pleasure. Seven Seals is song for song, lick for lick and riff to mother humpin' riff, far better than what has been put out by the so-called heavyweights for the last few years and nothing like much of what's getting shoddily spewed out by many bands nowadays.

This is Primal Fear's newly released gift to hungry hoven metalhead heathens across the Universe. It's been a long time since I, and surely most of you, have got our dick beaters on a piece of work like this. It took me one listen and I want to play it every day.

At the risk of saying something overdone, here I go: if you could put Bruce Dickinson, Rob Halford and James LaBrie together and pull out certain facets of each brilliant singer's vocal splendor then you would have an amazing voice, right? If you don't' like any of the aforementioned singers then you still might like this album. I go to great lengths to be honest when it comes to music, but I realize what is what's one person's Back in Black could be another person's…well …you get the idea. If you like the music of Judas Priest, Iron Maiden and Dream Theater, and you appreciate the new shit coming out that's in metal core, I think you're going to like Seven Seals.

Hey Cecil, this is your preventative medicine to going soft on the ladies. Put this dude on and you won't need to book that appointment at the Boston Clinic. Play the second track "Rollercoaster" and take that ride.

After several records by Primal Fear, this is the one record that is their masterpiece and is the true gauge of work that is yet to come by any band. Right now I don't want to do the track after track dissection of the music and call out the breakdowns and all that shit. There is no need. You'll hear much of a Shadows Fall sound in "The Immortal Ones", and lose yourself listening to "In Memory", which is like a vocal imitation of Bruce Dickinson in its sound and style, but singer Ralf Scheepers is obviously his own man, yet he pays homage to the great one. The drumming, guitar work and production, both of and in this album is indescribably amazing.

Primal Fear really showed up on this one. Go get it.

* * * * *




Please log in to view RANTS

If you don't have a username, click here to create an account!





SLASH FEATURING MYLES KENNEDY AND THE CONSPIRATORS In Orlando, FL With Photos!

HAMMERFALL Dominion

TORA TORA In New Bedford, MA

BLACK STAR RIDERS Another State Of Grace

VISIGOTH Bells Of Awakening 7"

KILLSWITCH ENGAGE Atonement

HELIX Old School

DESTRUCTION Born To Perish

Two Nights Of ALEX COLE In SoCal With Photos!

DEF LEPPARD And TESLA In Ottawa, Canada

HELLSCREAM Hate Machine

SABATON The Great War

VADER Thy Messenger EP

ALICE COOPER, HALESTORM, MOTIONLESS IN WHITE In Houston Photo Gallery

ALEXISONFIRE, THE OFFSPRING, THE DIRTY NIL At The Ottawa Bluesfest

IRON MAIDEN In Mansfield, MA

JOHN 5 AND THE CREATURES Invasion

CARNIFEX World War X

STATIC-X, DEVILDRIVER In Ottawa, Canada

ENTOMBED Clandestine Live

KORN In The Woodlands, TX With Photos!

IRON MAIDEN Tour Opener In Fort Lauderdale, FL With Photos!

SISTER SHOTGUN Fragments

HATRIOT From Days Unto Darkness