ENSLAVED
Caravans To The Outer Worlds
Nuclear Blast




I've always said that black metal is an acquired taste, but what do you do when a long-time favorite of the genre slowly morphs into something more than traditional black metal over a period of time? ENSLAVED has successfully transcended to the more melodic, atmospheric and transitional world of black metal and I love it.

As part of the early 1990's explosion of offerings from Norway, ENSLAVED could easily cater to and identify with black metal elitists with a barrage of sounds that move from traditional black metal, to Viking metal and on to atmospheric greatness. Variety suits a band whose moniker is taken from an IMMORTAL song ("Enslaved In Rot"). Considering that they were young teenagers when they formed the band it is a dynamic musical growth pattern.

Caravans To The Outer Worlds is their latest EP and is likely the strongest regarding depth of lyrical content and in some parts of the release you can still hear their base black metal roots. Grutle Kjellson (bass, lead vocals), Ivar Bjørnson (guitars, synths), Arve 'Ice Dale' Isdal (guitars), Håkon Vinje (keyboards), and Iver Sandøy (drums) have produced a superb EP and I can only hope that their next full-length release is a continuation of the creativity and visceral effect felt here.

The EP kicks off with the title track and it has a lengthy lead into the song that sets the tone for the rest of the music. It is somewhat atmospheric and ethereal. Kjellson is dynamic and moves from screams to clean vocal effortlessly. Honestly, everything about this song is brutal and beautiful at the same time.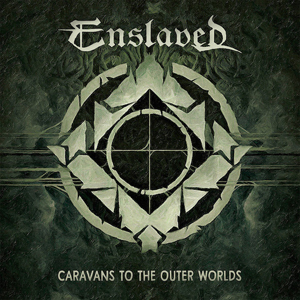 "Intermezzo I: Lonnlig Gudig" opens effortlessly and continues the dark beauty that is this EP. A perfect blending of guitars and synthesizers makes for instrumental greatness and it all melds together seamlessly as it moves in "Ruun II: The Epitaph". Here is another example of strong, clean vocals from Kjellson. There is a depth of emotion here that you just don't get from traditional black or viking metal. Its effective in its majestic and bold rendering of a complete story line in just four songs.
The EP ends with "Intermezzo II: The Navigator". This is purely symphonic, and it rivals offerings in the symphonic metal genre; and I also feel like there is a bit of 1970's groove to this purely instrumental tidbit.
I will patiently await their next full length offering and while I feel like they could have done a little more here in terms of length and an introduction of vocals into the songs that are instrumental only, I feel like I will get what I am searching for on their next release.
The band is planning a lengthy tour in early 2022 so perhaps we will get more material and shows from ENSLAVED in the near future. Perhaps this EP is just a teaser! My black metal elitist friends and I eagerly await whatever is coming next.
4.5 Out Of 5.0