HYPOCRISY
Worship
Nuclear Blast Records




The first album in eight years from Sweden's HYPOCRISY ends up being a bit of a let down. Despite some genuinely stirring moments, Worship is mostly a mixed bag where the good loses some of its luster to the pedestrian.

Perhaps there was lingering distraction from frontman/guitarist/producer Peter Tägtgren's two-album stint with the offbeat side-band LINDEMANN with RAMMSTEIN's Til Lindemann that came to a halt when the world shut down in March 2020 and officially ended eight months later. Or maybe HYPOCRISY is running low on ideas after a 30-year career and baker's dozen worth of albums. But whatever the reason, a good third of Worship is droning, simplistic and sounds like a band on autopilot.

This is a bit vexing, given how consistent HYPOCRISY has been for decades, the long break since 2013's typically solid End Of Disclosure and all the time it had at its disposal to work on new material thanks to COVID. Making things worse is the fact that Worship launches with such brutal authority. After some acoustic slight of hand, the title track erupts in fury of grinding riffs, Tägtgren's screech-and-growl vocals and drummer Reidar "Horgh" Horghagen's assertive gallop, echoing METALLICA's "Battery" along the way, though with death metal gusto.

"Chemical Whore" and "Greedy Bastards" slow the pace dramatically, but deliver heaving grooves, scathing lyrics and resounding choruses, especially the sing-along-able "Bastards". "Dead World" kicks up the tempo again, and mixes cascading riffs with a buoyant bass line and the sort of dynamic back and forth Worship could have used more of.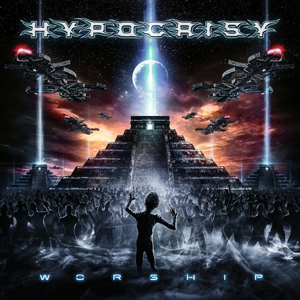 Indeed, from here on the album's feisty spirit starts to wane as the arrangements and modus operandi settle into a familiar pattern. "We're The Walking Dead" repeats the formula of "Whore" and "Bastards" though with an especially plodding pace and more basic arrangement. Aside from some nifty guitar harmonies and gothic flourishes, the song – true to its title - merely staggers around. Same goes, for the most part, for "Children Of The Gray" and "Bug In The Net".
"Brotherhood Of The Serpent" at least finds some middle ground to lift it above the boilerplate feel of of the other "slow" songs here. Tägtgren's deliberate vocals and riffs are offset by Horghagen's double-bass rolls, surging grooves that power the choruses and a brief black metally sprint that gives the song a real jolt.
There definitely seems to be more conviction and purpose behind Worship's faster tunes. "Another Day" is a bracing, hardcore-like rager that makes for a formidable one-two punch with the crunching thrash metal anthemics of "They Will Arrive" which immediately follows. And though the momentum then grinds to a halt with the slog of "Bug In The Net", "Gods Of The Underground" ensures Worship at least goes out with a bang, matching the full-on ferocity of the title track that gets things off to such a promising start 50 minutes earlier.
But while Worship ends up falling short of that promise for the reasons stated above, it is big, brash sounding album top to bottom. Tägtgren certainly gave the production his full attention. And the heaviness here is quite impressive, even if some of the songs seems leaden or stock.
3.0 Out Of 5.0