NIVIANE The Ruthless Divine


By Jason 'JRock' Houston, Contributor
Saturday, January 8, 2022 @ 8:33 AM


| | | |
| --- | --- | --- |
| | | |
NIVIANE
The Ruthless Divine
Pure Steel Records




Just got done listening to the latest album by NIVIANE which is The Ruthless Divine and let me just say that this is an album that is well worth your hard earned money. Now if you're looking for a band that does not sound like every other band out there then let me tell you that NIVIANE is a band that I'd say is really worth giving a listen to because the overall sound of the band is a combination of Old School Metal and European Power Metal and while any Metal fan will no doubt be aware of names like Dio, Halford and Dickinson, Norman Skinner who is the lead singer and front man for NIVIANE has such a powerful voice/presence that I have no doubt that Norman Skinner is a future Metal Legend that will be mentioned in the same breath as Dio, Halford and Dickinson.

While NIVIANE is a band that has a unique sound very much it's own I must say that what really struck me about all 11 songs on The Ruthless Divine is just how very strong the songwriting is. All songs are really well written and there's not a single stinker track on the entire album, no filler and all killer when it comes to this band and their music. The entire band just really kicks ass and shows you in 2021 Metal is still very much alive and well! This is metal to bang your head to, put your fist in the air and show the whole entire world how very proud you are to be a METALHEAD!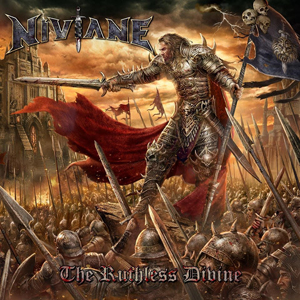 While NIVIANE really deliver the goods on their latest release The Ruthless Divine which came out in 2020, but there's no denying just how very talented this band is when it comes to the overall musicianship in the band as well as their ability to write a really great song. While the album combines old school metal European Power Metal this band proves that there's a lot more to being a really great Metal band than just having screeching vocals and heavy riffs that sound like PRIEST or MAIDEN. NIVIANE is a band that just shines because while they are very much a metal band their music is all about the song and not just a bunch of loud noise if you know what I mean!
Like I said there's really not one bad track on the entire CD but I'd like to point out that some tracks that really stand out to me are "Crown Of Thorns", which is the 2nd song on the album and I'd describe this song as having a bit of a Power Metal sound combined with bit of a QUEENSRYCHE type sound to it. I'm talking early QUEENSRYCHE music. The overall sound of the song in a word is I'd say Epic! Another one of my favorite songs off the album would have to be "Fires In The Sky", a song that has a real major kick in the ass to it that is real heavy on the SABBATH/MAIDEN/PRIEST influence and then finally there is "Like Lions" which I'd describe as Power Metal with melody and I just really love the vocals and heavy, powerhouse drums that are featured throughout the entire album. Put on NIVIANE's The Ruthless Divine CD, an 11 track masterpiece that will get any headbanger banging their head! This is music that is meant to be played for the METAL MASSES!
5.0 Out Of 5.0

Please log in to view RANTS


SOILWORK Ívergivenheten

IRON SAVIOR Reforged - Ironbound (Vol. 2)

SPEAKING TO STONES (In)Human Error

ANTHRAX, BLACK LABEL SOCIETY, HATEBREED In Hollywood, CA With Photos!

STYX, REO SPEEDWAGON, LOVERBOY In Nashville, TN With Photos!

ARCH ENEMY Deceivers

THE HALO EFFECT Days Of The Lost

DIO Holy Diver Super Deluxe Edition

MICHAEL MONROE I Live Too Fast To Die Young

ZEPPARELLA In West Hollywood, CA With Photos!

RAGE AGAINST THE MACHINE, RUN THE JEWELS At Ottawa Bluesfest

AMON AMARTH The Great Heathen Army

THE PRETTY RECKLESS, THE WARNING, LILITH CZAR In Houston, TX With Photos!

LOVE IN CHAINS Everyday Heroes

MUNICIPAL WASTE Electrified Brain

SATYRICON Satyricon And Munch