Nicely translated by Blabbermouth.net:

On November 29, 2005, METALLICA drummer Lars Ulrich spoke to the Danish newspaper B.T. about his relationship with Danish Hollywood actress Connie Nielsen.

"Fuck, where do I begin? We have the language, the culture, the sarcasm and the irony in common. We have…yeah, the whole package, because she understands me," Ulrich told the newspaper in a phone interview while being driven from New York City to JFK Airport.

The couple had been in town to celebrate Connie's son Sebastian's 15th birthday and were now returning to the Ulrich's estate in the wealthy Tiburon district in the San Francisco Bay Area.

"Yes, it looks like Connie has moved in with me," the drummer confirmed. "We're taking everything day by day, but she's sitting next to me right now.

"Connie has been — how would you say it in Danish? — a pleasant addition to my life over the last couple of years. It's been nice to have had the Danish side of me become more prominent. To take short trips to Denmark and have a summer vacation with her family in Nordjylland."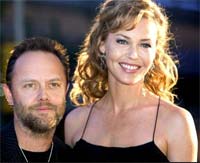 Is it because you're afraid of losing touch with your roots that the "Danishness" has become more important to you?
"You know what? That might very well be the case. At any rate, it's something that you definitely want to hold on to and that becomes more and more important when you're a 41-year-old living abroad."
Upon Ulrich's return to San Francisco on November 29, METALLICA were due to start the very first rehearsals for the band's ninth studio album.
"I wouldn't say that I have a plan or an idea of where we're headed, but to kickstart METALLICA once again makes me happy like a kid."
Lars and Connie will be celebrating Christmas in San Francisco together with Connie's son Sebastian and Lars' two sons, Layne, 4, and Myles, 7 (with estranged wife Skylar Ulrich). Joining them will be Lars' father Torben Ulrich, who will be accompanied by his wife Molly.
Do you want to get married again?
Lars: "Yeah, well, first I have to get divorced [laughs], so let's take everything nice and slow, OK? Very, very slow."
Your girlfriend has told one of the other [Danish] newspapers that she would love to have more children, so now you are forced to oblige…
"What? She has what? That pleases me, that pleases me," chuckles Lars.