LAST IN LINE, TARA LYNCH, ROZY In Houston, TX With Photos!

By Larry Petro, News Monkey
Friday, April 1, 2022 @ 12:43 AM

| | | |
| --- | --- | --- |
| | | At Rise Rooftop |
All Photos By Larry Petro/Petrofyed Photography
Now that it's 2022 concerts seem to be picking up in a big way and the first concert for me to attend since last year's Rocklahoma was LAST IN LINE, the group comprised of members of the classic DIO lineup from the first albums at Rise Rooftop just west of downtown Houston. For those that don't know, Rise was formerly known as Proof Rooftop and back then it was an open-air club on the roof of a building. The owners took the downtime from Covid to completely renovate the place and it was transformed into an enclosed venue with a state of the art retractable roof! The new place is amazing and there will be many shows coming here over the course of the year.
Direct support for the tour was guitarist TARA LYNCH but the openers for the show were none other than Houston's rising stars ROZY. Founded by sisters Zoe and Molly Flores, I have watched this band progress from their early days as the band STARFLIGHT ROCKS before changing their name a few years back to ROZY. From there the band has taken off and the sky is now the limit and I for one am very proud of them and what they have achieved thus far. The band's 8 song set of mostly original material included "Pretty Little Lies" and the rocking "Kiss Me Like You Miss Me" as well as a couple of cover tunes in the form of "Rock You Like A Hurricane" (SCORPIONS) and a set-closing "Still Of The Night" (WHITESNAKE). Guitarist Brandon Martinez has become a beast since switching over from the bass and though the band has seemed to have a revolving door of bassists as of late they appear to have found the one in NOAH ELKINS. Zoe Flores continues to impress as the frontwoman for the band and knows how to command the stage as her sister provides the backbeats on the drums. As an opener for many big name acts over the past few years, keep an eye out for them!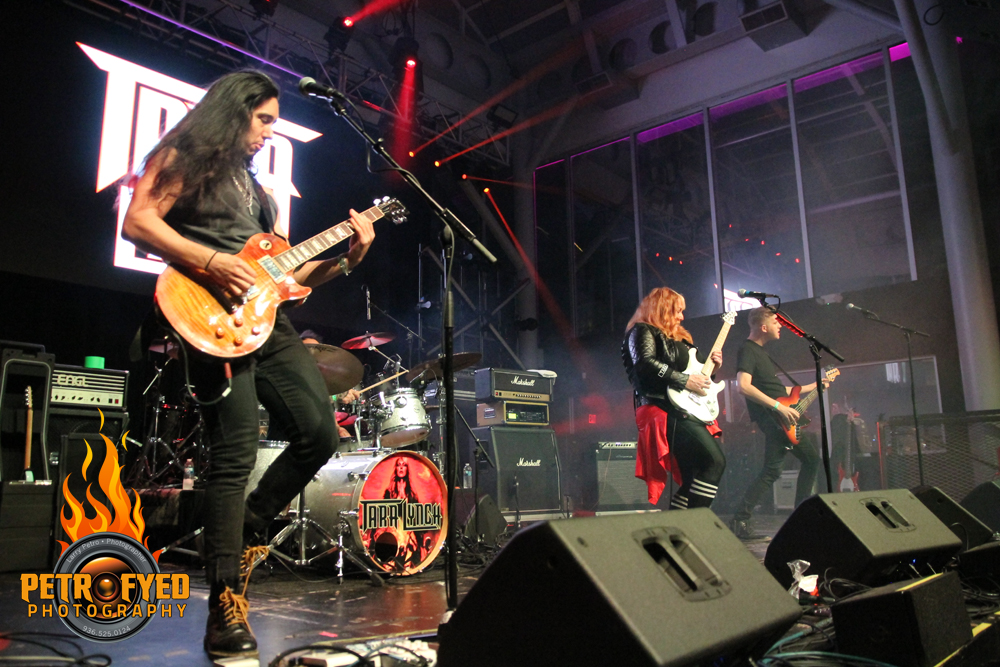 Next up was musician extraordinaire TARA LYNCH (AKA GUI-TARA). I don't want to call her simply a great guitarist because she is much more than that. She can play guitar, bass, drums and piano and composes all of her own material. It's really no surprise that she was on this tour (and the one just prior to Covid shutting everything down) as direct support given the fact that both Vinny Appice and Phil Soussan of LAST IN LINE were guest musicians on her debut album Evil Enough which was released in 2018. Tara and her backing band brought their own brand of rock n' roll to Rise Rooftop and their 11 song set was the entire debut album, including the bonus track "Badassery", beginning the show with "Exit The Warrior" and ending it with "Antidote". Having been my first time to see Tara perform live I was most impressed with her talents and abilities and she seemed to be having a great time.
Setlist:
"Exit The Warrior"
"Banished From My Kingdom"
"Fecklesss Lock"
"Unbreakable"
"Enigmatic"
"Evil Enough"
"Kringeworthy"
"Gui-Tara Rises"
"Trustless"
"Badassery"
"Antidote"
Finally it was time for LAST IN LINE and their performance on the "The Sickness Tour". The band last played in Houston in October of 2019 so it's pretty obvious to say that it's been awhile. The band played a great show last time and this was one show I was really looking forward to. Let's face it, with the passing of Ronnie James Dio we have to get our DIO fix somehow and what better way than with the band members that helped make him a solo star. But far from being just a DIO tribute band, LAST IN LINE has released two albums of its own. With a current lineup of Vivian Campbell (guitar), Vinny Appice (drums), and Phil Soussan (bass), the band continues to be fronted by vocalist Andrew Freeman. True to form, the band launched into their set with the great original tune, "Landslide", taken from the band's second album, II, which was released in 2019. From there it was a night of just balls-out rock, performing DIO classics like "Stand Up And Shout", "Straight Through The Heart", "Holy Diver" and "Egypt (The Chains Are On)". An emotional moment came mid-way during the show after Vinny Appice had given the band introductions and he introduced the next song, "Last In Line" which they dedicated to the late FOO FIGHTERS' drummer Taylor Hawkins who had suddenly passed way just 24 hours prior.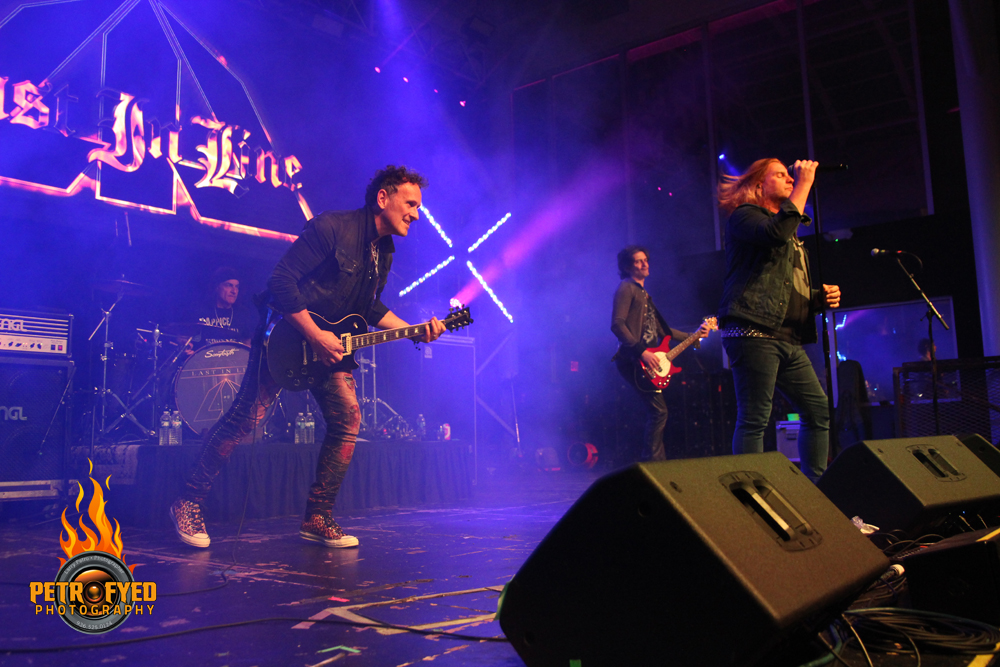 The band rolled through their set as they devoted nearly half of their set to original material including "Year Of The Gun", "Black Out The Sun" and the electrifying "Starmaker" . Vivian Campbell no doubt was using this tour as a warm-up to the upcoming Stadium Tour with his bandmates in DEF LEPPARD and he appeared to be thoroughly enjoying himself, smiling throughout the show and showing absolutely no ill effects from his cancer scare a few years back. The band finished up their pre-encore set with the DIO mega-hit "Rainbow In The Dark". At that point Freeman stated that the band wasn't going to leave the stage and wait for the crowd to entice them back for encores. Instead, he stated that they would simply turn their backs to the crowd onstage and then turn back around, which they did with Freeman exclaiming "We're Back!". It was actually a comical moment that you had to be there for to truly appreciate. As encores we got an original tune "Devil In Me" and then closed out the show with "We Rock". I have to say that while Freeman is no Dio (hell, NO ONE is for that matter), he brings out the true soul of Ronnie in his performance and during "We Rock" if you closed your eyes you would swear it was the legend himself that had taken possession of Freeman's body, it was THAT good!
Many thanks to LAST IN LINE for carrying on the spirit and legacy of a master who is missed each and every day.
Setlist:
"Landslide"
"Stand Up And Shout"
"Straight Through The Heart"
"Year Of The Gun"
"Holy Diver"
"Black Out The Sun"
"Last In Line" (dedicated to Taylor Hawkins)
"Starmaker"
"Electrified"
"Egypt (The Chains Are On)"
"Rainbow In The Dark"
Encore: Check out some more photos from the show!
All Photos By Larry Petro/Petrofyed Photography