Happy Birthday Lemmy


By Lonn Friend, Senior Contributor
Saturday, December 24, 2005 @ 10:31 AM


| | | |
| --- | --- | --- |
| | | And Then There Was Lemmy |
For the past three years, I've been working on my book. It's finally done. Life on Planet Rock is going to be published in 2006 by Morgan Road/Random House. In fact, my heavy MENTAL memoir hits the streets on July 11th, a little over two weeks before my fiftieth birthday. I guess you could say both dates are landmarks, at least for me. I remember another landmark moment. It happened ten years ago when a friend of mine turned fifty. We partied together that night at the Whiskey on Sunset Boulevard. His name is Lemmy, his band is Motorhead, and on that special evening a decade ago, another bunch of kindred rockers called Metallica donned wigs, warts and burns and cranked out a set of smoldering covers for love of Lem. You see, anyone who's every known the man born Ian Fraser Kilmister on December 24, 1945, loves him. Why? Because he's a hero. And everyone loves a hero.

Ten years ago, Motorhead's indefatigable leader, the great and powerful Lemmy, turned half- a-hundred. Those of us who were privileged to be part of that sacred trust, who have come both to admire this amazing man and proudly call him 'friend,' privately stood in awe of this warrior of four-string strength and song. Why, you ask again? Well, because he's still breathing! Lemmy has survived a notoriously precarious lifestyle (we've all heard the Jack and speed stories) and a punishing tour schedule to arrive at yet another milestone. Lemmy is sixty years old and that, my friends, is a fucking miracle. How did he do it? By living, loving and rocking hard and true. He doesn't know any other way. Thank God for that.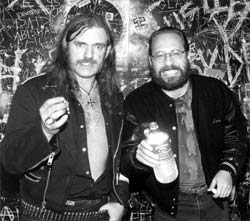 Lemmy has never wavered on his professional path, given two shits what the critics thought or bent over one inch for sake of image or the whims of the marketplace. When he won his Grammy last spring, I almost had a spontaneous bowel movement. So did he. A few weeks after the accolade, I was visiting him in his humble, Hollywood apartment (just a five minute walk from the Rainbow Bar and Grill) and asked him about the statue which he still hadn't received. "They never gave it to me," he said, nonchalantly. "Like to get it though, maybe melt it down into a nice knife or sword."
Lem was never in it for the institutional praise. The clueless rock n' roll hall of fame whose oft times brain dead membership fails year after year to acknowledge the legacies of Alice Cooper and Ozzy Osbourne will probably never permit Lemmy and Motorhead to sully their hallowed halls and it doesn't really matter. Rock immortality is not defined by unit sales or critical acclaim. An artist secures his or her place in the Promised Land by playing music with passion and making a connection to the fans. And that music, if authentic, will long outlive the entity who created it. Motorhead has given us a catalog of rapid fire rock. They are the Ramones of metal—fast and fun.
Lemmy's in Las Vegas this week, my exiled home of the past two seasons in the compositional abyss. I'm in Los Angeles so we won't be partying together for the big six O. But he's on my mind as he should be on yours. To the sentient, devoted followers of rock's greatest underrated hero, I say scroll to the blazing Inferno on your iPod, ingest a dose of vintage riffage, 'raise your whiskey glass high' and bid a hearty toast to the ace of spades, the nice guy, the man, the myth, and the miracle. Happy Birthday, Lem. May Planet Rock continue to vibrate from your musical presence for at least another ten years.




Please log in to view RANTS

If you don't have a username, click here to create an account!